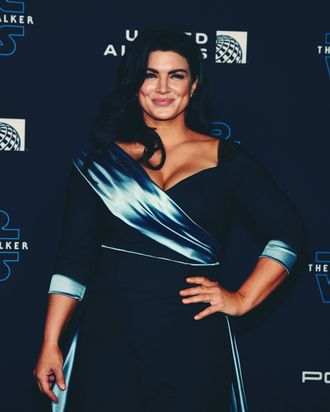 Gina Carano
Photo: Ethan Miller/FilmMagic
Following her latest in a long string of social-media controversies, actress Gina Carano will not be returning to her breakout role in The Mandalorian, Gizmodo's io9 reports. After Carano posted an anti-Semitic Story to her Instagram on Tuesday, which implied that modern-day conservatives suffer the same mistreatment that Jews did in Nazi Germany, the production company in charge of the Star Wars spinoff series severed ties with the actress.
"Gina Carano is not currently employed by Lucasfilm and there are no plans for her to be in the future," a Lucasfilm spokesperson said in a strongly worded statement to io9. "Nevertheless, her social media posts denigrating people based on their cultural and religious identities are abhorrent and unacceptable."
While Carano deleted the Story not long after posting it, a handful of active Instagram users captured it before it disappeared, and then went on to share it. (The post can be seen here.) On Wednesday, #FireGinaCarano trended on Twitter for hours. Before starring as Cara Dune in the Disney+ show, Carano — who gained fame in women's MMA in the late 2000s — appeared in projects such as Deadpool and Fast & Furious 6.
In the past year, Carano has drawn outrage numerous times over her derogatory social-media posts. In the early fall, the actress liked posts disparaging Black Lives Matter and ridiculed pronoun usage. Then, in November, she used her platform to mock mask-wearing and spread controversies about voter fraud in the 2020 presidential election. At the time, Lucasfilm was planning to make Carano the star of her own Disney+ series, sources told THR, but the project was scrapped following the uproar those tweets caused. "They have been looking for a reason to fire her for two months, and today was the final straw," a source familiar with Lucasfilm's decision told THR. Per an agency spokesperson, UTA has also dropped her as a client.
Carano has yet to respond to the decisions.