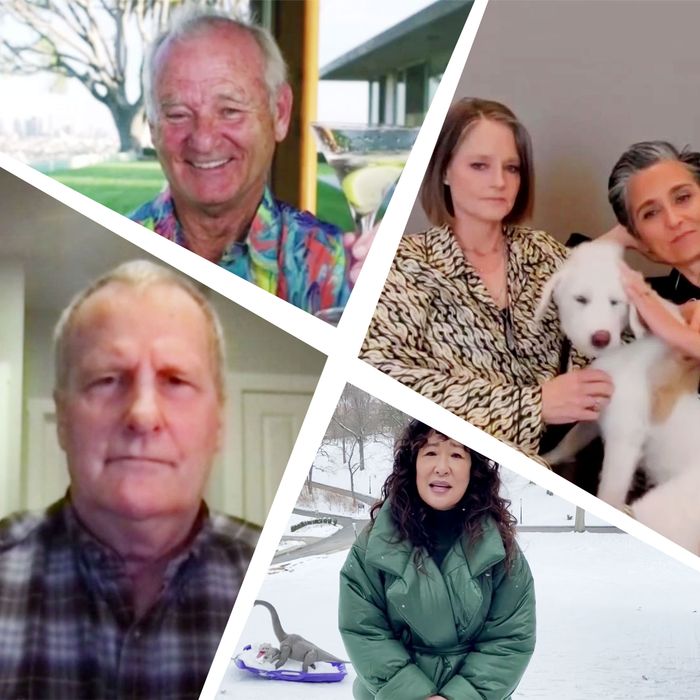 Photo-Illustration: by The Cut; Photos: NBC
As we round the corner on one full year of pandemic life, I will go ahead and assume you are sick to death of Zoom. That you will simply scream if you are subjected to one more Zoom gathering that "could've been an email," which — as hosts Amy Poehler and Tina Fey pointed out in their opening bit — is effectively what the 2021 Golden Globes were. Yes, those happened tonight, and if you did not tune in but still care about what happened, well — it was basically just a long string of awkward Zoom moments! In deference to public-health protocol, the Hollywood Foreign Press Association handed out its awards remotely, obligating the celebs to get all dressed up only to hunker in front of their screens in whatever part of their homes they deemed the most presentable. Which, in the end, maybe makes for a more interesting ceremony than the usual three-hour speechfest.
Please, judge for yourself:
Daniel Kaluuya apparently forgot to unmute his mic.
Daniel Kaluuya took home the night's first award — Best Supporting Actor, for Judas and the Black Messiah — and he gave a very good speech, only we almost didn't get to hear it because of a tech malfunction. The slipup left Laura Dern gesturing agape in a bid to fill the sound void, but according to Variety, Kaluuya had simply forgotten to unmute his mic, which … stars, they're just like us!
Meanwhile, where is Bill Murray tonight?
Bill Murray, who was nominated in Kaluuya's category for On the Rocks, showed up to the show as if to the resort pool, wearing a breezy button-down in a spicy print and holding a martini. Murray looked broadly unbothered and maybe also not entirely clear on what he was doing on Zoom. As a person who is just hearing about On the Rocks for the first time tonight, same!
The nominees keep getting siloed into breakout rooms.
You know that feeling when you're in a virtual meeting and then, bam, suddenly you're siloed into a sub-Zoom with a small handful of random colleagues? And nobody knows quite how to break the ice or how to act on camera? Yeah, now all the nominees do, too, because someone decided the category introductions would best be made in breakout room format.
Jeff Daniels joined from his spare (literally, very spare) bedroom.
Telegraphing an enormous Basement Dad vibe, Jeff Daniels showed up to the announcement of Best Actor in a Television Motion Picture (he was nominated for The Comey Rule) in a flannel shirt. Eagle-eyed observers will also note the grand total of five (5) doors featured in the background of the unassuming bedroom Daniels chose for his broadcast zone, a setting universally recognizable to viewers as the unused, and therefore an unfurnished, guest room. As the Cut's Taylor Roberts observed, the aesthetic is very "room with the strongest wifi," the embodiment of dadly practicality. Looking at the screen grab, you can almost feel the stain-resistant carpet under your feet, no?
Bernie Sanders made a cameo.
And the award for Best Zoom Background During the Carol Burnett Award Acceptance Speech goes to … Cynthia Nixon, with the Bernie Sanders Inauguration Day meme lurking just behind the couch!
And we got to see some celebrity pets!
No Zoom meeting is complete, or worthwhile, without the surprise appearance of a few special pet stars. As such, we met Sarah Paulson's dog, Emma Corrin's cat, and Regina King's dog (Cornbread, a very good name). Congrats to us all!
Did Glenn Close and Jeff Daniels coordinate?
Almost as if she and Jeff Daniels had discussed the wardrobe for tonight's Zoom ahead of time, Glenn Close (nominated for Best Supporting Actress in a Motion Picture, for Hillbilly Elegy) also appeared in a flannel. Close's "I'm here in Montana" also sounded, to some of us at home, like she said "I'm Hannah Montana," which … ¯\_(ツ)_/¯
Bonus points for the dog, though!
Jodie Foster won for coziest setup.
Jodie Foster (The Mauritanian) accepted her Golden Globe for Supporting Actress in a Motion Picture seemingly from bed, with her wife — in pajamas — and her dog. An aspirational watch party, I seethe with envy.
Sandra Oh did a bit!
Introducing Palm Springs — a movie people kept telling me wasn't really about anything, and was nominated for Best Motion Picture Musical/Comedy — Sandra Oh gave us a multilayered bit. Maybe it was a reference to the Palm Springs plot? I cannot claim to have understood it, but nonetheless enjoyed it because: (1) Puffer-smoking jacket? (2) Jazzy little hand dance. (3) Dinosaurs on a sled gliding peacefully through the background. (4) Curly bangs! Do you require anything else from your Zoom content? Didn't think so! Thank you, Sandra, and goodnight.