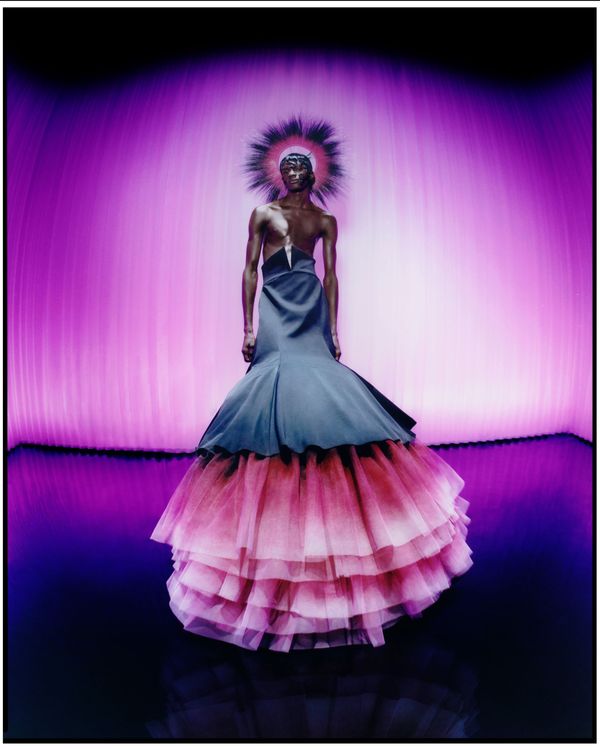 Some of the best clothes shown during fashion month aren't made to wear — they're purely for fantasy. Take the ones in British designer Harris Reed's first full collection, "For Now, Unexplained," which debuted a day before London Fashion Week officially kicks off. The timing is significant: The British Fashion Council declared London Fashion Week gender-neutral starting last June because of the pandemic.
Please take a moment to admire the jaw-dropping looks in this collection. The decadence is over the top — a flamboyant fusion of traditional menswear with the historical debutante gowns of British aristocracy. What it isn't, though, is simply putting a man in a dress and calling it a day. Elements traditionally associated with menswear and womenswear are blended in new ways. In one look, for example, a pleated dress skirt is sewn at the waist of an asymmetrical suit jacket. In another, half of a pannier-like skirt is attached to a single pant leg, but then that's then all mixed in with intricate corseting on the inside. Then, of course, there are the towering headpieces and windswept hair, frozen in time.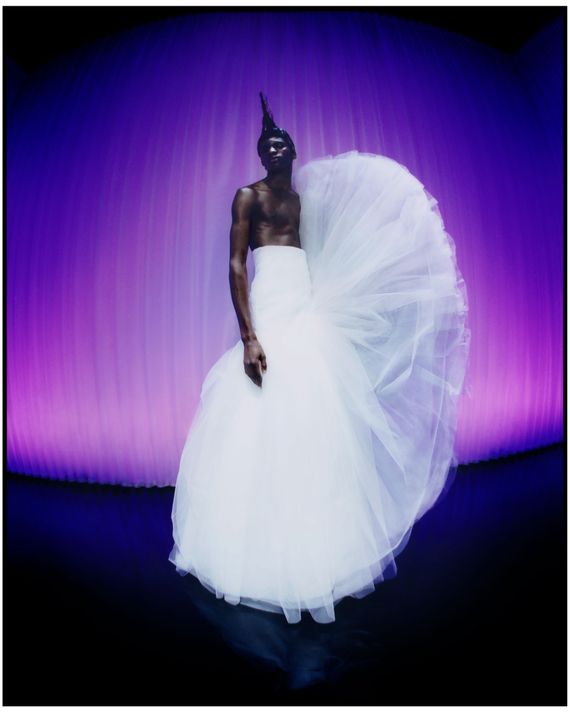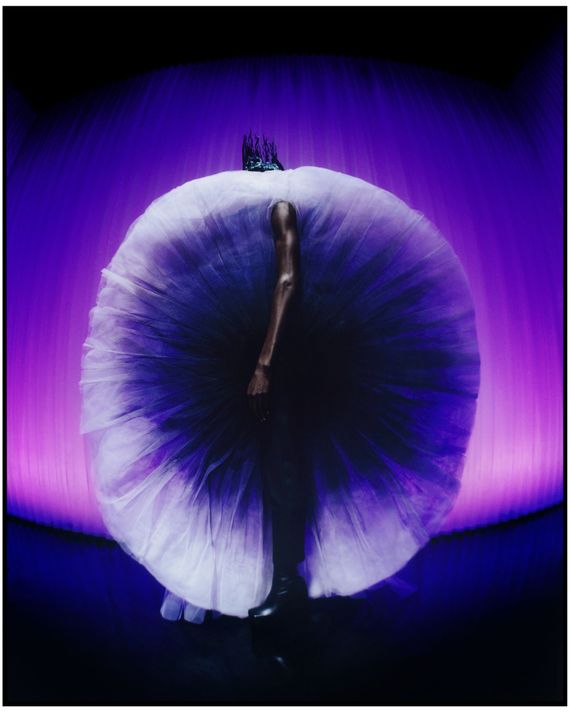 Reed's name might not be instantly recognizable, since he graduated from Central Saint Martins just last year. But you may have seen one of his designs on Harry Styles in the pages of Vogue back in November, when the singer became the first male to appear solo on the magazine's cover. In the story that accompanied the cover, Styles wore a tailored Harris Reed suit with an attached crinoline draped in ivory tulle, plus a big flouncy bow made of fuchsia silk. Playing with gender expectations is clearly his forte, as are big sweeping gestures.
"Harris Reed is looking to the horizon, facing the unknown with a rebel streak and allowing for space, growth and exploration in this current moment," the show notes read. "Whatever comes next, comes next. For now, this is how it exists." See the rest of the collection below.