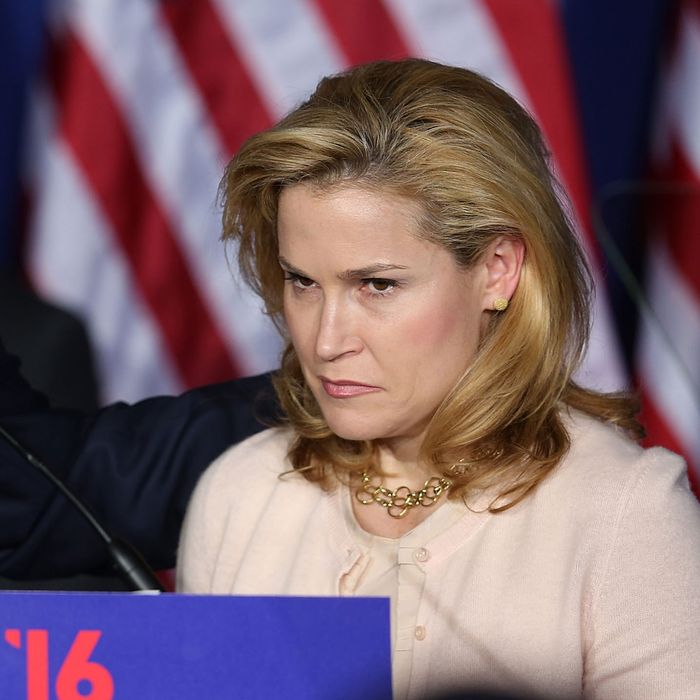 Ted and Heidi Cruz.
Photo: Joe Raedle/Getty Images
Things must be pretty tense in the "Lovelies" group text right about now.
As you may recall, last week, Senator Ted Cruz briefly abandoned his storm-ravaged state and constituents in order to accompany his family to the warm, sunny shores of Cancún. As the backlash mounted, someone from his wife's neighborhood group chat (called "[Redacted] Lovelies") leaked a series of texts showing that Cruz's wife, Heidi, had invited them all to join her and Ted at the Ritz-Carlton in Cancún because their house in Houston was "FREEZING." The texts were widely derided and seemed to contradict Ted's own suggestion that he was merely flying down to Mexico for a night to drop off his 10- and 12-year-old daughters with their friends.
Well, Heidi is apparently none too happy about this breach of group-text trust. As TMZ reports, in an interview with the political podcast Ruthless this week, Senator Cruz said that Heidi is "pretty pissed" about the leak.
"Here's a suggestion," he offered. "Just don't be assholes. Just treat each other as human beings. Have some modicum of respect."
Who's the bigger asshole: a person who leaks screenshots of their neighborhood group chat to reporters? Or a senator who flees his state in the midst of one of the biggest climate crises in recent history and then blames his own lapse of judgment on his young daughters? It's a question upon which Ted does not seem to have spent much time reflecting.
In any case, one has to imagine that the [Redacted] Lovelies chat has likely fallen silent in the past few days or that it has descended into a terrible morass of passive-aggression. When will one of the Lovelies be brave enough to share the fallout texts?