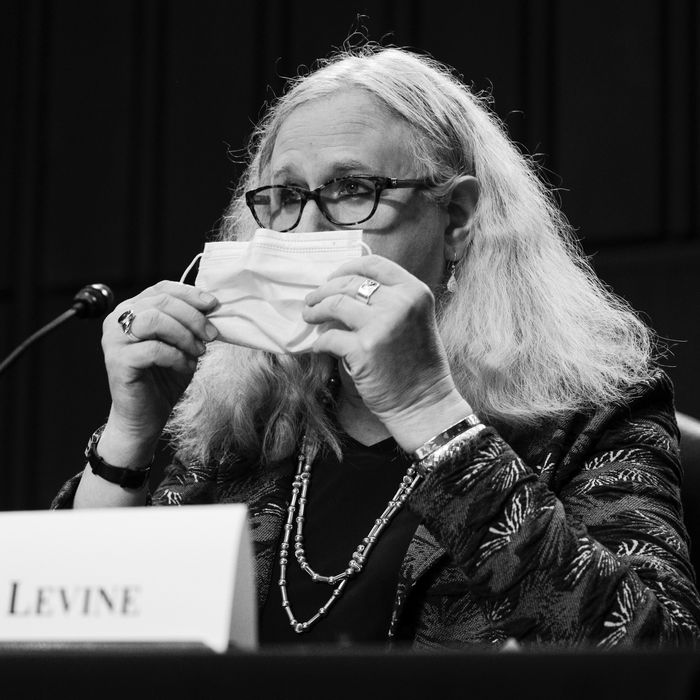 Rachel Levine
Photo: Pool/Getty Images
When President Joe Biden announced Dr. Rachel Levine as his nominee for assistant secretary of health, he called her a "historic and deeply qualified choice to help lead our administration's health efforts." As Pennsylvania's top health official, Levine has drawn praise for her leadership amid the opioid epidemic and coronavirus pandemic. During the start of her confirmation hearing on Thursday, in her opening statement, she emphasized as much: "My career has been helping people live healthy lives. As the assistant secretary for health, I would be committed each day to helping the people of our nation and improving our public health."
Rather than question Levine about her experience handling two ongoing public-health crises, Republican senator Rand Paul decided to fixate on issues pertaining to Levine's identity: She is a transgender woman and, if confirmed, would become the highest-ranking openly trans official in U.S. government history. As soon as Paul was up to question Levine, the New York Times reports, he launched into a transphobic tirade, likening "genital mutilation" of minors to transgender health care. Paul continued on in this fashion, using transphobic rhetoric to promote myths about transgender health care. Eventually, he demanded Levine give her stance on whether she thinks minors are "capable of making such a life-changing decision of changing one's sex."
Throughout Paul's harangue, Levine — who has faced relentless transphobic attacks throughout her career — demonstrated remarkable composure. After the senator posed his question, she first thanked him for "his interest" in the subject, and then replied, "Transgender medicine is a very complex and nuanced field, with robust research and standards of care that have been developed." She also offered to work with Paul's office more on the issue. Unsatisfied with Levine's response, Paul became irritated and brought up detransitioning, which occurs at low rates. Again, Levine issued the response she gave to Paul earlier — and again, he grew more furious.
"For most of the history of medicine, we wouldn't let you have a cut sewn up in the ER [without parental consent]," Paul said. "But you're willing to let a minor take things that prevent their puberty, and you think they get that back?" (Despite Rand's implication, as Katelyn Burns writes on Vox, doctors nowadays suggest a slower, "affirming" approach with children who express that their gender might be at odds with the sex they were assigned at birth. Burns continues: "Medical interventions — like puberty suppression or gender-affirming hormones like estrogen or testosterone — are only recommended for adolescents who have been insistent, persistent, and consistent in their gender identity over long periods.")
The exchange was eventually interrupted by Democratic senator Patty Murray, the chairwoman of the Senate Health Committee, who later rebuked Paul's conduct. After praising Levine's "medically informed response," Murray continued, "It is really critical to me that our nominees be treated with respect and that our questions focus on their qualifications and the work ahead of us, rather than on ideological and harmful misrepresentations like those we heard from Senator Paul earlier."
Later in the day, the House of Representatives passed the Equality Act, amending the Civil Rights Act to ban discrimination based on gender identity and sexual orientation.