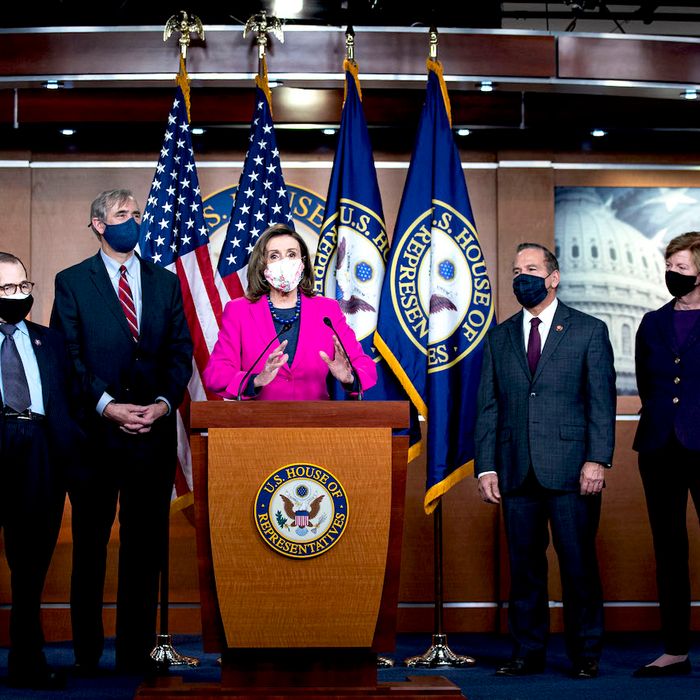 Nancy Pelosi announced House passages of the Equality Act.
Photo: Al Drago/Getty Images
On Thursday, the U.S. House of Representatives voted to amend the Civil Rights Act to ban discrimination based on gender identity and sexual orientation. A 224-206 vote on the Equality Act split roughly down party lines, with three Republicans joining Democrats in favor of the legislation.
The House first passed the Equality Act in 2019, when Republicans controlled the Senate. The bill would extend equal protection to LGBTQ+ people in housing, education, employment, federally funded programs, and also in "public accommodations" — a category that, according to NPR, covers a broad assortment of public spaces like stadiums and transportation, but also retailers (online and in-store). If the Equality Act passes, the decision by business owners — like florists, for example, or bakers — to deny services on the grounds of potential customers' sexuality would be classed as discrimination. Per NPR, the act's language attempts to guard against prospective exemptions for religious freedom.
The vote followed two days of debate, during which many lawmakers spoke from personal experience about the act's implications.
"Had this legislation been enacted when I was growing up, it would've been direct evidence of the fact that things really do get better; that I didn't have to hide or cry so much," New York representative Mondaire Jones, one of the first two openly gay Black men ever elected to Congress, said on the House floor Thursday. "Thankfully, since childhood, things have gotten better, but that hasn't been because of the mere passage of time, it's been because LGBTQ advocates made life better. Today we send a powerful message to millions of LGBTQ people around the country, and indeed around the world, that they are seen. That they are valued. That their lives are worthy of being protected."
Predictably, Republican opposition to the measure surfaced concerns about women's safety in restrooms, something that conservatives are always getting worked up about, despite an utter absence of evidence suggesting harassment and sexual assault spike when trans people are allowed to use the bathrooms corresponding to their gender identity. Nonetheless, Representative Marjorie Taylor Greene — the (purportedly reformed) conspiracy theorist — tried to delay a vote on the bill yesterday, allegedly to give her fellow lawmakers time to "rethink destroying #WomensRights and #WomensSports and #ReligiousFreedom," as she put it on Twitter. In response, Illinois representative Marie Newman (whose daughter is trans) hung a transgender flag outside her office, which faces Greene's. The Georgia congresswoman fired back by hanging a large poster in the hallway that read: "There are TWO genders: Male & Female. Trust The Science!"
Despite Greene's bullying, the Equality Act looks likely to make it through the Democrat-controlled Senate, where Majority Leader Chuck Schumer reportedly plans to bring the bill to the floor. President Joe Biden named the legislation as a priority even before he assumed office, saying in a statement last week: "I urge Congress to swiftly pass this historic legislation. Every person should be treated with dignity and respect, and this bill represents a critical step toward ensuring that America lives up to our foundational values of equality and freedom for all."