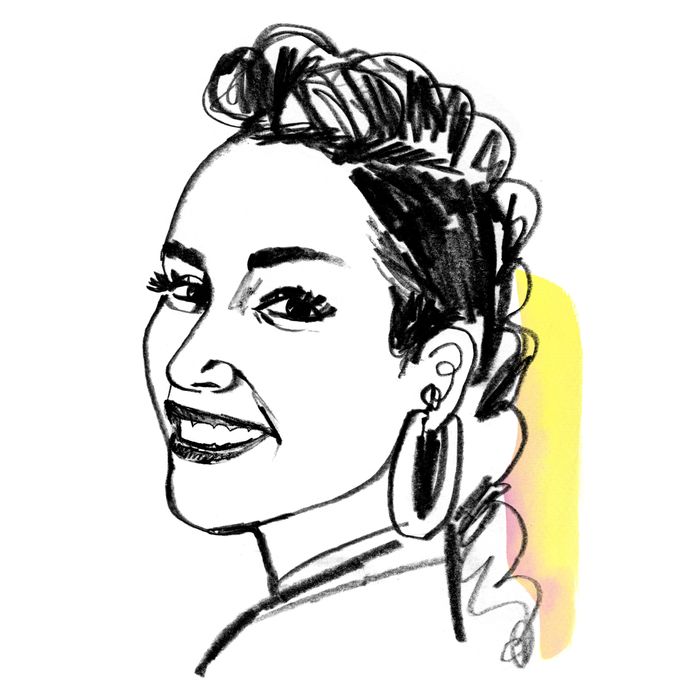 Illustration: Lauren Tamaki
As a head instructor and vice-president of fitness programming at Peloton, Robin Arzón, 39, has coached more than a million people through the challenges of the past year. And her fan base is on the rise — Peloton's subscriber numbers have ballooned by 134 percent since the pandemic began. Meanwhile, Arzón has experienced growth of her own: In September, she announced during a live class that she was pregnant with her first child, and then launched a series of wildly popular prenatal strength and cycling programs. On a recent call from her apartment, the ultra-marathoner, book author, and former corporate lawyer talked about dealing with pregnancy fatigue, switching careers, and her "ten-minute rule." She lives in Manhattan with her husband. Here's how she gets it done.
On her morning routine:
I wake up around 6:30 or 7 a.m. and try to do some breathing exercises and meditation. I would love for that to be 20 minutes, but most mornings it's five minutes or less. Then I check my phone —  I've found that if I check it right away, I can focus better on the rest of my morning routine because I know that there are no fire drills. And that gives me peace of mind so I can enjoy having time with my husband in the kitchen.
I have my morning tea along with a cocktail of apple-cider vinegar, water, and lemon. Then I'll open my journal and try to get a handle on my day. I also jot down some gratitude and inspiration. I keep it really timely and specific — things that happened in the last 12 to 24 hours, not an endless list of everything in my life that I'm grateful for. It takes about two minutes.
Probably the most sacred part of my day is my own workout, which might sound odd considering I work out for a living. But when I'm creating classes for Peloton, that's coming from a place of service, whereas my own workouts are entirely for me. I also need to train to be able to do a workout on camera while talking and engaging. I like to do long runs — marathoning and ultra-marathoning were my first love. I also do heavy lifting four days a week.
On finding her own exercise routine:
When I was in school at NYU, I was held hostage at gunpoint, very randomly, in a wine bar in the East Village. And that trauma became a catalyst for me to become an athlete. That was in 2002, and I had never even jogged a mile in my life before. But when I started to feel the weight of that trauma, I needed to literally run it out. I started jogging very slowly and I'm sure very poorly. I lived about half a mile from my law-school campus, so I would jog that stretch. And that's how I became a runner and, eventually, an athlete.
On the "ten-minute rule":
When I became pregnant and was experiencing a lot of fatigue, I would tell myself I just had to move for ten minutes — do a ten-minute arms workout, a ten-minute jog, a ten-minute walk. And then I could stop if it wasn't working. But oftentimes, once I got going, I would feel better and wind up doing more. Either way, just ten minutes would improve my mental and my physical health.
The ten-minute rule is something I applied way before I got pregnant, in a lot of different areas of my life. It started when I was a lawyer and trying to reclaim a little bit of my day. As a junior associate, working 80 hours a week, I was really limited on time and energy. But I knew I needed to reimagine a new life outside of law. So I started to block out and protect ten minutes a day in my calendar, even when I felt like I didn't have the time. And that's how I plotted my way into a new career. I would spend ten minutes a day doing research, sending an email, making a phone call, Googling something, trying to figure out what the heck I wanted to do.
On designing Peloton classes:
Creating a class takes at least double the amount of time of the class itself. I don't think I've ever done it in under an hour, even a ten-minute class. I don't do it on the bike; I'm at my desk, on my computer. The process starts with the music, and I'll write out the structure. Then I think about the spirit or the message, or the sports psychology behind that class. I don't tend to pre-plan exactly what I'm going to say. A lot of that happens organically, and I've created music and a fitness framework that supports it. It's like doing a workout while also hosting a television show and being a VJ. It's very layered.
On teaching in an empty studio:
It's very different when you don't have the energy of a live audience. But when that camera is on, I know there's thousands to millions of people on the other side of it, and it really doesn't matter whether someone's in the room or not. It was part of what we did pre-pandemic, and now, we just do it much more often. The studio is within walking distance from my apartment, so my commute is pretty short. I haven't taken the subway in almost a year.
On keeping her energy up:
I've found that saying "no" has actually been my biggest tool in business, training, life, and relationships. I'm pretty direct. I'll just be like, "Nope," with a period or an exclamation point. It's a complete sentence in texts and emails. But sometimes it also looks like, "No, I don't have 60 minutes, but I have 15." And that protects ten or 15 minutes that I can use for meditation or my own workout or something else.
People like to talk about saying "no" in terms of balance and happiness, but the tactical lawyer in me sees it in terms of priorities, effectiveness, and efficiency. In saying no, I'm also protecting my teammates or other stakeholders in my time. I'm looking out for our bottom line or our end goal, whether that's family focused, business focused, or relationship focused. I think practicing "no" is just like anything else — you have to work at it. Our willpower fatigues, our muscles fatigue, and our ability to say no without guilt takes practice.
On her evening routine:
I believe, especially when we're living in an amorphous time with endless phone calls and Zoom meetings and all of it, that having an evening anchor is just as important as a morning anchor. For me, having a kitchen dance party with my husband is a pivotal time in my day. Even if I'm going to jump on email one more time after dinner, or do one more thing on social media, quality time in the kitchen while we're making dinner marks a transition. It usually starts between 6 and 8 p.m. I try to be off of calls and meetings and the super dense computer work by 7 p.m. on a good day. Most of the time I'm able to honor that. And after the kitchen dance party is probably something mindless on television, like a true-crime documentary binge.
I try to end my night with a little more breath work, but literally less than a minute. I'm usually in bed with a book in my hand by 9:30 p.m. I try to put a dent in a few chapters per night, but sometimes I'm just so physically and mentally exhausted that I only get through one page. I try not to berate myself. One is better than none.