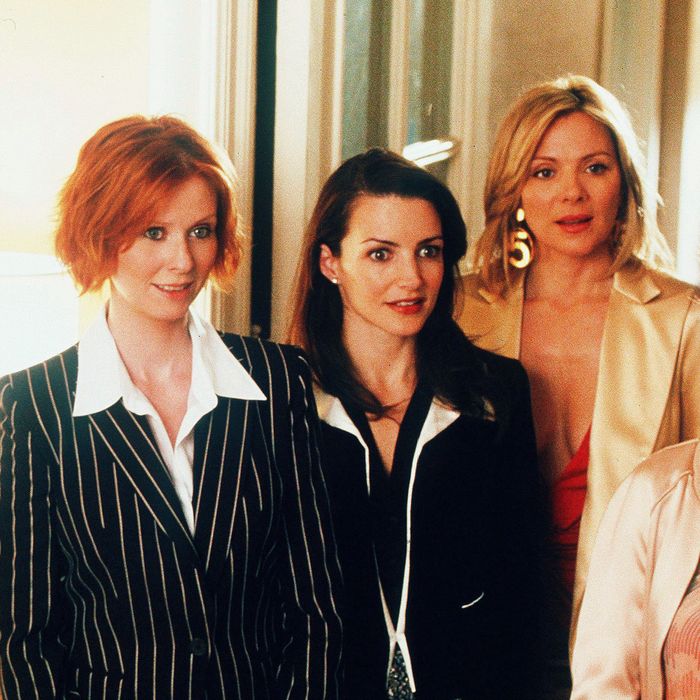 Photo: Craig Blankenhorn/Hbo/Darren Star Prods/Kobal/Shutterstock
In the '90s, the HBO show Sex and the City famously invented the concept of women discussing sex over brunch. Over six seasons and two movies, the pack of four best friends that included the "Smart One" and the "Traditional One" and the "Horny One" and the "Blogger" navigated life and love and two separate Justin Theroux(s?). But as their legion of devoted fans soon learned, all was not well behind the scenes. Kim Cattrall (Samantha, the Horny One; scat performer) has repeatedly said over the years that she does not want to be a part of any more SATC movies or reboots, in part because of her "toxic" relationship with co-star Sarah Jessica Parker (Carrie, the Blogger). So, when an SATC reboot was announced last month, it didn't come as a huge surprise to learn that Cattrall would not be a part of it. How would the show explain its most sex-obsessed member's absence though? Would they recast her? Kill her off in some sort of zany, dildo-related accident?
The answer is something much less exciting and yet, in a way, much more depressing: They'll say the friends just grew apart.
In an interview with TVLine, HBO's Casey Bloys said that in the reboot — which is being called And Just Like That — Samantha's absence will be attributed to the simple, natural drifting apart of friends over time. "Just as in real life, people come into your life, people leave," he said.
Bloys continued: "Friendships fade, and new friendships start. So I think it is all very indicative of the real stages, the actual stages of life … They're trying to tell an honest story about being a woman in her 50s in New York. So it should all feel somewhat organic, and the friends that you have when you're 30, you may not have when you're 50."
Also depressing: The show will indeed tackle COVID, so if you were hoping for a fun, escapist fantasy, well … maybe spend some time reflecting on the show's earlier, memorable moments instead.