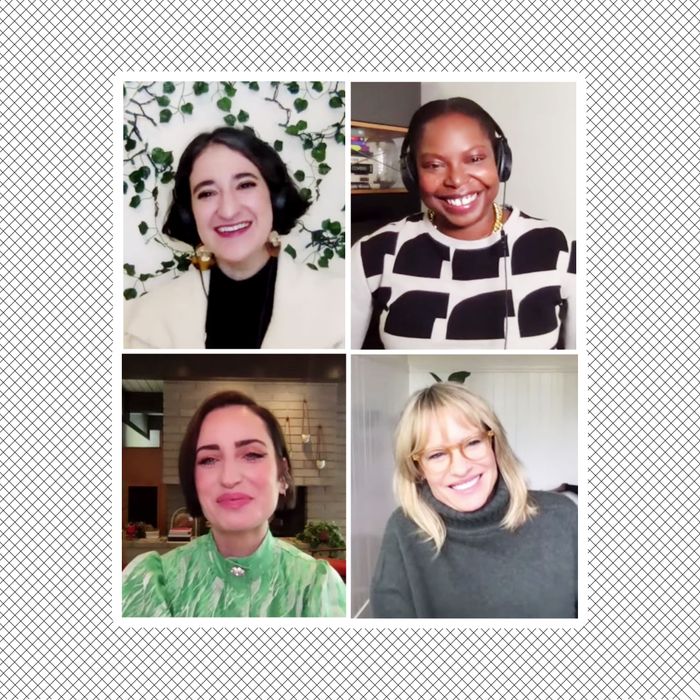 Photo-Illustration: The Cut
This past Friday, the Cut hosted a virtual How I Get It Done panel in honor of this year's (also virtual) Sundance Film Festival. The panel was sponsored by Stella Artois and led by Cut senior editor Kerensa Cadenas, who was joined by three pioneers in the film industry to discuss navigating working from home and how the film industry has shifted during the pandemic. The guests on the panel are Robin Wright, star and first-time director of the new feature film Land; actress, producer, director and writer Zoe Lister-Jones; and the founder of Global Cinematheque, Jacqueline Lyanga.
These remarkable women shared with the Cut how they're getting it done these days. Below, read highlights from the event.
Robin Wright, actress and director
On mornings:
"It's all about schedule and continuously double checking, because the schedule is always shifting. I am generally waking up, and before coffee, having to do the tech check. Just to make sure I am not going to get thrown off the internet, again, during a Zoom interview."
On her directorial debut:
"It was during the time when our country was experiencing the random shootings going on, almost biweekly. The script just resonated because it's about that kind of loss. That kind of life-altering event that happens to people, and your life as you once knew it is literally ripped out from under you in a second. How do individuals heal? Where can they find a renewed sense of faith and hope that they can get through this? I just wanted to make a movie about human kindness, because it is about human and spiritual growth when you are challenged by adversity."
On where she ended up:
"Deep down there was always that little fortress of one day maybe I will direct. I had the desire but, again, didn't think I had all the information. Why do we feel that as women? And that's a big question that I wish I had asked myself in my 20s and early 30s when I had that secret voice talking, but I would never act on it. I never thought I would get the opportunity to direct and I love it so much … when you direct you get to collaborate with every other person in those departments. You are all architects of the same building."
Zoe Lister-Jones, actress, producer, director, and writer
On work-life balance:
"The work-life balance is always difficult. I think any of us can speak to this when you're creating your own work and the work is mirroring your life and you're a creative person. I always have a hard time setting those distinctions because there's not really an hour in the day where I might not have an idea that I need to then put onto paper. I never have like a 10 p.m. rule, or anything like that, which I probably should."
On ambition:
"It's made me look at how I want to live my life outside of my work. So much of being an ambitious person is really putting work first, at least for me. I think that once the life part gets taken away, in the way that it has in the past year, it really made me look at how I balance the two and what my priorities will be going forward and how I can be as ambitious about life as I am about work."
On advice :
"You can make a movie before you consider yourself an expert. I think especially for women, that is a real stumbling block because we want to be perfect so we can't be questioned, so that our right to hold that space can't be questioned. I would have liked to have let myself be imperfect and know that I could fail. To not be so afraid of failing and know that is a part of the process. I waited many years to direct a film and I think I could have done it before."
Jacqueline Lyanga, founder of Global Cinematheque
On mornings:
"I have to pay way more attention to scheduling everything and ensuring that everything for the day is scheduled in. So my morning begins between 6:30 and 7 a.m. and the first thing I do is look at my calendar to see if I have a Zoom call with someone from Europe or from Asia. Do I need to immediately set it up? Or can I spend a little bit of time reading the news or put some time to my newspaper? Certainly, calls, especially for someone who works a lot with international filmmakers, I actually have more calls from home. The home work office is a 24-hour office now."
On the evolution of the film industry:
"The opportunities that having, whether it's a hybrid festival or a hybrid screening, enables you and enables artists in terms of reaching a broader and wider audience. I think there's so much potential there. This is something that I do hope becomes a part of how we continue to present film in some way and present conversations."
On how she ended up on her film career path:
"I knew that there was a path for my love for cinema. I was going to continue to focus on that and on art. It would take me somewhere, my passion. But I didn't know that I would be here, landing where I am right now. I am very happy with the place I am in and if I could tell my younger self about this job, I would. But again, it was just sort of a path that forged and that I found along the way. "
Watch the video below