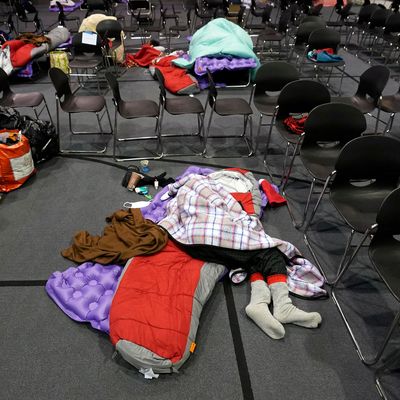 Someone sleeps on the ground in a warming shelter in Austin.
Photo: David J Phillip/AP/Shutterstock
Over the weekend, a massive winter storm descended upon the state of Texas, bringing harsh, unprecedented weather to the region: snow, ice, single-digit temperatures. The inclement conditions were punishing enough — most houses in Texas feature little insulation, which prompted many to crank up the heat in their living spaces. But in the early morning hours on Monday, the state's power grid — which was not equipped to handle such frigid conditions — began to buckle under the increased demand, resulting in sweeping power outages. On Tuesday, more than 4 million people across the state didn't have the means to heat their homes, forcing them to resort to desperate — and in some cases, deadly — efforts to stay warm. Meanwhile, unhoused people are freezing to death on the streets.
Days later, hundreds of thousands of Texans are still in need of relief. As of Thursday afternoon, about 500,000 homes and businesses across the state are still without power, and many localities are now facing water shortages as a result. Hospitals are reporting rises in carbon-monoxide-poisoning cases as people attempt to heat their homes using barbecue pits and generators. It's still unclear when those without power might see it restored, and people are struggling.
While you may not have the means to fix the failures of the state's energy grid, there are a handful of ways you can help alleviate some of the state's suffering. Below, a few suggestions:
Donate to local mutual-aid efforts
One of the most effective ways to help is to donate to mutual-aid networks, which are working overtime to support their respective communities in any way possible: delivering essential items like food and medicine, coordinating transportation for those in need, and raising awareness of the dire situation on the ground. (If you live in the area, some mutual-aid networks are also seeking donations like winter gear and clothing. More on that in a bit.)
Here are some of the largest organizations in Texas's major cities:
• Austin: Donate to Austin Mutual Aid via the Venmo accounts @austinmutualaid and @austinmutualaidhotels. A quick warning: Someone is posing as the network under the handle @austinmutualaidhotel (similar to the legitimate handle, just without an S.) Do not donate to this account. As always, double-check before donating to ensure you're doing it effectively!
• Dallas: Feed the People Dallas is a Black/Latinx female-led network that serves the Dallas–Fort Worth area. You can Venmo it at @feedthepeopledallas or donate via its website.
• Houston: As of Thursday morning, Mutual Aid Houston announced on GoFundMe that the network is "overwhelmed by the outpour of support we have seen over the last few days" and is no longer looking for donations. Instead, it's asking potential donors to support other, lesser-known groups, which it has listed on its GoFundMe.
• San Antonio: Para Mi Gente Mutual Aid is asking for donations via Cash App ($pmgmutualaid) and Venmo (@pmgmutualaid).
Also consider lending support to mutual-aid networks or other community groups that serve smaller cities, as they likely haven't received the outpouring of support that the larger efforts have. (Unfortunately, there isn't currently an extensive database that lists all the mutual-aid efforts across the state; instead, you'll have to do some digging around on social media or see if local community organizers or groups have recommendations.)
Donate to food banks
Like everything else, the state's food supply chain was disrupted by the storm, and many across the state — especially the unhoused population — don't have access to food. Both Eater Austin and Eater Dallas have compiled handy lists of community organizations and dedicated mutual-aid networks that are working to feed the hungry in their respective regions.
You can also donate to a food bank. Visit Feeding Texas, the state's largest hunger-relief organization, which composed an online database of all the food banks across the state. If you look up an area by Zip Code, you will be directed to the food bank serving that region and provided its website or contact information. Once on a specific food bank's website, you can see what it's currently seeking: cash donations, food items, volunteer time, or all three.
Kids' Meals, which provides free meals to food-insecure children in the Houston area, has compiled a list of ways people both in and outside the region can help feed hungry kids in the storm's wake. You can donate, prepare lunch bags (using the shelf-stable items listed here), or volunteer at the organization.
If you can provide on-the-ground support: volunteer at a warming center, lend transportation, and more
Amid frigid conditions and windchill temperatures that dip below zero degrees overnight, cities across the state have opened emergency warming shelters in churches, gyms, and furniture stores, where the unhoused and those without adequate shelter can rest. Many of these shelters are in need of volunteers to help work shifts or to help transport those in need to shelters. For example, according to the Houston Chronicle, Cy-Fair Helping Hands, a nonprofit organization serving the unhoused in the Houston area, is seeking volunteers to help out at one of its two warming centers; you can sign up here. The city of Austin is also asking for people to work shifts at shelters; sign up to volunteer here. For a complete list of warming shelters across the Lone Star State, the Texas Division of Emergency Management has put together a comprehensive list.
Additionally, many of the aforementioned mutual-aid networks are looking for items such as food and winter gear as well as transportation assistance. Just check their respective websites to see what they're seeking. For example, Austin Mutual Aid is in need of bottled drinking water, sleeping bags, and feminine products and is asking those interested in donating to sign up here. The network is also seeking people with cars with four-wheel drive and "experience driving on black ice" to help transport these items and people in need; sign up for that here.