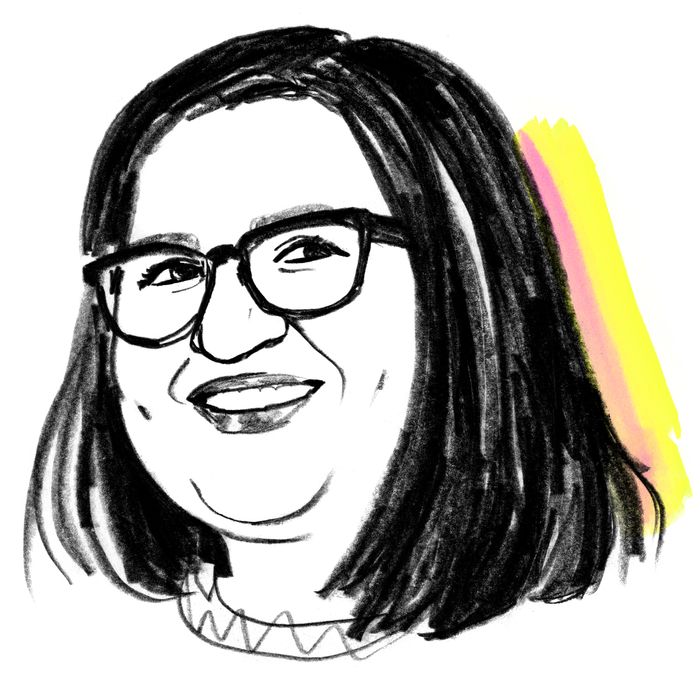 Illustration: Lauren Tamaki
Nahnatchka Khan is a writer and producer responsible for some of television's most visible depictions of immigrant stories in the last two decades. She's probably best known for being the showrunner of ABC's groundbreaking Asian American family sitcom Fresh Off the Boat, and directed the 2019 Netflix rom-com Always Be My Maybe starring Ali Wong and Randall Park. Before that, she created and executive produced the comedy series Don't Trust the B— in Apartment 23, which cemented her as one of the most in-demand creators in the business. Later this month she'll be back with Young Rock, a sitcom based on Dwayne "The Rock" Johnson's formative years, on NBC. She lives in L.A. with her wife and two dogs. Here's how she gets it done.
On mornings:
When you're filming the schedule is dictated to you, so you've gotta be where you've gotta be depending on what's going on. When I'm not filming something, I'm not exactly a morning person if I don't have to be. I don't just naturally wake up at six, so I always set an alarm. My wife and I have two dogs, so I have a morning ritual where I feed the dogs and take them outside. That sort of weirdly centers me for the day, because I'm dealing with them. And then I just jump right into it: shower, get ready, all that stuff. I usually have some sort of breakfast bar, definitely coffee, and I'm in it.
On a typical work day:
We shot Young Rock in Australia. Once you're on location it's all prep — you're scouting, walking sets, meeting with the art department, casting your wardrobe, checking in with hair and makeup. You're truly everywhere. Then when you start shooting, you're just going through the [script] pages. Shooting the scenes, rewriting — we're doing that on set.
I'm in post-production right now so now I'm editing all of the episodes. That's sort of its own cycle. The editor will send me the director's cut and I'll go in and we'll start sound mixing, color correcting the visuals, dealing with the VFX and the ADR.
When we're not shooting, we have the writers' room start around 10:00 am. And we're either breaking stories, re-writing a script, going over an outline, or addressing notes. If the writers' room is not going on, I do a lot of reading and writing.
On the hardest part of the job:
Carving out writing time, because everything starts to encroach on that. And I'll always love writing first and foremost, because that was my passion from a very young age. You've got to push everything aside and be like: Okay, I need a few hours just to write and not think about anything else and turn my phone off, and honestly turn off Wi-Fi sometimes and just have music on and Final Draft open.
I also find casting not just difficult, but almost emotional. When you're in a room with people who are auditioning there's a power dynamic that's tough for me. You want to just say, "Hey, you're great. But we can't cast eight people for one role."
On a surprising part of the job:
There is a lot of managing — you're in charge of a lot of different departments and you have to learn how to communicate. Just because you're a good writer doesn't mean you're a good communicator or manager. Even if you're not an art designer or graphic designer or in production, you have to be able to communicate with those people who are, tell them what you're looking for, and allow them to bring their own unique spin to it.
On dealing with criticism:
What I care the most about is making something that I'm proud of. It would be devastating to me if I put something out there that I didn't believe in, and no matter what the reaction was—positive or negative — it wouldn't feel good. It's so much work — years of your life — so I ask myself: Is this something that I want to put out there? Is this a story I feel needs to be told, is there something new I can bring to it? Is there something fresh and different here? And if there's not, then I won't get involved. I almost self-edit way early on in the process.
On winding down:
I really love spending time with my wife and having a great martini — I love a well-made drink. Having a cocktail, hanging out with her, and with friends. Talking to people and connecting with people, that calms me down. Taking the dogs out for a walk around the neighborhood. We got a Peloton right before the pandemic, and that's been great too. Also doing the New York Times crossword puzzle. And, of course, I love watching movies and TV.
On staying true to your voice:
I've always tried to stay true to my voice, even while I was writing for other people. Because that's part of the job, to be that chameleon. I think what's really important is to hold onto your specific point of view and bring that into the process whenever you can. I couldn't get rid of that, and when I finally got my chance to do my own show and be my own showrunner and creator, I started to center those things that I found important. When more people who were or have been the outsiders get chances and opportunities to dictate the culture, the culture changes. I know it's hard, but hold onto the thing that makes you unique, even while you're in circumstances and situations where you're being paid to write in another voice.
On telling personal stories:
The more personal stories, at least for me, are ones that you get to [later]. Coming out of the gate with that, I think, would have been difficult because I didn't have the experience. Those stories are really nuanced, and they can easily get derailed. And I think that having the experience of a show under your belt, or being in a leadership role, the more you have a chance to kind of flex that muscle, the better equipped you are to tell your own personal stories, because you're at a place where you have the courage of your convictions.