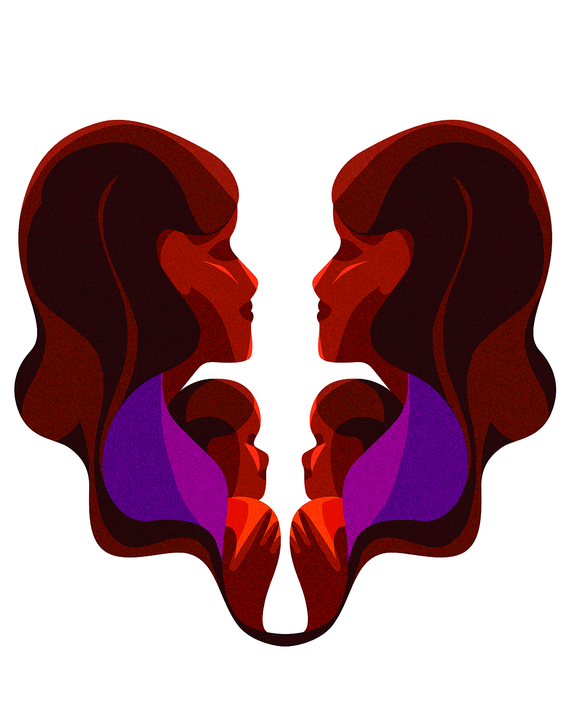 Illustration: by Simone Noronha
On a Tuesday morning last February, I drove my 2-year-old daughter to a converted warehouse near the Oakland waterfront. After a long search, I found what I'd been looking for inside: a sunny room outfitted with plush wall-to-wall carpet and wooden toys, where parents with children as severely and visibly disabled as one of my own congregated. Children toddled about, and the adults seemed calm. A melody of gentle voices began to replace the anxious, doomful din of the Facebook groups I'd joined after Izzy was diagnosed with a rare genetic deletion syndrome at 8 months old.
Teachers trained in physical therapy and speech development began the class with everyone seated in a circle singing. During sensory play time, an intern noticed that Izzy seemed interested in another child's more colorful props. The intern disappeared for a few minutes, then returned with a bin of neon scarves. I tossed them above Izzy's prone body; as they caught streaks of sunshine on their way down, she squealed and squiggled, contorting her torso and limbs into new shapes. At snack time, attentive staff members settled the children around a table that came up to my shins.
That was the cue for Geri Justi, a licensed family therapist with 20 years of experience working with families of disabled children, to shuttle parents into a conference room for group counseling. Finally, I'd found a group of parents to whom I needed to explain very little. I introduced myself, sobbing with relief.
These moms (and one dad) knew the shock of a child's diagnosis and how it relegates her parents to an alternate reality that runs parallel to "normal" life. Looking around, I wondered how many of them had, like me, experienced life changes so large that they'd cut back on work or shuttered their careers completely. What kinds of choices meant we were available to meet at 11 a.m. on a Tuesday? And when you took our kids' needs into account, was "choice" even the right word?
The communal feeling I got from that first group meeting was relatively short-lived: Izzy and I attended the program in person four times; our last class was on Thursday, March 12. At that meeting, we took precautions that were normal for us pre-2020 — hitting the Purell hard and depositing mouthed toys in a bin labeled "Dirty" — though none of us wore masks yet. The next day, California announced a statewide lockdown.
Every parent in America remembers the moment their kids' day care or school shut down last spring, the moment when they had to figure out completely new relationships to caretaking and work. But for  me, and many women like me, that moment came well before the pandemic.
I gave birth to Izzy when I was 39 and at the height of my career. I'll resist glamorizing that time: Life was good — "full" is more like it — not easy or perfect. My husband and I both worked (more than) full-time jobs as we juggled care for our newborn and 4-year-old son. Together we fudged our way through a routine of shared, organized chaos that I thought would propel us through the next few years.
Genetics would have it another way. Just as I was about to go back to work, Izzy was diagnosed with a rare genetic deletion syndrome resulting in severe physical and cognitive disabilities. Instead of easing back into the role of equal breadwinner, I stayed home, reckoning with the grief and overwhelming duties of raising a child who might not ever walk or talk. My husband went back to work, and I hated him for it.
As Izzy's condition progressed, I joined the millions of mothers in the U.S. who care for a disabled or medically fragile child and gradually gave up on working — paid work, that is. I do plenty of the other kind: feeding, bathing, scheduling doctor's appointments, facilitating therapy sessions, ordering groceries, filing insurance claims, consulting lawyers, checking the medicine cabinet to make sure Izzy's prescriptions are current. Many parents in similar positions also take on skilled nursing tasks, plunging meals into their child's g-tube (gastronomy tube) and watching out for every possible source of infection — a fear only heightened by the pandemic.
A 2018 study of caregivers of someone with a rare disease or condition, usually a family member, found that 87 percent of respondents were women — mostly mothers. These caregivers of a child with a rare condition performed an average of 53 hours of caregiving work each week. On top of those hours, 63 percent of those caring for high-needs children also have second jobs, but only a third can afford to hire another caregiver to help out. Ninety-one percent have arrived late to work or left early, over half have cut their hours, and more than a quarter have turned down promotions.
In Norway, a nation with expansive social policies supporting working parents, a 2016 study declared that "both women and men are expected to work, and child care is to a considerable extent seen as the responsibility of the welfare state." But when it comes to caring for a child with complex needs, there are many "gendered adaptations" — that's an indirect way of saying that mothers continue to perform a disproportionate amount of caregiving at home. And as a result, their careers take a big hit. A year after birth, mothers of chronically ill or disabled children take roughly twice the number of sick days per year than fathers in the same group. At the same time, mothers in this category earn 28 percent less than mothers of healthy or non-disabled children. Two years after giving birth, when caregiving demands often increase, they earn a whopping 50 percent less. Meanwhile, income for all working fathers — even those with chronically ill or disabled children — continues along a tidy, steady rise.
In the months after Izzy's diagnosis, the moments I felt most productive and whole were when I fled to a neighborhood café, dressed in vestiges of my former working wardrobe. There, I jammed away on my laptop, weaving notes into essays and firing off emails to drum up freelance work. My work wasn't paying much of our bills, but it filled me with purpose and a sense of control.
In the same parent group, I met Khadijah* and her chatty and energetic daughter Farida,* who has Down syndrome. Khadijah, I learned, felt similarly about her job at a large retail store. "I did it to give myself a break," she told me in December. "It also meant I could get takeout some nights so I didn't have to cook."
Khadijah's husband works full time out of the house — his job provides the family's health insurance and most of their income. After the lockdown, his employer granted him four weeks of paid leave. While Khadijah worked, he and his mother-in-law traded shifts caring for Farida (then 2 years old) at home.
Before the pandemic, Khadijah was able to schedule her shifts around the group, but she was missing when the parent group resumed on Zoom. By May, so was I. My husband and I were juggling Izzy's care, facilitating our son's distance learning, and carving out blocks of time and physical space to work from home. (I'd begun a book proposal.) We settled into a rhythm where we split the day into two shifts. My husband cared for both kids and blocked off his work calendar until 10:30 or 11 a.m., when I took over until 5 p.m. For the first time since Izzy was born, we were able to divvy up the evening routine and make a habit of eating together.
The parent group started in the middle of our morning shift change. I felt a rare ease being among these parents and made it a priority to attend. I tried to bring Izzy to the group; she'd play quietly by herself for a few minutes before banging her head on the floor in protest. My son needed frequent help finding scissors or unfreezing Zoom. These were stormy conditions for any sort of counseling, so I let it go.
Khadijah showed up to the last Zoom session I attended, in late April, with the update that she'd taken a leave of absence from her job. Farida's pediatrician had recommended that the family reduce their transmission risk until the effects of COVID-19 on children with preexisting conditions were better known. (A disability isn't a medical condition, per se, but Farida and Izzy were born with the same heart defect, and at the time, nobody knew if that made them more vulnerable to the respiratory complications associated with COVID-19.) Also, Khadijah's husband's paid leave had ended, and she didn't want to overburden her mom with Farida's care. So after thinking it over, she decided it would be best for her to stay home.
Slowly, over two years, I've adjusted to not being a mom with the busy career I assumed I'd always have. Other things I thought I knew about myself have shifted too: Events that I once would've considered "traumatizing" — like my son's Inauguration Day face-plant into a brick wall that landed him in the ER for seven hours — register on a new scale. A gushing wound is a perfectly fixable problem, not worth dwelling on. When a mom I don't know unloads on me about her kid's sinus infection or the lack of a chess club at school, I change the topic or walk away. For better and for worse, I've lost my patience for poetry and platitudes, too. Sometimes I see the world beyond my immediate family as nothing more than a minefield of potential sucks on my time and energy, which isn't without an accompanying sense of freedom. My life without paid work may be smaller, but it's also more deliberate.
"I thought I was going to be this tough badass in the ATF [the federal anti-terrorism agency]. Then I had a fragile child, and I needed to be Mama Bear," a mother named Colleen told me of her own life's upending. "I realized the 'toughest' thing I could do was all the day-to-day stuff and stay home."
Colleen lives in Onslow County, North Carolina, with her three children and her husband, whom she met in the Army in 2005. In their 14 years together, which included several deployments to Iraq, they've moved seven times. A criminal-justice major in college, Colleen left the Army after four years and thought she'd join a local police force or land a Homeland Security career position in the U.S. Department of Justice. In 2009, Colleen gave birth to her first child, Jack, who was diagnosed with Williams syndrome, a rare genetic deletion like my daughter Izzy's, the day after his 1st birthday. A bout of hypercalcemia (excessive calcium in the blood) led to Jack's diagnosis, and Colleen remains on high alert for related kidney problems. Now a friendly and curious 11-year-old, Jack can have trouble verbalizing pain, and Colleen can't always be sure when a headache or another early sign of something more serious is bothering him.
Last spring, ten months after having her third child, Colleen was working four days a week as a substitute teacher. On March 10, she turned down an offer to be a kindergarten assistant teacher, which would have been her first full-time job in a decade. Then, on Friday the 13th, Colleen's older kids were dismissed early from school for a three-week closure that extended to four weeks, then eight. Her kids weren't going back to school anytime soon, and she couldn't find a day care for her youngest. She told her employer she couldn't sub anymore.
"It didn't work out. The juice wasn't worth the squeeze," she told me. Also, she worried that stress had triggered the onset of postpartum depression, the signs of which she knew well from the months after Jack's birth. "It was a sign from the universe to stay home."
Last August, with her older kids in hybrid school, Colleen started working again. But not much — she subbed two days last fall. She signed up for online classes in special education, which she takes on her own schedule, to keep her teaching credential current.
"I decided to be a stay-at-home mom, and it's fulfilling at times," she reflected. "But I need fulfillment in other areas, too."
Do mothers like us make such decisions out of necessity or choice? It depends on the lens. Neither Khadijah's family, Colleen's family, nor my own relies on our careers for essential income or health insurance. Yet our families unequivocally depend on the physical and mental well-being that enables us to serve as the family's primary caregiver. Sixty-seven percent of those caring for disabled or medically fragile individuals characterized their experiences as emotionally stressful; four in ten described their mental health as fair or poor with almost the same number reporting significant physical strain.
I do know my caregiving work is necessary and meaningful — honestly, I couldn't say the same when I was paid to spend my days tweaking slide decks and managing adults who acted like children. The paid work I do now, like writing this piece, is driven by a feverish sense of purpose. And I've happened upon the greatest parenting lesson of all: that we can and must accept our children for who they are. In the way Izzy snort-laughs at her older brother's antics and terrorizes our puppy by grabbing his neck fur, she is so much more capable and joyful than I would have ever guessed a person missing 10 million base pairs of DNA could be.
When this pandemic is over, many working parents will return to their patchworked arrangements, an inadequate and unequal substitute for the lack of subsidized child care and family leave. Schools will reopen, babysitters will get hired, grandparents will step in. Some might return feeling stronger and better than ever, having months of newfound adaptability under their belts. They might feel inspired to consider the next big step to advance their careers. Meanwhile, mothers like me, caring for the complex kids we love so much, will still be at home.
*Names with an asterisk have been changed at the request of the subject.
*A version of this article appears in the February 1, 2021, issue of New York Magazine. Subscribe Now!