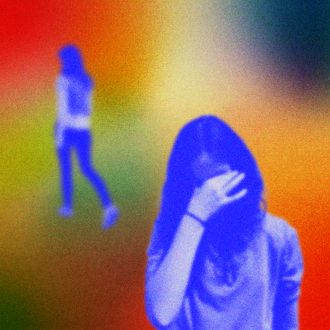 Photo-Illustration: by The Cut; Photos Getty Images
Cassandra* and Suzanne* were colleagues at the same marketing firm and loved their jobs. But the pandemic and the transition to remote work created what they both described as a "toxic" work environment, and, eventually, Cassandra made the difficult decision to quit while Suzanne stayed on. Two months later, the former co-workers recount what went wrong.  
Cassandra: I came from a really corporate environment and felt that I never fit in. When I got to this company, I was like, This is my place. These are my people. Then the pandemic hit. At first, it seemed like everything was going really smoothly. But they kept piling on more work, and by July, I was saying to the president of the company, "We're barely surviving. You need to hire more people immediately." He did not listen. My direct reports were saying things to me like, "It feels like working in a sweatshop." The expectations got more and more ridiculous. I was working from nine in the morning to 11:30 at night. I wrote a resignation letter, and it sat in my in-box for a long time.
Suzanne: She used to say to me a lot, "I feel like I can't protect my team." I also felt like I was drowning. There were a few times when I came close to quitting, but my family is on my insurance through work right now. If we didn't need my insurance, I don't know that I would have made it through the summer — and that was when my kids were out of school.
Cassandra: Suzanne and I were talking on a daily basis. She helped me through last year.
Suzanne: I'm not in a management role. So I can say, "I'm turning my computer off at five o'clock," and they can reach out to my boss if they need something at nine o'clock at night. Cassandra was the boss, so she couldn't do that.
Cassandra: And at the same time, I was terrified. We had people in our company catch COVID. A woman I hired in Florida came to work remotely with COVID, and I could hear her over the Zoom calls with her COVID cough. She felt like, I just started this job, so I can't rest. I told her, "Please log off early and go rest. You need to get better."
Suzanne: We used to have flex time. Suddenly, taking time off meant a meeting and this "Well, what's your plan?" If I'm sick now, they'll ask, "Well, what do you have to do today?" My husband is texting them because I'm puking, and he's at the bathroom door, saying, "Your boss wants to know what you have to do today."
Cassandra: I was diagnosed with high blood pressure. That was my wake-up call. I called my boss, bawling. I said, "I don't have a history of high blood pressure in my family. This is stress. I have to do something." His first reaction was to demote me.
Suzanne: Her boss is also my boss.
Cassandra: I think he has been drinking that company Kool-Aid for so long. He wants to try to make people stay, and he wants to convince you that it's going to get better.
Suzanne: I knew she was quitting before she turned her notice in. She'd gotten past her anxiousness about it and cut the cord.
Cassandra: I found a therapist, and the first time I called her, I was in my bed, saying, "I don't know what to do because I think I'm going to have a mental breakdown, and I need your help." I had the support of my partner, who basically said to me, "You've got to quit that job."
Suzanne: It's just not sustainable. I have kids, and one income is not enough for us. But if it wasn't a pandemic and it was just like this — I used to teach, I'd go work at a day care for $10 an hour, I'd go work in the mall. I would just do something else.
*Names with an asterisk have been changed at the request of the subject.