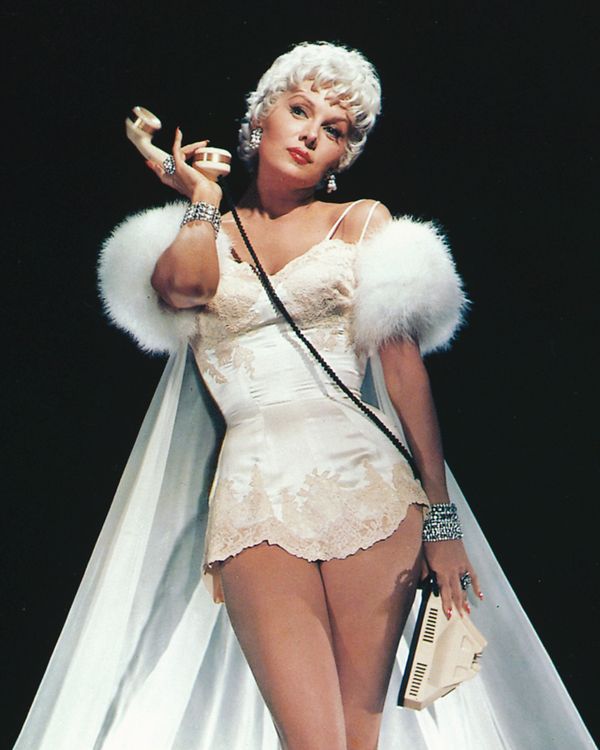 Photo: Silver Screen Collection/Getty Images
Last weekend, I wandered deep into the bowels of a Manhattan antiques warehouse, looking for God knows what in the menagerie of glazed China dolls and gilt four-panels. I was somewhere in the basement, considering a basket of lucite grapes, when something unexpected caught my eye: panties.
As it turns out, I had stumbled across a vintage-lingerie purveyor — some might say the vintage lingerie purveyor. Here were racks of silk gowns in pale greens and rich blacks and shelves of creamy negligee and boned corsets. It was like stepping into Hedy Lamarr's boudoir, the kind of Old Hollywood milieu that Agent Provocateur wants to re-create but simply can't.
Most of the items in Illisa's Vintage Lingerie are 100 years old. The proprietress, Illisa — known only in the mononym — is part of the store's appeal. She's a lifetime New Yorker with a loud, hoarse voice and bright hazel eyes. When you ask her where she gets this stuff, she's liable to say, "Oh, honey, you're standing in 35 years of my life."
And you are. Illisa, now 68, is America's foremost vintage-lingerie dealer. You've seen her lingerie in period films and TV shows like Carol, Boardwalk Empire, and the upcoming Death on the Nile. Broadway was a big client pre-pandemic, and Illisa points to a poster of Ashley Judd in one of her slips in Cat on a Hot Tin Roof. She'll even supply for the occasional magazine shoot, like that famously racy V Magazine cover with Rihanna and Kate Moss.
Other past clients include the late Azzedine Alaïa and retired Jean Paul Gaultier, and for a while, Illisa and I sit on the floor of the store rifling through an enormous copy of Gaultier's latest fashion book, signed with a loving message and doodles of corseted women. "He was one of my best customers," Illisa says, of the designer. "He never drew pictures. Even his assistant said, He doesn't just draw pictures for anybody."
Gaultier's signature is really great.
Honey, you don't have to tell me that. I worked with him whenever he did a show, when he did that line for La Perla. But you name [a designer], I've worked with them. Honey, they come here. And Gaultier was very inspired by bras and underwear.
How old are the items in here?
1885 to 1940 — Victorian to 1940. With '50s corsetry. I have maybe ten 1960s things, but I hate them.
Why do you hate them?
Because I wore them, and I don't want to ever see them again!
When did you start selling lingerie? You said we're sitting in 35 years of your life.
Oh, honey. You want the story? I've told it so many times. My mother was a fashion designer — a graduate of Pratt — and she taught me everything I know. I was making my own clothes when I was 8 years old. In the sixties, you know, when the miniskirts came out? I cut all my dresses up to my [expletive], and I didn't leave a hem. I thought my mother would kill me. And then I found this.
How did you find it? 
I was with a friend of mine in the village and there was a vintage clothing store. And I picked out this beautiful '30s nightgown, and I put it on. Nothing — nothing — in the world to this day has ever made me feel like that nightgown made me feel. I felt everything you're supposed to feel as a girl. Sexy, pretty, just like a butterfly. Nothing makes you feel like a woman more than this, because this is the old Hollywood glamour, honey.
Do you source mostly from the U.S. or from all over the world? 
When I went to Europe, I was disappointed because a lot of this is European, but it was the rich Americans who brought it over. London has great Victorian stuff, cotton whites, fabulous jewelry. But during the war, you weren't allowed to make clothes out of silk in London because they used the silk for parachutes.
Ah! So all the British silk went to the war. 
Yes. So then I go to France, where a lot of this is from, and there's nothing in France. So you know France is known for their fragrances, and it turns out that back at the turn of the century the perfume was so heavy and hygiene was so different that it ate through a lot of the silks.
So you mostly find it in America? 
Right, rich Americans brought it back over with them, or people from Europe brought it over with them on the boats. What's left of it, museums have it. And when polyester came out, back in the sixties, everybody threw everything out. They threw out all the good stuff.
So Americans tossed the silk and bought all new polyester stuff?
Oh yeah, and I can't put polyester on my body. I can't. Everything has to be cotton, or at least my jeans have to be at least 98 percent, if not a hundred. I can't stand elastic or anything like that [gestures at the reporter's leggings].
So where did you find this stuff in the states? 
Markets, auctions. There's a market — huge — that I go to twice a year. There's a clothing show and an auction. I get up at two in the morning and I'm shopping out in the fields at 4:30 a.m.
What are "the fields"?
Miles and miles of antique dealers.
They set the price, then you buy it? 
Right. If they tell you the price, maybe I'll say, "What if I buy it for cash?" Cash is king in this business, if you know what I mean. But the auctions now are through the roof.
What's the most you've ever paid for a piece?
A couple thousand.
Can you buy this kind of vintage lingerie online? 
I have no idea what's on the machine [gestures to the reporter's phone] because I don't own a computer. I think technology is evil. I don't own a cell phone. I have a flip phone, and that's it. And I don't get Netflix or Amazon, but I do a lot of work on those movies.
Which movies? 
Oh my God, honey. There's so many. The movie Carol, I've done 14 movies with [costumer designer] Sandy Powell [The Aviator, Gangs of New York, Interview with a Vampire.] I had little powder puffs in Cinderella, you name it. In two weeks, I have Tom Broecker coming in, and he's the head costumer for Saturday Night Live. In fact, you want to see a picture of him and I?
Sure. 
Now, this is many, many years ago, when my hair was brown … Do you remember the Met Ball? See, you never went to the Met Ball. Years and years ago, before Anna Wintour took it over, laymen like myself were able to buy cocktail tickets through somebody at the museum we knew for $125. We'd get dressed up and go dancing and have hors d'oeuvres in the Egyptian room and just watch everybody. It was just a big night of dress-up.
You look gorgeous. So chic.
Well, that was the thing, honey. You don't want to look like anybody else.
When someone is looking to invest in vintage lingerie, what would you tell them to look for?
Well, first of all it's not an investment, it's what you want to wear. But my mother was like you, she always said, "It's better to buy one fabulous thing than ten shit ones." But if you were going to start with this, I'd say buy a gown that you want to wear as a dress or a slip, because there are a million ways you can wear it.
What fabric should you look for? 
First of all, you'll always find the fabrics are pure. If it's cotton, it's pure cotton, same with silk, there are no synthetics, there's no nylon. There's no polyester.
How do you set the prices? 
Well, honey, it all depends on what I paid for something. If I'm going to pay a thousand dollars for an embroidered coat, then you price it accordingly. I do all the washing and ironing. Except for the black. Those have to be dry-cleaned so they don't streak. Also, you're buying something one-of-a-kind, and that's 65 to 100 years old.
When I first started in this business, you know how many people wanted to back me and start a lingerie line? I said, "No, anybody can do that. All you need is money." I love the fact that this slip is 70 years old. That's what I get off on.
Do you think there are any modern lingerie designers who are any good?
Well, there's a new one every day. I used to love Eres bras, until they came in here one day and they were so nasty to me. They asked me why everything was so expensive and I said, "How dare you? One of your bras is $300."
How's business been in the pandemic? 
Well, you tell me. How is it for anybody right now? No Europeans are coming in — that's half my business. The designers aren't coming in— Nicolas [Ghesquière], the head of Louis [Vuitton], Jean Paul.
I do a lot of weddings, girls who'll get married on the beach; they'd rather wear one of these gowns than go to David's Bridal and buy a piece of shit. I'm just hoping I can hold on long enough, honey.
Illisa's Vintage Lingerie is located on the basement level of the Manhattan Art & Antiques Center at 1050 2nd Ave, New York, NY 10022