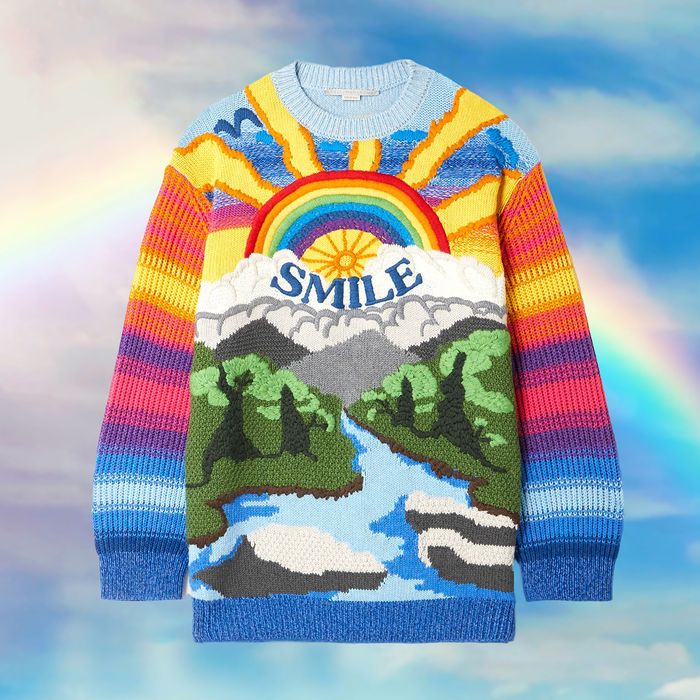 Photo-Illustration: by the Cut; Photos: Net-a-Porter, Getty Images
Simple, childlike sincerity is the message of our hearts, worn on our chests. It's abounding. This summer, the Museum of Peace and Quiet's sweatshirt promoting "peace & quiet" crowded my Instagram flow. Stella McCartney's SMILE sweater is still constantly selling out. There are so many of these gentle slogans: Social Goods' shirt to benefit the California Fire Foundation, which makes a straightforward claim: "CLIMATE CHANGE IS REAL." OnlyNY's "Don't Litter" long-sleeve. Miguel's Schedule One collaboration, which brags: "SOCIAL DISTANCING EXPERT." These garments have no in-joke, no irony. They tell you exactly what they mean in the plainest terms available.
Long sleeves are more popular than short for this do-gooder mandate, which feels intuitive to me, but I can't explain why. Most often, the lettering is in all-caps, but what it shouts is never particularly controversial. "LEAVE ONLY GOOD VIBES", Parks Project asks of us. The broadest of the bunch, under the unembarrassed name of Wholesome Culture, goes wide with its messages. "Still growing," a tee gently claims. "PEOPLE FOR THE PLANET," one yelps. There's a marbly illustration of earth woven in the letters, for those who wouldn't dare assume which planet they mean.
A pandemic-era update to T-shirts chanting "THE FUTURE IS FEMALE" or "GIRLS JUST WANT TO HAVE FUNDAMENTAL HUMAN RIGHTS," these slogans are liberal-minded but not radical: soft, not complicated, not controversial. They radiate the drippy, earnest urgency of a bleeding heart, except I've only seen them on professionally hot people. There is no time for double-meanings. Or maybe there's no ability or energy left to navigate subtlety. It's been an exhausting, bad time recently. These shirts claim goodness, and most of all, obviousness.
Or, in the words of Social Goods super-fan, and president/founder of social impact agency Invisible Hand, Genevieve Roth, her "pretty robust collection" makes her feel "like my outsides match my insides." Rianjali, a singer-songwriter and composer in Queens, found a similar comfort in the straightforward honesty of her OnlyNY "New York Grown" shirt. She was drawn to this version of "New York pride, which New Yorkers will always have. But it's not quite in your face!"
Sometimes, of course, this tenderness is as aspirational as it is explicit. Charlotte Wang, a freelance writer in Singapore and big fan of Museum of Peace & Quiet's "Gentle Meek Kind Thoughtful Mindful" shirt, says the top is a physical reminder of her desires to live more mindfully. "My sister did drop me a text to let me know that I'm not the most gentle and meek," she noted. In a high-stakes, extremely opinionated time, these shirts just want to lower the temperature. They mean what they say, but they don't yell.
It's funny: If you ask ironic people if they're ironic, they get so pissed and cagey, but if you ask earnest people if they're earnest, they gush: Yes, they're so earnest! They're so glad you saw that about them! They appreciate that.
Parks Project is an exemplar case study on new sincerity and fashion. Their wares are each an accolade for America's National Parks. Almost every style includes a kindly, pro-planet phrase. When I asked Parks Project co-founder and CEO, Keith Eshelman — who I was warned may have been taking the call from a yurt — where he'd place Parks Project ethos on the irony-earnest spectrum, he answered, "I hope we're a ten for 100 percent intentional. Our phrases aren't cheeky or even Smokey the Bear. We're talking about things we actually mean." They can mean things like: "Get Off Your Rear & Volunteer" or "UTAH" or "ADVENTURE RESPONSIBLY".
Now, let's not forget what these tees and sweatshirts are made of, which is soft, cozy cotton. Comfort itself is a big part of this message. Kate Macdonald, the founder of English subscription box company The YAY Makers, makes a white shirt with sherbet coloring that reads: "TODAY IS A GOOD DAY." Sans the cursive script, this slogan translates the "LIVE LAUGH LOVE" worldview of ambitious simplicity for a new generation of sweet dreamers. Macdonald affirmed that, yes, "The YAY Makers is at the top end of the scale for being earnest. Our designs are created with conviction!" There is, of course, some magical thinking in this "TODAY IS A GOOD DAY" shirt, which she says has sold out twice. "Not only does it feel like a constant cuddle when wearing it," says Macdonald, "but the colors and joyful happy message keep me feeling positive." As if our hearts could be influenced by the proximity of words a few millimeters away. Maybe they can be! In a very tough, bad year, these good-mood manifestations are a sign of demanding immediate intervention on a crap situation. TODAY IS A GOOD DAY. We demand it.
A lot of these brands, like Parks Project and the New York–based Social Goods, put their money where their shout is and directly support the causes they describe. Parks Project's co-founder Eshelman is a Tom's alum and sees the popularity of Parks Project as a sign of the rise of the consumer-activist mindset: "More people are voting with their wallets now, which makes for a beautiful future in my mind." Or a sign of general helplessness and a brutal lack of civic agency, depending on your perspective. I'm wary, but I've purchased my way into feeling good, too.
We're currently dressing ourselves in a period of historic, global turmoil. It reminds me of a passage in Mary Gaitskill's 2005 novel Veronica when she writes about the evolution of a post-9/11 fashion sense: "For a while, 'we' were loving; then we were alienated and angry, then ironic, then depressed. Although we are at war with terror, fashion magazines say we are sunny now. We wear bright colors and choose moral clarity." Moral clarity feels a little high-minded for the moment. Would that we could aim that high. For now, we are relegated to basic, simple pleas like: DON'T DESTROY THE PLANET.
Now you might wonder: Is it easy for the proponents of this aesthetic to stay so positive? Not at all! "When we hear something in the news, we can lean towards our snarky nature. But then come back to optimistic and hopeful and solution-driven messages," says Social Goods co-founder Lisa Sokolov.
"Anything and everything that had to do with the election made my claws come out," added her sister and co-founder Kate Sokolov, "but that didn't lend itself to merchandise. We have a few ideas percolating around the inauguration that we're trying to finalize. We're excited for 2021 and the theme of brighter and happier New Year." It's already turned out a little more complicated than that. The bleak ecosystem that brought us these earnest tees persists. It looks like we might still be covering our screaming hearts with cheerful words for just a little, interminable period of time longer.