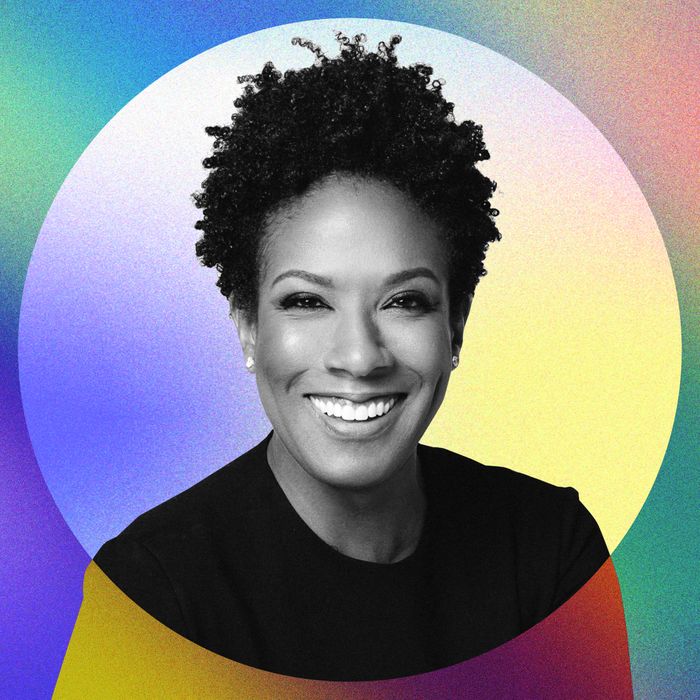 Photo-Illustration: by The Cut; Photo: Courtesy of Cara Sabin
When Cara Sabin finally began working in beauty, she thought, This is where I was meant to be. The CEO of Sundial brands, which includes SheaMoisture, Nubian Heritage, Madam C.J. Walker and Nyakio, Sabin has worked in every beauty category but never gotten bored.
"It's so dynamic," she explains. "It's competitive, quite frankly, but it mixes science with strategy, analytics, and creativity. There is no industry that combines so many multidisciplinary actions that come together to produce a tangible product with functional and emotional benefits. And consumer psychology and behavior is infinitely fascinating."
Sabin is one of the few Black female CEOs in beauty, and her brands actively focus on supporting and reinvesting in the Black community. The Cut talks to Sabin about how ordinary beauty consumers can help to fight racial injustice — and the power of shea butter.
What continues to interest you about beauty?
At its most fundamental level, there is commonality among customers. In the perpetual search for hope in a jar, that hope is not about how to look younger but how to find that little spark of uplift, optimism, and indulgence. It's universal. Yet every woman is different, her needs are different, so it's about dialing into a universal truth and desire for individualism in personalization that customers are craving and desiring now. That tension is very exciting.
You've said that ending systemic racism has to be everyone's job. As a beauty consumer, what's the best way we can work to make it our job?
As a beauty consumer, vote with your dollar. Make sure you are investing in companies that are working to dismantle racism. You can do it through supporting smaller brands or investing in larger brands like Shea Moisture, where that's our entire mission.
We really do believe that equality begins with economic equity. As Wu Tang said, "Cash rules everything around me." I can't say it better than that.
How did your work with the Black beauty-advocacy organization 25BWB begin?
While I'm no longer actively involved with 25BWB, I'm so incredibly proud of the platform we created nearly two years ago. We saw a need to elevate, celebrate, and amplify the impact of Black women executives, entrepreneurs, and influencers in the beauty space — women who are far too often overlooked and under-appreciated. From that seed of an idea, it's been beautiful to see the connections made, further success realized, and the dedication to pay it forward.
I notice you use the word "community" often when talking about Sundial. What is the importance of that word?
Communities are our foundation. It is how the brand was founded. It is family-founded, so there is naturally a sense of community there. Community also means our consumer base. In everything we do, we make sure we are catering to our community and impacting it for the better.
The way that we most tangibly do that is through our association with community commerce programs and initiatives. Every single Shea Moisture purchase is an investment back into the community, in a Black woman entrepreneur. It is really foundational to our DNA and who we are.
What do you wish more people understood about what you do?
For me and for my team, there is a great responsibility. We feel like we have a huge obligation to our community to make sure that everything we do is living and leading in service of them. It's a privilege to be in that position. It's an element of responsibility that I didn't have in previous positions. But now, it's very personal. I am my community, and my community is me. It's a very exciting job, but there are things we do behind the scenes that no one ever knows about. I don't think there is a word for the weight of the responsibility.
Historically, Shea Moisture is a very humble brand — it doesn't talk about the great things it does. We are not performative, but we are trying to be better at talking about the things we do. One of the things that I didn't really appreciate until I came to the company was the origin of the shea butter in our products. I use Shea Moisture, and I knew it obviously contained shea butter. But one of my first business trips was to Northern Ghana to visit a women-led cooperative where our shea butter is hand-crafted. We are helping to empower these companies to make an impact in their communities, thousands of miles away, with every single bottle of Shea Moisture. It's incredible.
What's the wildest luxury-beauty experience you've ever had?
The trip to Ghana. I was able to go to an area where the women were hand mixing shea butter, and it takes a very special skill. There were huge bowls that the women were stirring and incorporating raw shea butter with their arms.
First off, it's really hard work. Second, when I dipped my arm in and pulled it out, I experienced a smoothness unlike anything I had ever experienced before. I am a firm believer in the power of raw shea butter.
What, in your opinion, is the best affordable beauty product or products? Why?
As is the case for most women, my inherited beauty regimen comes from my mother and grandmother. There's a couple of basics, with things like Q-tips, baby oil, and Vaseline. My mom used baby oil in a pinch as makeup remover or as a base for under-eye cream. Those kinds of tried-and-true things are the best affordable products.
What was the biggest "no" you heard in your career, and what did you learn from it?
Which one do I choose? The most pervasive "no," which didn't present itself as a hard no, was a read between the lines — but it was a no. In our industry's recent past, any consumer who was nonwhite was seen as an adjunct. It was something to add on, after you already focused on the caucasian consumer.
It was considered an afterthought to invest your media dollars to reach a more inclusive consumer base or getting a creative agency and using models of color. It was not seen as a general market. The new general market should be inclusive inherently. It's been good to see the slow evolution. But it was very persistent in some of my past experiences in a global assignment, to make sure that we are thinking about our consumer in all of her diversity. Fortunately, that's not the case at Sundial or Unilever.
Where would you like to see the beauty industry go from here?
If you think of a marathon, we just started the race. Social media has really democratized and lowered the barrier to entry. In the past, the beauty world was controlled by a couple of dominant companies. I would like to see it continue down the path toward being inclusive for all founders and voices with unique perspectives.
We need to have a conversation about capital investment and ensure that capital is flowing to these founders that have unique points of view. I wish I knew the whole answer to how to make that happen, because then I could singlehandedly change it. Maybe it's partially awareness, whether it be at private-equity or venture-capital firms, making sure they're actively advocating to find founders to invest in and represent all the unique points of view within the industry.
Do you think of beauty as self-care? Why or why not?
I do think of it as self-care. My mom has always said, "If you're feeling under the weather, have a flu or cold, the best way to feel better is to take a shower, brush your hair, and brush your teeth." It can feel like the last thing you have the energy to do, but taking care of yourself makes you feel better emotionally. I remember that from when I was a little kid, and now we're in COVID, but I like keeping a sense of routine. Even if I'm not walking out the door and am just going ten feet to my desk, having that moment of beauty and self-care is important for keeping my spirits and energy up.
Has the way you think about beauty changed during the pandemic? How so?
Pre-pandemic, I was traveling a lot, so my approach was to be fast, efficient, and practical. Post-COVID, I'm doing much more. I'm experimenting with products. I'm trying layering multiple products. One of my favorite ones is the 100 percent virgin coconut oil, which is amazing. It takes two seconds to put that on even though now there's much more time to play around more with products and indulge.
I also try to make sure my camera is on for meetings all the time, but it's like looking in a mirror all day. You have much more time to be like, I need more concealer. Concealer is probably my secret weapon.
Fill in the blank: When it comes to beauty, unfortunately, _______ is worth it. 
A dermatologist. It can be expensive depending on your health insurance and network. But a dermatologist is worth it. When I was younger, I used to think getting a facial was the same thing. Facials are fun, and it's great to get them if you can — there is an element of indulgence there. But having a professional who really understands skin, and melanated skin, is really, really important whether you have acne or the first signs of aging. I see Dr. Elena Jones, who is based in Manhattan.
What about eye cream? Is it "worth it"? And which one is your favorite?
Absolutely it's worth it. The most delicate skin on your body is the skin around your eyes. I'm Gen X, I'll leave it at that, and you start to see the signs of aging around your eyes. I feel like they work. I've tried every eye cream on the market because I like to experiment. Other than Vaseline, the Tatcha Silk Peony eye cream that I've been using is so indulgent and rich, or nyakio's Quinoa De-Puffing & Firming Eye Cream.
Yes, there are moisturizers, but not to get too technical, have they been ocular tested? If not, they can irritate it. I do believe when you get one that has been safety tested for the eye area, then it does work.