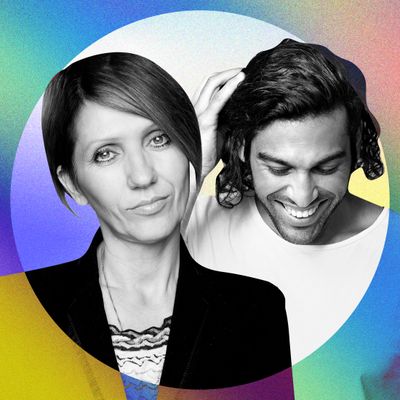 Photo: Courtesy of Mr. Smith
When your mother is a celebrity hairstylist who regularly works the international fashion scene between New York, Milan, and Paris for Chanel, Givenchy, and Fendi, you grow up with good hair. If you're smart, you start a business together, which is what mother-son entrepreneurs Freda Rossidis and David Justin did.
Based on Rossidis's decades of experience working with hairstylists like Sam McKnight, the two created sleek, luxury hair-care line Mr. Smith, made with Aussie botanicals like neem oil. (They also own a very successful salon together.) The line is a favorite in their home country of Australia, with their customers regularly appearing in Vogue Australia. And products like their hair serum have become indie favorites in the U.S. for being easy to use and effective. The Cut talked to these family founders on their experiences working together, the value of a hair serum, and the secret Fashion Week spa.
What's the wildest luxury-beauty experience you've ever had?
Freda Rossidis: When I do Fashion Week, it's exhausting. But I look forward to going to Milan. If I can, with every season, I will do a full day of pampering at the Armani Spa. It's spectacular. It's on the seventh floor, overlooks all of the city. You can use the sauna, get a beautiful massage or a spa bath there.
It's all Armani products. They have beautiful cold teas, fresh oranges and apples, and it's very calming. After you get a massage, you can linger and spend the whole day there enjoying the common areas. It is also really not expensive for what you get. It's about €120, which is not bad considering all the offerings.
Do you think of beauty as self-care? Why or why not?
David Justin: One hundred percent. I don't think it's ever been more relevant. Our salons closed for four months, and there was a mountain of people complaining about not feeling good because they didn't feel like they looked good. I have never heard that much griping or seen that many people excited about getting back into the salon.
Has the way you think about beauty changed during the pandemic? How so?
Freda: As a hairdresser, I really struggled with not having my hair cut. It was long and it made me feel not good. I had to put it up. It was annoying me. I didn't feel good about myself. The pandemic taught me the importance of our hairdressers, beauticians, and people that we see.
It made me realize my worth. We are undervalued. During the pandemic, I realized how much hair relates to our mental health and well-being. It's important to care for ourselves with beautiful products. Even David's partner and I would put on a face mask, a hair mask, and try and have something to make us feel good during that dark period.
Where would you like to see the beauty industry go from here?
David: The move toward sustainability in beauty is a long time coming. But we need to be a little more patient and really consider the developments and choices we are making. We need to think about the best long-term solutions and not just slap on a fast Band-Aid cure. For example, when you make slapdash decisions, you can sometimes forget to consider the impact to the community where you are getting the raw materials from your formulation. With that quick pivot, something is going to give. Whilst we made a good transitional progress toward sustainable beauty, we need to make sure we are looking further down the line to see their effect on people's livelihoods.
What do you wish more people understood about what you do?
David: As the CEO/boss, I wish people understood that part of my job involves managing expectations. There are a limited amount of hours in a day and in a week, and while we wish that we could spend time on all the things people want us to, it's just not possible. If we can't be there, it's not because we didn't want to. We are limited in our body and energy and what we can provide.
Freda: It also takes a long time to build relationships and trust. A lot of our industry is about that. It takes really hard work. We are very, very fortunate in that we are both really hard workers, but also what you see is what you get. We both are authentic, and that's just what it is. I don't think either of us knows any other way.
What was the biggest "no" you heard in your career, and what did you learn from it?
David: I've had "no"s, but I don't look at them that way. It's not personal, there are just other factors and motivations at play. It's not a "no" just to piss you off. Maybe the timing isn't right. Maybe it's just not right at that moment.
Freda: For me, if I have heard "no"s, especially working in a male-dominated industry, I have ignored them. I don't even recall hearing them. I've been self-employed starting from when I was 18. I've had six successful businesses prior to this one. I can't even remember it affecting me.
What, in your opinion, is the best affordable beauty product or products? Why?
David: I have literally four products in my travel bag: the Acure micellar water, toothbrush/toothpaste, clippers, and my leave-in curl cream. I am on and off flights all the time. Every time I use it, it feels refreshing on my skin. Sometimes in New York City winters, I'll use Weleda Skin Food — it's very nourishing. But that's only when it's really cold and my skin is fried.
Freda: A face serum and hair serum. My hair is really dehydrated because I bleach it. It becomes brittle because anytime you bleach the hair, it swells. A hair serum gives it a beautiful gloss and makes it feel really smooth. Thirsty hair — whether because it's been overironed, is curly, is dry — needs a hair serum.
Fill in the blank: Unfortunately, _______ is worth it.
David: My travel bill. Last year, I was on somewhere between 130–150 flights. We are in ten countries in the world, including Australia, the Nordics, Europe, and America. Other than being in Australia for the holidays, I hadn't stayed someplace more than four nights in a row. For me, I do not cut corners on the transition from flight to hotel or traveling. I arrive somewhat in comfort or it becomes too mentally taxing. It is necessary for me to have five minutes in a train, car, in a little more comfort so that I can do emails or phone calls. I know a bookkeeper, or my dad who has a finance background, will look over my figures and raise an eyebrow. We've discussed them and the restaurant bills. But everything else, I skimp on — but not travel.
Freda: I always say, "Cheap is expensive." For me, I would pay anything for a good haircut. Maybe it's because of my background, but some people don't see the value. But haircuts last longer and will make you feel good. When my hair is right, it makes me feel a particular way. I would pay $500–$600 or whatever it takes.
Is eye cream "worth it"? And which one is your favorite?
Freda: I have always used one, and just dab, dab, dab. I always use the La Mer. I've used it as long as I can remember, maybe close to 30 years ago. I have to do it every night and use just a little.
I don't know how or when I started doing it. But I see things like that as a good investment. I see value in things like that, things which make me feel good like skin care or hair care. I would also rather get one good glass of wine rather than three I didn't really like.
Every product is independently selected by our editors. Things you buy through our links may earn us a commission.