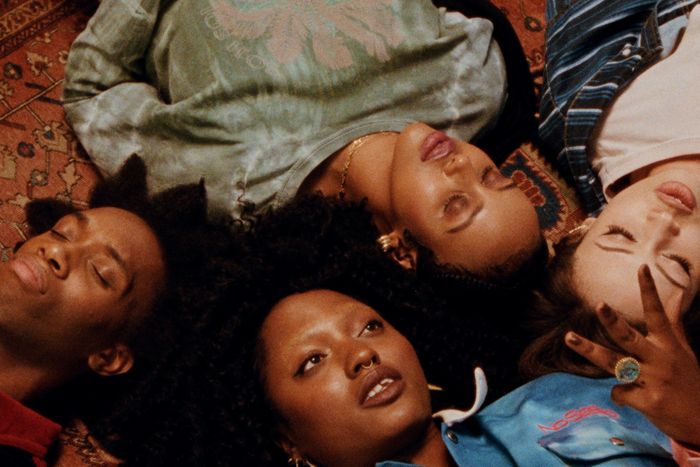 Photo: Daisy Zhou/Courtesy of Blacktag
American culture owes a great deal to Black artists, but they rarely get their due. Brands and media companies have found endless ways to take advantage of Black creativity without giving anything back. But now, a new digital platform is hoping to redirect billions of dollars in ad revenue to Black creators, helping to close the wealth gap in the global Black community.
Launched today, Blacktag showcases work by Black musicians, artists, photographers, chefs, and other content creators. Not only is it a place for the Black community and anyone interested in alternative Black voices, it's also a centralized hub for brands and headhunters to connect to a diverse range of work. The platform functions like a Netflix-YouTube hybrid, with subscription-based original programming from hundreds of creators working in the realms of fashion, tech, and entertainment. Pre-launch, it received $3.75 million in investment from Connect Ventures, a newly formed investment partnership between Creative Artists Agency (CAA) and New Enterprise Associates (NEA), and has already attracted partnerships with Issa Rae and Common.
Blacktag was founded by West African–born Ousman Sahko Sow and Akin Adebowale, who both adopted an American worldview while working in their creative fields. Sahko Sow is a commercial film director who's worked for Adidas, Spotify, and Google. Adebowale is a multidisciplinary artist and engineer who's worked with Drake, Kid Cudi, and Jill Scott. Together, they released a film at launch starring Parker Kit Hill, Gabrielle Richardson, Eloisa Santos, Miski, Sage Elsesser, and Jalaiah Harmon. The cast discusses how Black culture drives mainstream culture, while focusing on the ways Black artists have historically been robbed of the economic return for their work.
The Cut spoke with the Blacktag cofounders about the impact of Black creativity, the movement for equality, and what reparations mean now.
You were both born in Africa but came to America to work. What made you want to launch Blacktag?
Ousman Sahko Sow: In Africa, there are so many traditions in different cultures and tribes. But in America, there's a notion that people of color are a monolith. You see it in content that's being released: It's all the same and very conventional.
There's a lot of problems that we have to deal with. Blacktag is not about building a utopia. We're democratizing storytelling to help creators get more opportunities, and push valuable stories to the forefront to open up people's minds and perspectives.
If not building a utopia, is it about working within our existing systems to ultimately improve them?
Akin Adebowale: The truth is, there's still inequity. So there's no such thing as a utopia in regards to the idea of forgetting the past and moving forward, because, clearly, something needs to be solved. What you're seeing in Blacktag, or in other entities like Black Girls Code and Blavity, is finding solutions to inequity. We have a say about our own futures, and we're taking it into our own hands. I always say that I hope that my grandchildren, or even their grandchildren, don't have to create a Blacktag.
You said in an interview that "Black economic power should equate Black creatives' power." What does that mean?
Ousman: Black art has continued to drive popular culture worldwide. Brands recognize what Black art does for their platform, and they create campaigns to target Black audiences because they understand the power of the revenue that that culture brings in. But these brands are massively problematic in terms of inclusion. There's no representation within the companies in leadership positions. So we built a platform that puts power in the hands of Black creators to monetize their work, giving them the financial ability to build a future with their art forms. Economic power is a solution.
Akin: Just look at what Black people have contributed to the world. In the many fields where we collectively shine, culture is one of the prominent ones. Let's start owning our art, our creativity, and the billions — if not trillions — of dollars generated by that culture to help balance the economic divide.
And that's where Blacktag comes in.
Ousman: Think about how you're willing to pay a subscription for HBO to watch great content. In the same way, Blacktag is a curated place that you go to be entertained. And when you watch something on here from a Black creator, you know they got paid for it.
Akin: Like in our first video — part of it is being vocal and raising awareness about crediting Black artists. But we're purely an entertainment platform geared toward paying Black creators.
Why was it important for someone like Issa Rae to get involved? 
Ousman: She was able to create a show on YouTube, Awkward Black Girl, and then HBO put capital behind it. Now, Issa Rae has gone off to the moon. But what about all of the younger Issa Raes coming up? They might not have that opportunity on a platform like YouTube. Whichever direction the content that they're putting out now is heading, we can see it more empathetically because we come from the same narrative and perspective. Since we don't have majority white leadership at our company to be the gatekeepers, we can better push their content to the mainstream.
Where do you see this all going?
Akin: We are part of a much bigger movement of realizing our own power that's driving towards independence and self-reliance. We've been through all these movements addressing Blackness in politics, in culture, and even in terms of surviving and just being. Now there's greater emphasis on economic empowerment. We've taken to the streets and will keep taking this to the streets, but now we're going to take it to the pockets. It's easy to do visually symbolic things like when the Congress put on kente cloth, but when we want to talk about reparations and equal pay, people start sweating. The money conversation is potent, and there's going to be a lot more leveraging of that within this movement towards equity.
Is there space for optimism yet?
Ousman: I'm very wary, because I've worked with massive companies like Google. Throwing a hundred million dollars at the problem does not create long-term solutions. It's an empty PR statement. I find optimism when people realize that enough is enough and actually come up with active solutions for their communities — creating opportunities and helping others.
Akin: Last year, with the uprisings, one of my big issues was specifically with brands being very reactive to what was happening and doing nothing substantive. But I think the good part of it is that it felt different from an awareness standpoint. I have hope because it's all so exposed now. I'm optimistic about what came from last year and what that energy is going to do from here on out. At the same time, I'm very protective and just clutching my pearls because God knows we've been here before many times. So we're not relying on others to make things right. There is a sense of hope, though. We don't want to set everything on fire just yet.
Watch the video below.