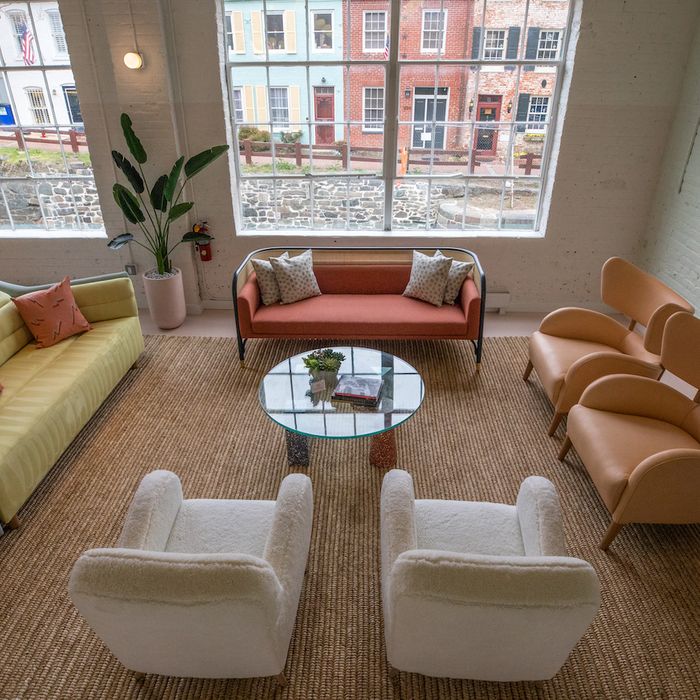 The Wing in Washington, D.C.
Photo: The Washington Post/The Washington Post via Getty Images
The Wing, a women's co-working space dedicated to millennial aesthetics, has reportedly been salvaged from rumored potential bankruptcy by a new investor: IWG, a Switzerland-based company that specializes in flexible workspace and now owns a majority stake in the "women's utopia." While the exact size of its purchase has not been reported, this news effectively means that this guy — English billionaire Mark Dixon — presides over most of The Wing, a space intended for women-identifying and gender-nonconforming people.
Lately, though, The Wing has had trouble. In June, its founding CEO, Audrey Gelman, stepped down after just over three years running the business. At the time, Gelman deemed her departure "the best way to bring The Wing along into a long overdue era of change," and it followed a rocky couple of months.
In March, the New York Times ran a report outlining the allegedly exploitative and "toxic" work environment The Wing created for its employees, which workers said did not mirror the intersectional-feminist values the brand projected. Also in March, a global pandemic forced The Wing to close all its co-working spaces (it has 11 locations in New York, San Francisco, Chicago, and London, per the Commercial Observer) and suspend membership dues. Shortly thereafter, Gelman and her co-founder, Lauren Kassan, laid off or furloughed almost all their hourly workers, explaining in a Medium post that "95 percent of our revenue disappeared overnight." Then, amid national protests against systemic racism and police brutality, more Wing employees spoke out about the rampant discrimination they said they experienced on the job.
By October, "Page Six" reported that The Wing was considering filing for bankruptcy — a claim the company itself refuted. Now, it has "partnered" with IWG in what a Wing spokesperson told Bloomberg was an "an exciting opportunity to expand our spaces and network designed for women during a time of increasing demand for alternative work environments in the midst of the pandemic and shifting workplace norms." Huh!