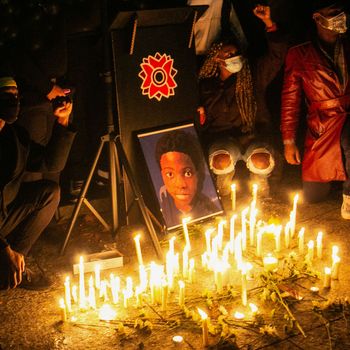 A vigil for Quawan Charles.
Photo: NurPhoto/NurPhoto via Getty Images
Police in Louisiana's Iberia Parish made an arrest in connection with the death of Quawan Charles, the 15-year-old whose body was found in a sugarcane field in November. On Tuesday, the local sheriff's office reportedly booked Janet Irvin for contributing to the delinquency of a minor and failure to report a missing child. She was among the last people to see Quawan alive.
In a statement announcing the arrest, Sheriff Thomas S. Romero said he was "confident" that his office "put together an extremely strong case against Mrs. Irvin," and that he spoke with Quawan's parents "immediately" afterward. Quawan disappeared on October 30, and his parents believe that authorities were too slow to act when they reported their son missing. Parish police found his body in a drainage ditch days later, on November 3.
According to the teen's family, his face appeared horribly mangled in postmortem photos — "so disfigured that his teeth [were] visible outside of his mouth," to quote the Washington Post. A preliminary autopsy pointed to muddy water in Quawan's lungs as an indication that he had "likely" drowned, and attributed his wounds to "aquatic animal activity." But the family suspects his death may have been racially motivated, and that law enforcement would've taken their claims more seriously — notifying the media and sending an Amber Alert, which police allegedly didn't do — if Quawan hadn't been Black.
Ron Haley, the family's attorney, told a local ABC affiliate that they don't know the "exact role [Irvin] played" in the teen's disappearance. Video shows her and her 17-year-old son, Gavin, pulling up outside Quawan's father's house on October 30, and the three of them driving away. Quawan's father, Kenneth Jacko, reportedly wasn't home at the time, but later said neither he nor the teen's mother had given the Irvins permission to pick up Quawan.
Gavin initially told police that Quawan left his house abruptly that day, without saying where he was going, and later told private investigators that he "smoked some weed" before leaving. In a recording of that conversation, Janet Irvin reportedly said she "should have went further" or "called the cops" when she realized Quawan ran away from her home.
On Monday, Quawan's family also released results of an autopsy report prepared by the Louisiana Forensic Center, which lists his cause of death as drowning. The report notes that he allegedly became "combative" and threatened to kill himself after consuming drugs at the Irvins' home. Quawan reportedly had THC and a small amount of alcohol in his system when he died. According to the report, his behavior that afternoon — per witnesses and surveillance footage — indicated that he may have had a psychotic episode. The report says there were no signs of a struggle to suggest a homicide (although investigators aren't ruling out the possibility) and attributes his facial injuries to animals. It also posits that "suicide during psychotic episodes is not uncommon and may have occurred here, possibly," or that Quawan may have drowned by accident.
In a statement on the autopsy, the family's attorneys said it was "glaringly obvious … that there was foul play at work," and called for Janet Irvin's arrest. In a phone call with the Advocate, Haley said he hoped it would "shed more light on what happened to Quawan," adding: "If anyone's son or daughter was at my residence and ran away saying they're going to kill themselves, and I don't pick up the phone and call their parents or the police, what does that say?"