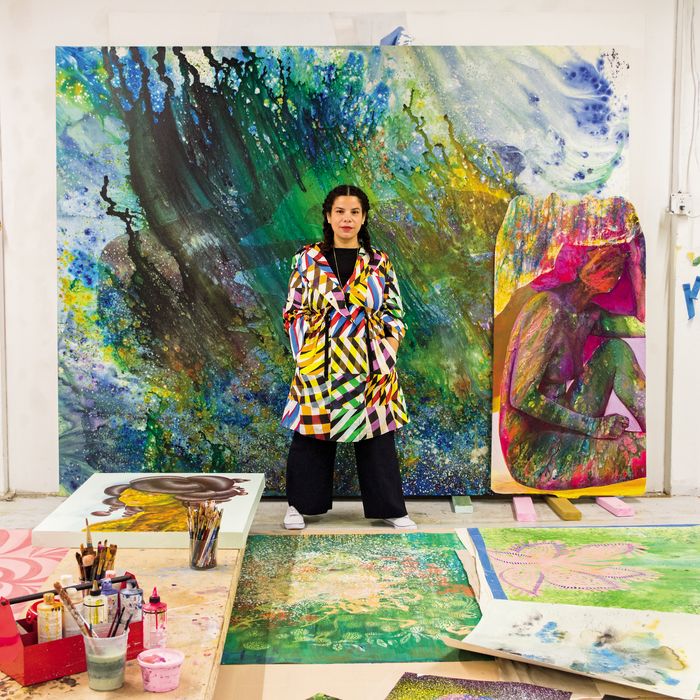 Firelei Báez in her Bronx studio, wearing an Akris jacket, surrounded by her epic art, all works in progress.
Photo: Sunny Leerasanthanah/© 2021 Jasmin Hernandez
With more time than ever to discover art online while we're stuck inside, it's been easy to forget what the gallery experience used to feel like. I've missed the rush of leaving work on a Thursday to meet up with friends at a packed opening in Chelsea or on the Lower East Side. And while social media has allowed us to scroll past more art at an ever more rapid pace, I prefer diving in and really getting to know the makers involved in the whole creative experience. So when I heard about Jasmin Hernandez's new book, We Are Here, my heart felt full knowing that I'd have the opportunity to delve into these creators' universes from my own living room.
Hernandez, a New York native, is the founder and editor-in-chief of Gallery Gurls, an indie art website founded in 2012 that was solely dedicated to providing an accessible space to share interviews and gallery reviews of womxn, BIPOC, and QTPOC creators in the art world. Now, using her deep connection to the fashion and art worlds, Hernandez has curated We Are Here, an outstanding collection of imagery and conversations with 50 Black and brown visionaries in art and nightlife.
"By 2017, it was beyond obvious to me the cultural prowess and the shift that's happening because of us," says Hernandez. "You could be watching Insecure and Issa and the girls are at California African American Museum in L.A. at a Derrick Adams show. That is Black pop culture on full display, and that's huge. A book was needed to encapsulate and document these folks. A book that can sit on your coffee table, sit on your shelf, be in libraries, be in bookstores, be disseminated in universities and schools."
Published by Abrams, We Are Here includes a foreword by Swizz Beatz and photography by two womxn of color, Sunny Leerasanthanah and Jasmine Durhal. It was key to Hernandez that the people behind the lens look like the people in front of the lens. In documenting these 50 Black and brown luminaries in the art world, Hernandez will take you in the artists', creative, and culture-makers' spaces through imagery and intimate conversations.
"The book is about Black and brown visionaries in the art world, so I did look at big art galleries and famous Black and brown artists, but I also looked at nightlife and ballroom," she says while discussing her process in sourcing each subject for We Are Here. "It was important that there was a spectrum of people. I was always going to include queer, trans, and nonbinary people, not just hetero Black and brown people. It's also intergenerational, so you have folks like Lola Flash, who is a famous queer Black photographer, and Renee Cox, who is an iconic Black feminist artist, and then you have someone like Uzumaki Cepeda, who is a 25-year-old textile artist, and KT Pe Benito, who is a nonbinary artist, on the cover."
We Are Here is a book created to share the names, faces, stories, and spaces of creators from around the country who are transforming the art world. Scroll down to take a look inside.
Every product is independently selected by our editors. Things you buy through our links may earn us a commission.