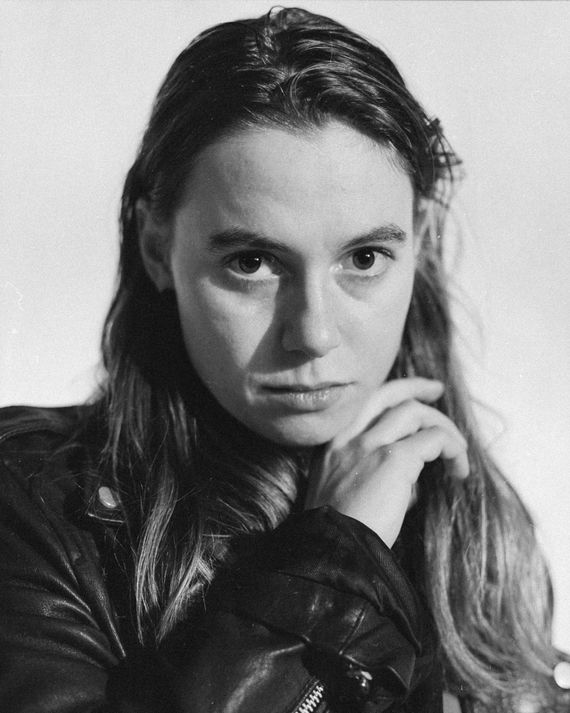 Even before the words have fully left my mouth, Julien Baker looks embarrassed. "Oh my God," the musician utters as her eyes dart leftward and a grin unfolds across her face. "Do you not think of yourself as a short king?" she repeats after me, chuckling.
Her palpable discomfort is justified: Few things are as humiliating as having to explain one of your tweets, which is where Baker first expressed her desire to be a short king. For Baker, someone who describes herself as "unfailingly self-conscious," the effort seems excruciating. As she tries, she leans forward in her seat, her chestnut hair remaining firmly tucked behind her ears. She's talking to me over Zoom in what she playfully calls "the lab," her nickname for her bedroom in Nashville, where I spy at least three guitars and one microphone in the backdrop of her screen. "I know," she groans, "it looks like a TV set of where a musician might live."
Though Baker, 25, doesn't seem prepared for an in-depth discussion of whether she's a short king, her image is something that's been at the forefront of her mind. When she self-released Sprained Ankle — nine confessional, brittle songs about addiction, self-destruction, and trials of faith — in 2014, she was just 19 years old and still a student at Middle Tennessee State University. At the time, her foremost ambition was to become a high-school English teacher who could make her students "think Paradise Lost was cool." She didn't anticipate an independent label would come across the album on Bandcamp, as 6131 Records did, and re-release it the following year. She had no idea that her intimate album would be received by a national audience, or that it would lead to a wildly popular sophomore album, Turn Out the Lights.
Or that she would amass such a robust fanbase, one that regards her with reverence and adoration. Baker's concerts are known for feeling like church, where her audience stands in rapt silence, even between songs; her fans playfully call her their "girlfriend" and "wife." Because her music is so forthright about struggle, it's easy to feel as if Baker's being vulnerable with you — and to look to her as a cathartic outlet for your own vulnerability. It is a massive role for one person, and sometimes it feels too heavy.
"I think I became overwhelmed by trying to live up to this kind of idealized self," Baker tells me. It's what inspired her third album, Little Oblivions, out this week. "I wanted to make a record that was, that was like, 'Look, I'm really bad, look how bad I am.' Like, 'I did really hurtful wrong things and I made a whole bunch of mistakes so please don't ask me anymore what the right thing to do is.'" After a pause, she adjusts her hair behind her ears and reconsiders: "I guess nobody ever really was; it was just me projecting what I felt was my responsibility as an artist."
That Baker would suffer from an exaggerated sense of responsibility makes sense. She is an exceptionally, at times absurdly, thoughtful person. She is five minutes late to our video call, but it was because her "pops" called, and she "always tries to answer" her grandfather. She listens to audiobooks while she goes running, but it's a habit that makes her feel guilty — so she buys a physical copy from a local independent bookstore, then gives the book to someone she thinks might enjoy it. (The Sympathizer, by Viet Thanh Nguyen, was a recent title.) When temperatures in Nashville dipped this winter, neighborhood cats started begging outside her door, and being Julien Baker, she believes it's her "humanitarian obligation" to care for them (on top of her own dog, Beans). She describes the experience of watching the Pixar movie Soul as "an existential crisis," though perhaps that's completely fair. "I know that Pixar is here to emotionally manipulate viewers," she says, "and I forget every time." She had an equally strong reaction to Happiest Season, the lesbian holiday rom-com where Kristen Stewart, whose character is undeniably gay, has to pretend to be straight in front of her closeted girlfriend's family: "I felt like Happiest Season was problematic, but it was also like a very valid experience. I was like, That's been me.'" (Baker, by the way, is currently in a relationship.)
Baker has since abandoned any remnants of a straight façade, but self-presentation remains a consistent theme in her life. After the success of her first album, she was hyperaware of the "credibility linked to me as an artist," she explains, which informed her approach to Turn Out the Lights, released by Matador Records in 2017. Mindful of her newfound platform, Baker wanted her second album to be more "uplifting and meaningful." The songs — carried by swells of strings and piano as well as guitar — revolve around heartbreak and depression, but glimmer with a hope and measured optimism that Baker sees differently now. The Baker who made that album felt compelled to assign a "discernible meaning to pain," striving to demonstrate the possibility of healing. As she sings in "Appointments," the lead single: "Maybe it's all gonna turn out alright / And I know that it's not / But I have to believe that it is." 
While Baker respects the convictions and instincts of her slightly younger self, she's since come to believe that suffering doesn't always fit into an "immaculate poetic box" and that confronting vices doesn't necessarily mean you've forever triumphed over them. These revelations are evident on Little Oblivions, which Baker started writing in early 2019, at the tail end of touring with boygenius collaborators, Phoebe Bridgers and Lucy Dacus. By then, Baker had been touring in some capacity for three years straight. She began canceling scheduled tour dates in February 2019, citing "unforeseen personal matters" and, later, "ongoing medical issues." That summer, she returned to MTSU to complete the one remaining semester in the degree she shelved after Sprained Ankle took off.
When we speak in early January, Baker doesn't speak explicitly about the circumstances that drove her to halt touring and return to campus. She's since, in more recent interviews, opened up about slipping after six years of sobriety. Little Oblivions, Baker's first solo album with percussion, is perhaps her most raw and unsparing yet. Take this searing line in the first track: "Blacked out on a weekday, is there something that I'm trying to avoid?" She sings of bloodshot eyes, bloody hands, beating herself bloody; of losing consciousness and losing convictions; of feeling like a "character of somebody's invention." As poet and critic Hanif Abdurraqib writes in an essay that ran alongside the announcement for Little Oblivions, "these are songs of survival, and songs of reimagining a better self, and what is that if not hope?" 
These days, the musician is "just trying to be as honest as possible," she tells me. "Everything doesn't have to be cerebral and over-intellectualized for it to be emotionally valuable."
In that spirit: Does she consider herself a short king? She's undecided. She does acknowledge that she's tiny; at just five feet tall, she describes herself as "a JPEG of a person that someone clicked the corner of, and then scooted in to be 75 percent size." Still, she's not sure she qualifies as a short king. She certainly aspires to be one, but insists, unconvincingly, she's "no longer tour-toned." Even when I remind her that many of her fans aspirationally refer to her as their "wife" and "girlfriend," she stresses that there's just no way her self-consciousness will allow her to recognize their gentle words of affection as sincere. The one thing she'll never do, she says, is allow herself to accept a compliment.