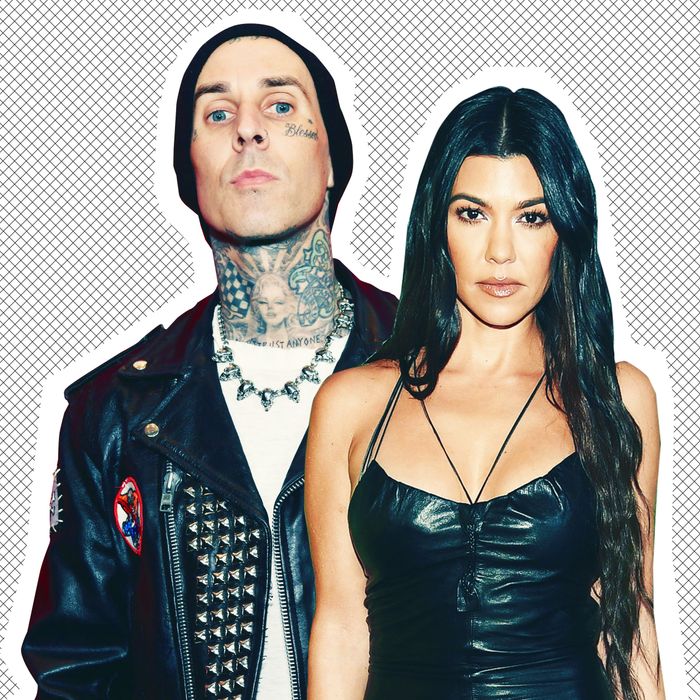 Travis Barker and Kourtney Kardashian.
Photo: Getty Images
Well, well, well, look who finally confirmed their relationship: Kourtney Kardashian and her longtime friend, Blink-182 drummer Travis Barker. As you might've suspected, the former was the one to do the confirming, taking a classic approach: She posted a photo to Instagram of her manicured hand clasped around Barker's heavily tattooed one.
And so concludes this period of intense speculation, which admittedly wasn't all that long. It was only toward the end of last month that People first reported that Kardashian, 41, and Barker, 45, were an item. At the time, a source told the outlet that their relationship had "turned romantic," and that they had been dating "for about a month or two." Then, on Valentine's Day, they both posted photos of what appeared to be the same flickering fireplace, and Kourtney shared a photo of graffiti that quite clearly read: "Roses are red, violets are blue, garlic bread, Blink-182." (Barker also posted to his Instagram Story a close-up photo of a diamond anklet encircling a woman's ankle.) Throughout this period, Barker has been dropping suggestive messages under Kardashian's Instagram photos.
So it's been pretty clear this whole time that they're dating, but now we know they definitely are. As we suspected, they did in fact spend time before the same fireplace on Valentine's Day; that ankle belonged to Kardashian. They seem like a good match: They already have a strong relationship foundation, they know each others' children, they share a love of vegan food, etc.
And just think — when rumors swirled nearly two years ago that Kardashian and Barker were hooking up, the latter vigorously denied the speculation, emphasizing that they were not into each other like that. "I mean, I love her to death. I love her family to death," he told People in March 2019. "But yeah, just friends." How things have changed.