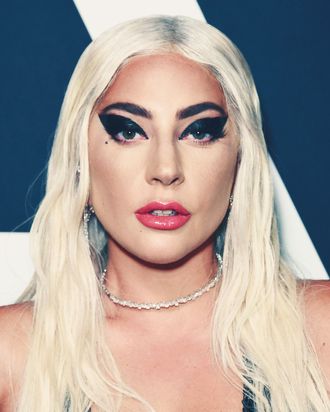 Photo: Presley Ann/Getty Images for Haus Laboratori
Lady Gaga's dog walker was shot, and her two French bulldogs, Koji and Gustav, were stolen on Wednesday night in Hollywood.
The Los Angeles Police Department told People that the robbery took place at 9:40 p.m. Wednesday night on Sierra Bonita Avenue in Hollywood. Surveillance video of the attack reportedly shows two people exiting a white sedan and attacking the dog walker, with one assailant holding the walker back while the other pulls out a semiautomatic handgun and shoots him. The walker collapses and can be heard on the tape yelling, "Oh my God, oh my God, help me," as the men grab the two dogs, get back in their vehicle, and flee. As neighbors arrive, the walker can reportedly be heard saying that the two dogs have been stolen and that he's been shot in the lungs.
The dog walker was rushed to the hospital, and LAPD confirmed to USA Today on Thursday night that he is now in stable condition after having previously been listed as critical.
According to the Daily Mail, Gaga's third French bulldog, Miss Asia, managed to run away and was later retrieved by police.
A source close to Gaga told CNN that the singer is "offering half a million dollars to anyone who has her two dogs, no questions asked. Anyone who has the dogs can use this email, KojiandGustav@gmail.com to retrieve the reward."
Gaga was in Italy at the time of the attack, working on a new movie, and is reportedly "extremely upset." On Thursday night, Gaga's father, Joe Germanotta, went on Fox News and pleaded with the public to help find the dogs and "catch these creeps."
According to TMZ, law enforcement isn't sure if the dogs were targeted because they belong to the pop star. Sources say it's possible the attackers didn't know they were Lady Gaga's dogs and they might have taken them in the hopes of reselling them. French bulldogs are a popular breed, and per the Daily Mail, "they typically sell for anywhere between $1,500-$3,000 on average, however those with pedigree lineage can go for as much as $10,000."
The investigation into this case is ongoing.
This post has been updated.