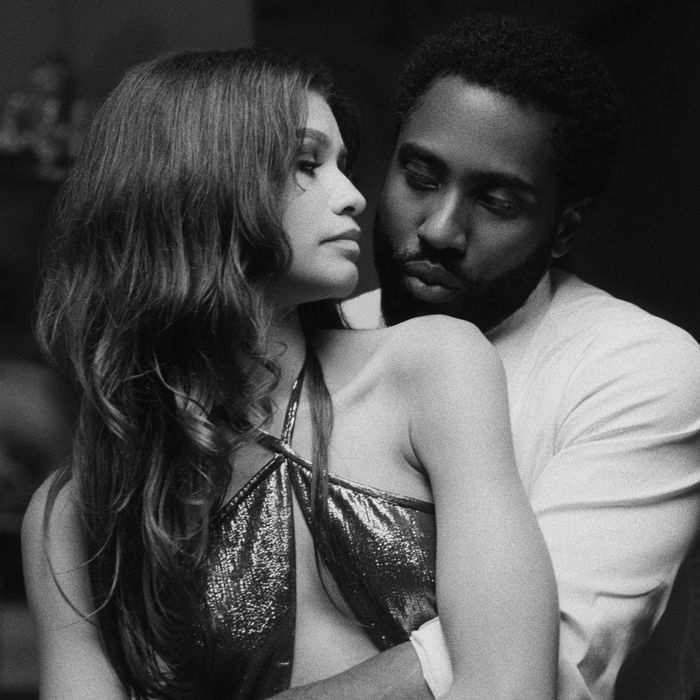 Malcolm & Marie follows a couple, filmmaker Malcolm (John David Washington) and his girlfriend, Marie (Zendaya), as they revisit and excavate just about every painful argument they've had in the past decade. It's war, and sometimes it's reprehensible: They deal blow after blow, and just when you think someone's had the last word, the other goes for the throat.
The whole movie takes place in one night, and costume designer and image architect Law Roach only had three outfits to work with. It was going to be shot in black-and-white, so the clothes needed to "have a life," as he tells it. On top of that, director Sam Levinson wanted everything to be "timeless," so that when people watch Malcolm & Marie 20 years from now, they'll think, God, look at that dress. 
It was a tall order, but Roach — who has styled the likes of Celine Dion and Ariana Grande — was up for it. He's been working with Zendaya for years, but things were a little different this time: He'd have to do everything remotely, as Malcolm & Marie was the first major film to be completed entirely under pandemic restrictions.
Roach's job was to get into Marie's head during the fight, to create each look to pace with its many ebbs and flows. And remember — make it timeless. Here's how he did it.
The Dress
Roach worked with stylist and designer Jason Rembert — you know him from the white suit AOC wore on the cover of Vanity Fair — to create a custom gown in metallic, pewter-colored fabric. It's what Zendaya wears to her boyfriend's film screening, and in the first part of the argument when they get home from the event.
On the fabric:
The most important note that I got from Sam Levinson is that the dress had to have movement because it was being shot in black-and-white. It needed to have a life — to catch that light from every angle and from every direction. It had to feel liquid and the metallic was a natural way for me to get that.
On the cutout:
I don't think Marie and Zendaya have anything in common other than that they share the same body, so it was all about figuring out exactly who Marie was and what type of girl she is. We don't know how old she is, but she's lived, and she's done some things, and she's made some mistakes, and she loves fashion; she's über sexy and sexual.
On inspirations:
When me and Jason started speaking, Michelle Pfeiffer from Casino was a reference, but it was less about clothes and more about mood and emotion and lighting.
On those backseam pantyhose:
I just think [backseams] are incredibly sexy and always have been. If you think about the bombshell beauties of the fifties, they always had that backseam. And me creating this fantasy woman in my head, I thought it was important to use those.
On the shoes:
They're a custom pair of Louboutins that Christian made as a gift for her last year. So Kate's covered in black crystals.
The Tank & Briefs
Zendaya slips into a white tank and briefs after getting out of a bath, a part of the argument in which Malcolm completely eviscerates her with details of his past conquests. The look also takes us into a part of the movie where the couple enters a brief period of reconciliation.   
On the tank:
We tried a lot of different shapes and cuts. Not so much shapes but more cuts and fabrics and different brands.
On the briefs:
I knew that that would be the look. Marie knows who she is. So this is sexy, but it's also not sexy enough where Malcolm thought he was going to have sex that night. When she got out of the bath and chose that, it was a part of the movie where they were intensely arguing. I don't think that she would want to put anything on that would make Malcolm think that she was trying to be sexy for him.
On inspirations:
Sam sent me a reference of Nicole Kidman in Eyes Wide Shut.
The Kimono
Zendaya wears a vintage kimono from her own closet over her tank and briefs for the last third of the argument, which takes place in the early hours of the morning. It's crucial in a scene where she threatens Malcolm with a kitchen knife.
On the choice:
It was just a different stage of that argument. I think at that point she maybe just wanted to feel more covered up, or in real life she could have got cold.
On inspirations:
That was the genius of Zendaya, actually. She thought that that would work, and I agreed.
Malcolm & Marie premieres today, Feb 5., on Netflix.