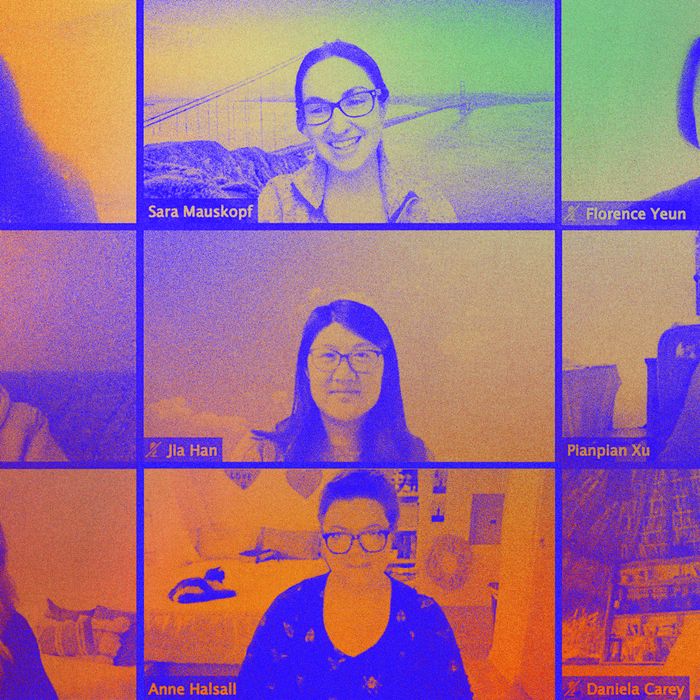 Photo-Illustration: by The Cut; Photo Courtesy of Winnie
Winnie is a marketplace for child care founded in 2016 by Sara Mauskopf and Anne Halsall, two tech workers who were frustrated by how difficult it was to find child care for their young kids. It is, by its very nature, sympathetic to the predicaments of parents during the pandemic, and well-aware that access to child care, having a co-parent, and working for a sympathetic employer can make a huge difference. Still, Winnie's employees — over half of whom are women, and 35 percent of whom have children under the age of 10 — are constantly being pulled away from work to deal with their kids, and vice versa.
To get a snapshot of how one company manages the delicate balance between work and caretaking duties during the pandemic, we had four Winnie employees take us through their days: Sara Mauskopf, the CEO and co-founder, whose kids are Bryn (5), Aubrey (2), and Ryan (9 months); Anne Halsall, the co-founder and CPO, whose kids are Hugo (7), Felix (6), and Astrid (10 months); Pianpian Guthrie, a product manager, whose baby, Jack, is 4 months old; and Amber VandeKerkhoff, a product manager whose kids are Nina (4) and Otto (22 months).
Here's how the Winnie team made it work on Monday, January 11.
Morning
SARA: I quickly nurse the baby before my 9:15 interview. We're hiring for a bunch of positions at Winnie, and while I normally have no qualms about breastfeeding on Zoom calls, I didn't want to do it in front of a candidate I've never met before. My baby won't take a bottle (ugh), so this is the only way he can get fed.
ANNE: After dropping my older two kids off at school, I make scrambled eggs for the baby, and my husband feeds her while we eat egg bites and drink coffee. This is when we get online and start checking Slack and email. I notice a calendar invite pop up for 9:45. Our sitter comes later in the day, so normally I would put the baby down for her morning nap around this time. I ask my husband if he can do it, but he has a one-on-one at 9:30. Guess it's early nap time for the baby! I sigh, feeling exasperated and a bit defeated.
PIANPIAN: I rush to clean up myself quickly and get ready for work. I get a few bottles of water — breastfeeding makes me thirsty all the time — and feed the baby around 9:40, while reading Slack messages and emails. My husband is showering, and I realize it's time for the Winnie stand-up. I put Jack on my lap and join the stand-up. Fortunately he is not too fussy when he is well-fed, burped, and well-rested, and my co-workers love seeing him on video. We survive the stand-up without him crying, even though he starts to get fussy toward the end. He doesn't like being in the same position for too long — too long means a few minutes in the baby's world.
AMBER: Get up; get the kids dressed and their teeth brushed. It's always like herding cats. They're everywhere. Make their beds. Head downstairs and start to make their breakfast. We got them their own Bluetooth speaker for Christmas, so I turn on the Moana soundtrack in the playroom and it's like a vortex. The kids are sucked in. I bring the speaker to the kitchen table when their food is ready, and they follow like little zombies. I get them settled, and then their dad takes over so I can brush my own teeth and change and get ready for the day.
Lunch
SARA: I'm in the middle of a meeting and breastfeeding again. I'm sure it's distracting for the people I'm in meetings with, but for me it's just a thing that I do, like taking a drink of water. I do usually feel bad when it's someone I've never met before. But I've been doing this now for ten months, and everyone is usually just excited to see the baby.
ANNE: Baby awake and in a great mood after her long nap! I take a break to make lunch and feed her. I make the mistake of checking Slack on my phone, and she ends up dumping an entire helping of steamed veggies onto the floor. Not long after, our babysitter arrives, and I'm very grateful.
PIANPIAN: I heat up some leftovers for lunch after a meeting and hope I can eat it before my husband and baby are back from their walk. They get back before I have a chance to sit down with the food. My husband says the baby seems hungry, so I try to feed him first. He closes his gums on me a few minutes into the feeding, so I have to burp him while getting some bites of my lunch. I then hand the baby to my husband so I can eat and work at the same time.
AMBER: I head downstairs to meet with our newish babysitter, who's great. We're still "onboarding" her, so I take her to the garage to overexplain the car-seat mechanics and preschool pickup procedure. We drive to the preschool, pick up kids (they're both smiling!), and drive home. Our toddler won't let me go without nursing (of course), so I take him up to nurse him to sleep for his nap.
Afternoon
SARA: At 3:30, I'm breastfeeding the baby again. When he's done, I text my husband to pick him up. My husband doesn't see my text because he's busy with the kids, so I bring the baby to him. Of course then my kids start asking me questions, so I talk to them for ten minutes before I need to head back and finish up my work.
I feel like I'm failing at everything in these moments because I'm usually cutting off my kids, I'm not giving them what they need — it's a question, and then it's "Can you read me a book?" and at some point I have to say that we're done, and I have to go back to work. So I disappoint them, and then I'm taking time out of my work, and I'll come back and find that someone on my team is trying to ping me, and I'm like, Oh, I was a terrible CEO. I just left and ignored everything, and I'm not working as hard as I should be. And I can only imagine that if I'm the CEO of the company feeling like that, my employees I'm sure feel that way, too.
ANNE: At 2:30, I can hear the baby crying. I suspect she is not happy about nap time. I'm still in a meeting, so I text my husband to check on her. Apparently it was teething. He gave her baby Tylenol.
At 4:30, it's time to get the kids from school. My husband and I negotiate over who has time to pick them up today. I draw the short straw and sign off to go get them. For years now I've been leaving work at 4:30 to handle school pickup, but I never quite got over feeling bad about it. Leaving early when a lot of my team members are still working feels wrong to me, but I'm also proud to set this example so other people with caregiving responsibilities know it's okay.
PIANPIAN: The baby wakes up from his afternoon nap and makes some sounds. My husband has on his headphones, so I tell him the baby is awake. My husband changes the baby's diaper and asks if I can feed the baby since he is fussing. But he doesn't seem to focus on eating when I try, so I hand him back to my husband to let the baby play on the play mat. I breastfeed the baby while working on my computer, and burp him in between.
AMBER: I'm two minutes late for a short Zoom meeting with some team members because I just set up my new work computer yesterday and hadn't downloaded Zoom yet (ugh!). I dial in from my phone instead. This meeting rolls into our "Team Sync" daily stand-up meeting with everyone in the company. I'm still flustered because for some reason I can't turn up the volume on this new laptop and can't hear anything. I get impostor syndrome a lot these days, because this is my first job in a while, after taking four years to care for my kids. So when things like this happen, my heart starts beating faster, and I feel like everybody notices.
At 2, a Zoom meeting that was supposed to be 30 minutes goes for an hour. My babysitter is supposed to leave at 3, but I ask if she is available to stay until 4 because I want to finish a project for the sales team before I log off today. I'm really grateful when she says she can stay. I finish the task and send it over to our CEO, then have just enough time to start working on something else before I hurry downstairs to relieve the babysitter because I know she needs to leave.