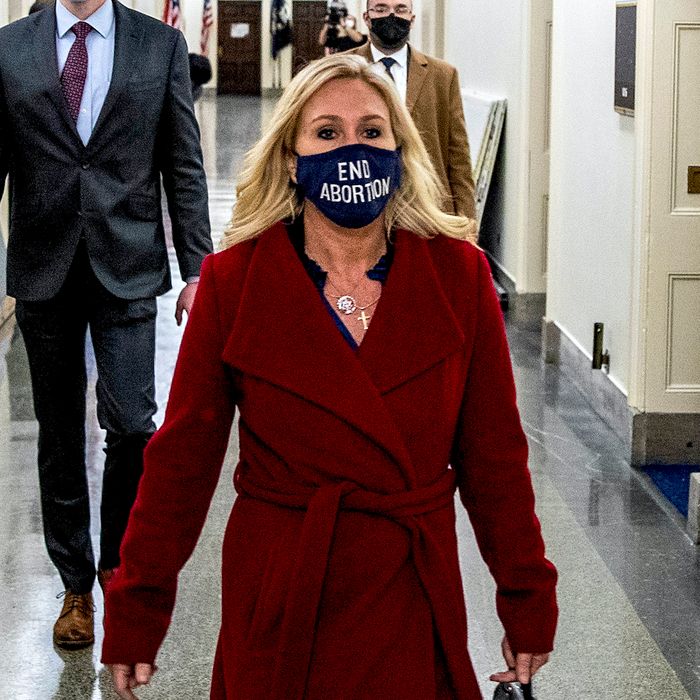 Marjorie Taylor Greene.
Photo: Tasos Katopodis/Getty Images
Lawmakers in the House officially stripped Georgia representative Marjorie Taylor Greene of her two committee assignments on Thursday evening. Reports detailing the congresswoman's social-media history — particularly her former use of Facebook to condone the execution of prominent Democrats and advance far-right conspiracy theories — prompted 230 of her colleagues to take the unprecedented step of ousting her from both the House Committee on Education and Labor and the Committee on the Budget.
Still, it bears noting that most Republicans rallied around Greene, with 199 voting against Democrats' resolution to remove her. Only 11 GOP representatives supported the resolution, which perhaps isn't all that surprising, given that House Republicans already declined to revoke Greene's appointments on their own.
"You would think that the Republican leadership in the Congress would have some sense of responsibility to this institution," House Speaker Nancy Pelosi said Thursday, according to the New York Times. "For some reason, they've chosen not to go down that path."
Greene has long been vocal about her extremist ideology. She was elected to Congress in November as an open QAnon supporter. Greene reportedly embraced the conspiracy theory — which the FBI has classified as a domestic terror threat — as it began to spread in 2017, explaining at the time that she welcomed the "once-in-a-lifetime opportunity to take this global cabal of Satan-worshipping pedophiles out." (The aforementioned pedophiles, in Greene's estimation, primarily being Democrats.) She has repeatedly asserted that the deadly Parkland shooting was a "false flag" event, and has been captured on camera harassing survivor David Hogg, whom she has also described as a paid actor. She has continually deployed anti-Semitic and Islamophobic rhetoric online, and before she entered office, reportedly had a habit of liking Facebook posts advocating for the murder of Democratic politicians.
In a speech on the House floor today, Greene did not apologize for her actions, although she did try to distance herself from some of them. Insisting that she "stopped believing" in QAnon ca. 2018 (her social-media history says otherwise), she granted that "school shootings are absolutely real" and "9/11 absolutely happened." She did not address the arguable death threats against some of her current colleagues, but she did say that "these were words of the past." Apparently, this was enough for most House Republicans. Minority Leader Kevin McCarthy indicated in a statement on Wednesday that he had no plans to discipline Greene, having already given her a firm talking-to.
McCarthy called the Democrats' resolution a "partisan power grab," although again, he could have dealt with Greene himself: In 2019, after all, he removed Steve King from his committee assignments after the former Iowa representative wondered in a New York Times interview how the terms "white supremacist" and "white nationalist" had "become offensive." But then again, Greene reportedly received a standing ovation from many of her Republican colleagues last night when she explained herself in front of the House GOP conference. As Intelligencer's Ed Kilgore notes, it's possible "McCarthy is refusing to officially marginalize her for the simple reason that in the context of today's House Republicans, she's not all that marginal."