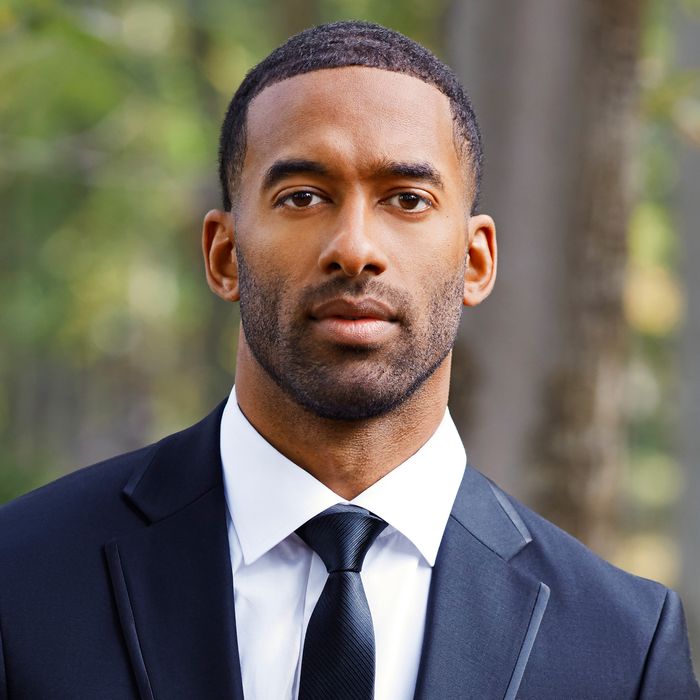 Matt James.
Photo: Billy Kidd/ABC via Getty Images
In an Instagram statement posted just before Monday's episode of The Bachelor, Matt James — the franchise's first Black bachelor — addressed the recent series of racist controversies surrounding this season, including contestant Rachael Kirkconnell's offensive past social-media posts and longtime host Chris Harrison's temporary departure from the show after coming to Kirkconnell's defense on a podcast with Rachel Lindsay, the show's first Black bachelorette.
"The past few weeks have been some of the most challenging of my life, and while there are several episodes left of the season, it is important that I take the time to address the troubling information that has come to light since we wrapped filming, including the incredibly disappointing photos of Rachael Kirkconnell and the interview between Rachel Lindsay and Chris Harrison," James wrote. "The reality is that I'm learning about these situations in real-time, and it has been devastating and heartbreaking, to put it bluntly."
James went on to say that Harrison's failure to "receive and understand the emotional labor" Lindsay was putting forth by explaining the problems with Kirkconnell's posts — including pictures of her at an antebellum-themed college party in 2018 — was "troubling and painful to watch."
(In the interview, Harrison insisted Kirkconnell should have a chance to speak on the matter. When Lindsay pushed back, saying the contestant had had weeks to make a statement but had said nothing, Harrison said, "Who is Rachel Lindsay and who is Chris Harrison and who is whatever woke police person out there? Who are you [to tell her to speak out]? I've heard this a lot of, 'I think she should,' 'I think he should.' Who the hell are you? Who are you that you demand that?")
"As Black people and allies immediately knew and understood, it was a clear reflection of a much larger issue that the Bachelor franchise has fallen short on addressing adequately for years," James wrote.
He said that the experience has pushed him to reevaluate and process what his experience on The Bachelor represents and that he will have more to say at the end of the season. He concluded, "My greatest prayer is that this is an inflection point that results in real and institutional change for the better."