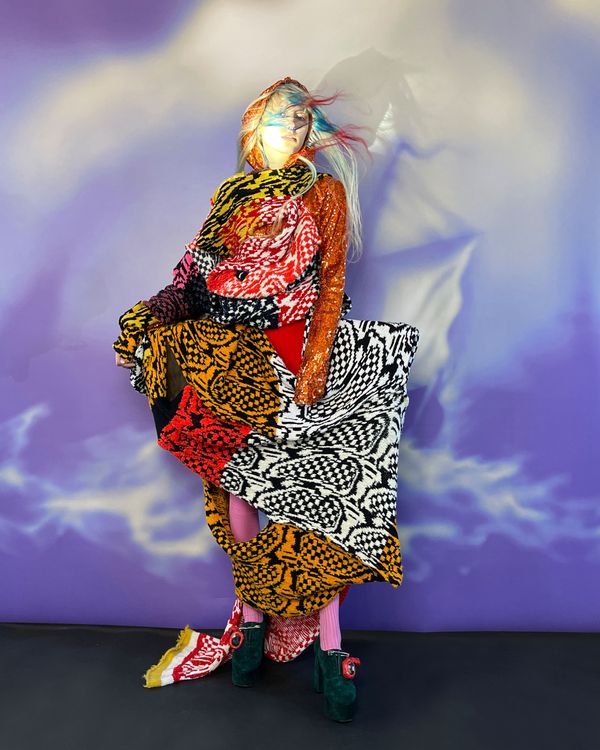 Photo: Matty Bovan Studio
When I'm not looking at Instagram and TikTok, endlessly scrolling through Facebook has become a favorite pastime of mine. Specifically, I love reading strangers' comments. One in particular struck me recently. On a story about New York Fashion Week, a friendly grandma expressed her genuine confusion about today's styles, claiming that mid-20th-century glamour was the cream of the crop.
But in a time when people have traded heels for UGGs, what even is glamour anymore? Fashion in 2021 looks different from this time last year and the year before, let alone the 1950s. Some brands gave possible answers. Maybe it's layering a onesie in new ways, wearing sweatpants under a pleated skirt, or topping a tulle dress with a cozy sweater-vest. For British designer Matty Bovan, it's a blanket scarf draped on the body to make a gown in his fall 2021 collection, "Odyssey."
It's not a new suggestion (remember Lenny Kravitz's scarf or #pillowchallenge?). It is, however, a strong case for rethinking a look from the Central Saint Martins graduate, who specializes in wild, sculptural, hand-dyed knitwear made sustainably with deadstock fabric and leftover materials. The scarf appears in several looks. In one, it's draped to resemble the wide hips of panniers; in another, it's like mutton sleeves. It's like an art-school club kid interpreting the British aristocracy. And dare I say the proportions even resemble certain 1950s designs?
"'Odyssey' is ultimately about humanity's constant survival against external forces, and a battle with reality," Bovan says in the show notes. "The characters are swept away in a cycle of extreme events, and whether this cycle ever ends or just continues, is unknown."