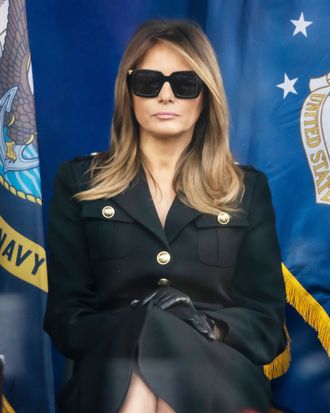 Photo: Noam Galai/WireImage
And now, let's check in on Melania Trump, who, along with her husband, fled to Florida on the morning of Joe Biden's inauguration. How has the former First Lady been spending her post-White House days at Mar-a-Lago, Trump's glitzy Palm Beach club? Has she been redecorating? Putting the finishing touches on her coffee-table book? Following her husband's second impeachment trial? Not quite. According to a new CNN report, Melania has been spending her days at the spa, stewing in a hot soup of bitterness over all the attention being paid to her successor, Jill Biden.
"She goes to the spa, has lunch, goes to the spa (again) and has dinner with Donald on the patio," one person familiar with Melania's schedule told CNN. "Rinse and repeat. Every day."
It's not unusual, according to the report, for Melania to spend several hours a day availing herself of the various spa treatments available at Mar-a-Lago, like massages, nail care, or facials.
For dinner, another source said, she usually enjoys fish, and she and Donald are often joined on the patio by her parents, Viktor and Amalija Knavs, who have a private suite of rooms at the resort.
When she's not primping, she's apparently snacking on sour grapes, frustrated, sources say, by all of the fawning over current First Lady Dr. Jill Biden. In her four years in office, Melania never did an interview with a national publication. Meanwhile, in her first weeks in office, Biden has already done a cover story interview with People magazine and been featured in Parents magazine, as well as held at least seven events or speaking engagements.
As CNN notes, national publications repeatedly asked to do interviews with Melania while she was First Lady, but she would turn them down. "Melania intentionally didn't do press as a defense mechanism," said Stephanie Winston Wolkoff, one of the First Lady's senior advisers during her husband's early months in office.
She is not blaming herself for this lack of coverage, though. Apparently, Melania has opted instead to turn her ire on others, like her former staff members and magazine editors. Per CNN: "She thinks she could have participated in more media opportunities and policy events had her staff been more accommodating to her needs."
Another source pushed back against this, telling CNN that everyone knew Melania was going to do what she wanted to do, and no staffer could change that.
Maybe she can reflect on that during one of her multiple daily spa trips.