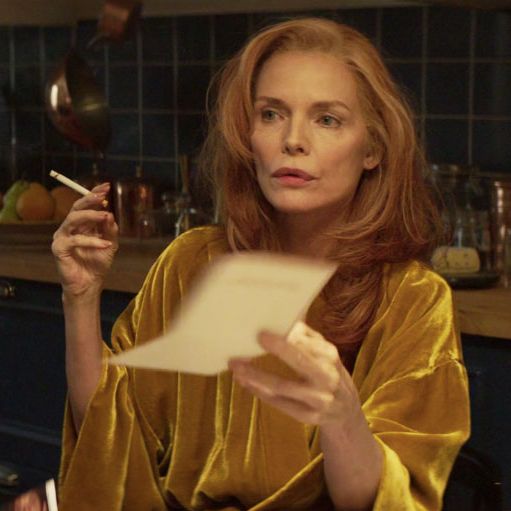 Big
bonjour
to Michelle Pfeiffer and Michelle Pfeiffer's statement robe.
Photo: Sony Pictures Classics
I watched the movie French Exit maybe two weeks ago now, and let me tell you: I have not stopped thinking about robes since. I say this with apologies to director Azazel Jacobs and author Patrick deWitt, who probably hoped the audience would walk away with loftier opinions. Overall I found French Exit to be fine, dry toast: uninspiring, except as a vehicle for butter and jam. Or, in this analogy, Michelle Pfeiffer and her statement robe.
Pfeiffer plays a wealthy Manhattan widow named Frances Price, whose recent bankruptcy drives her to liquidate her assets and hole up inside a friend's empty Parisian apartment with her apathetic son (Lucas Hedges) and her (possessed?) cat. Price spends her days plowing through her cash and swanning around in an absolutely incredible robe. Let me tell you more about this garment: It is ankle-length, and velvet, and sits at the intersection of sunflower and chartreuse — a color that effectively mirrors Price's plush and acidic mind. As an expression of her ennui, the robe is unparalleled, a mantel of affluent boredom for an over-it socialite who probably isn't going to bother getting dressed for you. She spends approximately half the movie looking like the Sun King while engaging in such regular activities as opening the mail:
And looming:
And sitting on the edge of the bathtub, staring abjectly into the middle distance.
And arguing with the cat:
And debriefing the private detective:
These are all things I currently do from the comfort of my underwashed Jerzees sweatsuit, minus the PI stuff … although maybe if I were the kind of person who, like Price, communicated discontent by setting floral centerpieces on fire, I might eventually need my own sleuth. Since watching French Exit, the velveteen hole in my closet has become inescapably obvious to me. Once I scoffed at the "nap dress," a $100 nightgown that encapsulated fashion's attempt to make the shift toward soft dressing look like a chic choice instead of a grasp at comfort in acutely uncomfortable times. Now I think I almost get it. It still feels wildly out of touch to smock myself as if for a Victorian rest cure, just because my job allows me to stay home and lounge through the pandemic. And yet a soft voice inside my head will not let me forget that a robe is as close as you can get to wearing just a blanket without accidentally flashing your co-workers on Zoom.
That is probably where this particular robe's utility ends: I know that when I roll out of my warm bed and into the morning chill of my radiator-"heated" apartment, the velvet will feel cold and slinky on my skin. When I wrap myself in it after a shower, the moisture from my hair will leave frigid wet patches that refuse to dry for hours. But then, practicality was never the point of this exercise, because this robe inhabits a totally different reality than I do. This robe is Tilda Swinton strolling in the sun. This robe successfully posed as identical twins in order to date two men at once. This robe smells like Rihanna. This robe has a hothouse full of Venus flytraps and orchids. This robe likes piña coladas. The category here is a peaceful, sexy life. And, well, dress for the job you want, not the job you have.
Three Robes That Will Make You Feel Like a Glamorous and Eccentric Widow in Paris
Francis Price seems like a character who literally does not know that Amazon exists, but this $55 robe is a pretty good dupe for the one from the movie.
Technically, this is a duster, but no one will judge you if you wear it as loungewear.
This over-the-top Versace robe is not quite the same thing (it feels more Miami than Paris), but it does have a similar louche appeal.