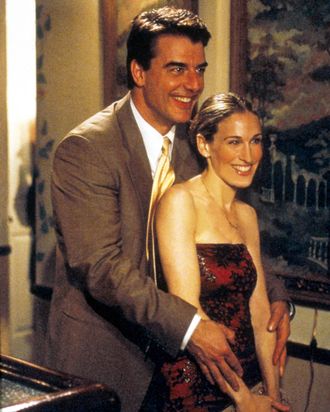 Photo: Moviestore/Shutterstock
Perhaps you hadn't heard, but there's a Sex and the City reboot in the works. It's called And Just Like That, and it will pick up years after the iconic show about Cosmos and sexy dildo quips left off — with a few differences. Kim Cattrall won't be coming back as Samantha, for one, and according to "Page Six" Chris Noth won't reprise his role as Mr. Big, Carrie's on-again, off-again boyfriend/husband.
It's unclear how Noth will be written out of the show. When we last left the gang at the end of the 2010 film Sex and the City 2 (the movie where Samantha iconically utters the phrase "Lawrence of my labia"), Big and Carrie had decided to stick it out in their marriage and try to make it work, even though they were never for a moment a healthy or functional couple. Big was allegedly supposed to get killed off in the third movie (sources said he was scripted to have a heart attack in the shower), a claim Noth himself vigorously denied. Will he be killed off in the reboot, though? Will his absence, like Samantha's, simply be explained away as an inevitable side effect of the brutal passage of time and the way people grow apart over the years? We'll have to wait and see, though there's no word yet on when the series will be released.
Another Sex and the City man's return is also uncertain. David Eigenberg, who played Miranda's boyfriend Steve Brady, was rumored to not be returning to the show either, but a source told "Page Six" that the actor was still in negotiations.
Also no word so far on whether Justin Theroux will be returning as either of the two separate flings he played on the show.