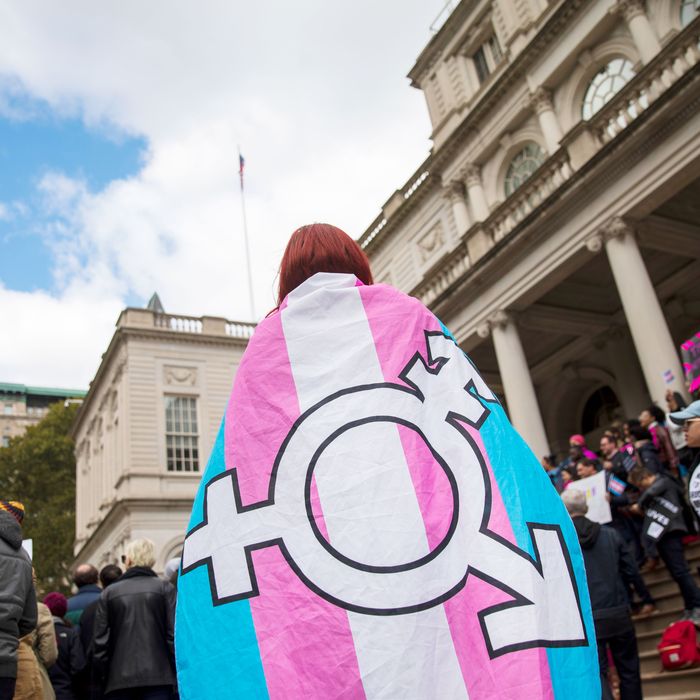 Following years of pressure from activists, on February 2, Governor Andrew Cuomo signed a bill to repeal what has come to be known as the "Walking While Trans" ban.
Photo: Drew Angerer/Getty Images
For years, trans activists and sex workers in New York have urged elected officials to pass legislation to repeal an anti-loitering statute that came to be known as the "Walking While Trans" ban. Under the law, which was enforced in 1976 to crack down on sex work, police can arrest anyone they suspect is engaging in sex work without compelling evidence — for example, they could notice a woman wearing a short skirt and assume she's "loitering for the purposes of prostitution." In practice, advocates say, officers disproportionately target Black and Latinx trans women. Some activists have characterized the ban as "stop and frisk for trans women."
Last summer, the call to repeal the ban gained unprecedented momentum amid the nationwide Black Lives Matter demonstrations, which shone a light on racist policing. Now, after years of tireless advocacy, activists get to celebrate a long overdue victory. On Tuesday, both houses of the New York State Legislature passed a bill to repeal the statute, and Governor Andrew Cuomo signed it soon after. The bill took effect immediately.
"This is going to save some lives," TS Candii, a Black trans woman community organizer, said during a joyous online news conference following the law's repeal. Candii, like many of the movement's most vocal leaders, has been targeted by the law; in 2017, while she was smoking a cigarette outside her Bronx apartment, an officer threatened to book her on prostitution charges if she didn't perform oral sex on him, she told The Nation last year. "Knowing that no one will ever be profiled or experience trauma like mine again because of this law will for sure help me and many of us move forward with our healing."
State Senator Brad Hoylman, who sponsored the bill in his chamber and has long championed the cause, shares in the activists' excitement. "I owe the world to transgender women of color," the senator tweeted following its victory. "If not for Marsha P. Johnson & Silvia Rivera, I wouldn't have the right to marry my husband. Passing today's legislation to repeal the Walking While Trans ban affirms the fact that Black Trans Lives Matter."
The discriminatory enforcement of the ban cannot be overstated. In 2018, 152 people — 80 percent of them women — were arrested under the law, according to the New York State Division of Criminal Justice Services; 49 percent of them were Black, and 42 percent were Latinx. While it is difficult to know exactly how many people charged under the law are trans, as the NYPD has been known to misgender trans people, anecdotal evidence from Amnesty International and the Human Rights Campaign show that trans people have been disproportionately affected.
The testimonies of trans women confirm this. "I will be able to feel safer walking through the streets of my neighborhood without the police bothering me or arresting me for my gender expression," Norma Ureiro, a member of immigrant-rights organization Make the Road New York, said in a statement following the bill's victory. Silvia Escobar, another Make the Road New York member, said, "I am a trans woman from Mexico, I am happy, and I want to cry! I know that the struggle we are leading is bearing fruit."
This version of the bill also goes one step further than previous ones: It seals prior convictions and violations under the law, which can be barriers to securing employment and housing. "I wanted to do something worthwhile, and I was told I couldn't because I had all these loitering arrests," a 50-year-old woman from Queens who has been arrested multiple times under the law, and requested anonymity, told the New York Times.
Activists and elected officials hope that the bill's success will prompt other cities and states with similar loitering laws to repeal their bans; in fact, Scott Wiener, a Democratic state senator in San Francisco, has already vocalized his intent to introduce legislation that would do just that. Other advocates, including New York state senator Jessica Ramos, want to use their momentum to fuel another fight: We need "to decriminalize sex work to make sure that our sex workers are recognized as the workers they are and that they are able to do their work in a safe way," she told BuzzFeed News.