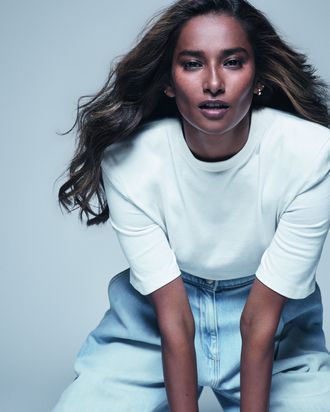 Nidhi Sunil
Photo: Courtesy of L'Oreal Paris
L'Oréal Paris has added another inspiring spokesperson to its family. Indian model and philanthropist Nidhi Sunil has been named the brand's newest global ambassador. A former environmental attorney and current advisory board member and spokesperson for the Invisible Girl Project, an organization aiming to end gendercide and infanticide that affect girls in India, Sunil is a perfect fit for the brand's roster of women making a difference.
"It was so crazy because I didn't see it coming at all," the model told Elle Canada of her new ambassadorship. "L'Oréal's other Indian ambassadors are all A-list mainstream Bollywood actresses. I don't think they've had an Indian ambassador who's a model and who also has darker skin until myself. Frankly, I'm an opportunist so I think it's amazing to have a larger platform for all the causes that I speak for."
As the brand's first Indian model global ambassador, Sunil plans to continue speaking out against colorism, an issue she's experienced firsthand and one that came under renewed fire last summer during the beauty industry's racial reckoning. Following online petitions and consumer backlash, beauty behemoths like Johnson & Johnson announced they would stop selling skin-whitening creams, while Unilever and L'Oréal announced they would stop marketing words like "whitening," "fair," and "lightening" on "skin-evening" products.
Sunil tells WWD that in her new role, she hopes to continue the dialogue, change the way people see themselves, and open doors that were previously closed to her as a model with dark skin. "I'm so happy to join L'Oréal Paris — to speak out for the self-worth we must all believe in to succeed, especially when others try to tell us different," she said in a statement. "To me, beauty lies in the full power of your own voice and your belonging in the world. Every one of our stories is worth hearing. Our worth is our birth right."