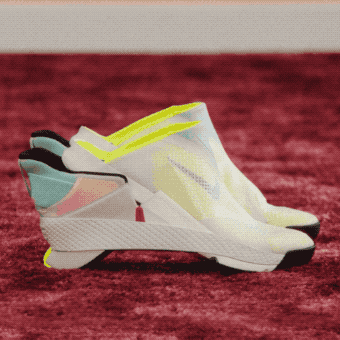 Nike is using its hypebeast powers for good. Yesterday, the brand unveiled the Go FlyEase sneaker — a shoe designed with people with physical disabilities in mind.
If you've ever run out of the house in a hurry, you know the unofficial method for putting on shoes without your hands: Just jam your foot as far into the shoe as possible, then crush the heel. Nike's sneaker builds on those motions with a hinge and a "tensioner" (basically a big rubber band that wraps around the sole) so that the shoe snaps open and closed. It's not rocket science, but it's pretty ingenious.
The FlyEase line was inspired by Matthew Walzer, who was born with cerebral palsy and wrote to Nike in 2012. "At 16 years old, I am able to completely dress myself, but my parents still have to tie my shoes," he said in the letter. "As a teenager who is striving to become totally self-sufficient, I find this extremely frustrating and, at times, embarrassing." The first FlyEase models made sneakers more accessible by using zippers and cords but the Go FlyEase is the first that's completely hands-free.
Bebe Vio, an Italian fencer who lost both her arms and legs to meningitis as a child, walks using prosthetic legs. "Usually I spend so much time to get in my shoes," Vio said in a statement. "With the Nike Go FlyEase, I just need to put my feet in and jump on it. The shoes are a new kind of technology, not only for adaptive athletes but for everyone's real life."
Sure, there are other kinds of slip-on shoes out there (Crocs, for example), but when Nike debuted the shoes, Twitter users — including pregnant women, people with chronic pain and all kinds of disabilities — chimed in about how excited they are to see a stylish sneaker available for them.
According to Nike, the $120 shoe will be available in limited quantities on February 15 via invite for select Nike Members and will become more broadly available later this year.