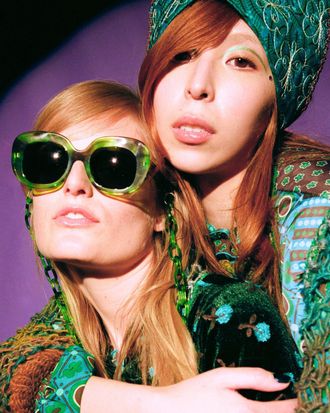 A side-part sighting at Anna Sui F/W 2021.
Photo: Richie Davis/Courtesy of Anna Sui
The delineation between the days, weeks, and months grows increasingly murky, but according to the fashion calendar, New York Fashion Week fall-winter 2021 just wrapped. We now have a second pandemic NYFW in the books, which means a fresh batch of hair and makeup ideas to mull over while we wait for the seasons to change.
May fall 2021 interest future-you in a side of soap brows or a buffet of new things to stick in your hair? A serving of heavily lined raccoon eyes (or actual raccoon eyes), perhaps? Here's what else was on the menu at New York's digital shows and real-life catwalks.
1. Blair Hair and Little J Liner at Alice + Olivia
Here's one way to pregame the Gossip Girl reboot: Pile your hair into an aughts prom updo, crank up the Blair Waldorf flair, and apply a heavy-handed Jenny Humphrey smoky eye. To get an opacity worthy of Little J, makeup artist Jessi Butterfield thoroughly traced eyes with a Deck of Scarlet kajal eye pencil, packed black eyeshadow on top of that, and filled in any gaps between the lashes with black liquid liner for extra credit.
2. Braid Sculptures at Tia Adeola
Lost the will to stick a bunch of stuff in your hair? Study the intricate updos and sculptural braids Keturah Marcellin dreamed up for Tia Adeola's latest collection instead. They're all the proof you need that hair can be a work of art all on its own.
3. Pink Eyes at Jason Wu
Dewy skin is so powerful at this point, it even makes pink eyes look aspirational. Models at Jason Wu got a hydrating cocktail of 111SKIN's masks, essence, and eye gel before makeup artist Diane Kendal created soap brows the Jason Wu way and used the designer's Hot Fluff lipstick in Gingerbread on the cheeks and Eclair around the eyes for a retro monochromatic look.
4. Hair Whips at Prabal Gurung
Beyoncé will be the first to tell you: Having a long, sentient braid attached to your head is always a good idea. Follow hairstylist Evanie Frausto's lead and style yours with Bumble and Bumble products so you waft that heaven-sent scent with every whip back and forth.
5. Side Parts and Shiny Arches at Anna Sui
With the help of Dame Pat McGrath and R+Co co-founder Garren, Anna Sui took us back to time when side parts had clout (the '60s). The shiny side bangs, smoothed with R+Co BLEU Optical Illusion Smoothing Oil, accented eye looks like Mother's colorful take on the cut crease: a swoop of the shimmery green from her Mothership II: Sublime palette accented with a tiny crystal.
6. Hair Jewelry at Kim Shui
Fashion Week once taught us that gold jewelry is for faces, and now it's informing us that it's definitely for hair, too. Hairstylist Sean Bennett decorated braids, bangs, and baby hairs with hoops and chains in ways that will make you want to transfer your bracelets, necklaces, and earrings way higher up on your head.
7. Super Chill Mullets at Claudia Li
Last year's mullets have gone through some growth, but they're still here, and they're still doing great. We wish all of them, including these two wispy ones styled by Sky Jackson, continued success.