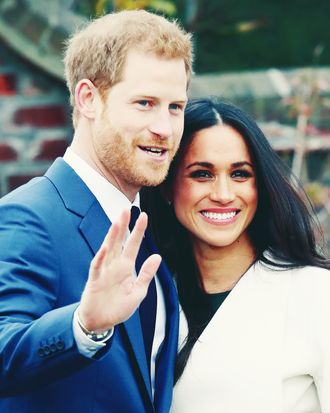 Photo: Chris Jackson/Chris Jackson/Getty Images
We're finally getting a big Meghan and Harry interview, and it is, blessedly, going to be in good hands. Oprah will be moderating a "wide-ranging" and "intimate conversation" with Meghan Markle and Prince Harry in a CBS prime-time special to air on March 7.
The interview will be the first that Meghan and Harry have participated in since they stepped down as senior royals in January 2020. While a recently released biography of the couple, Finding Freedom, covered the escalating tensions between the couple and the rest of the royal family, Meghan and Harry did not work directly with the authors.
The BBC notes the Oprah interview will start with Meghan, who will speak about "stepping into life as a royal, marriage, motherhood," and "how she is handling life under intense public pressure." Harry will join later, and the couple will discuss their move to the U.S. and plans for the future.
Oprah is a friend of Meghan's and attended her and Harry's wedding in 2018. Harry has also collaborated with Oprah on an unreleased Apple documentary about mental health. While that might sound like an overly sympathetic setup, the legendary talk-show host might still ask some tough questions; if anything, the Oprah interview will be an opportunity — the very first — for the couple to really get into what went down at the palace, and why they walked away from the royal family (a decision that has long been rumored to have been Harry's).
The news of the interview follows the announcement that the royal couple are expecting their second child.