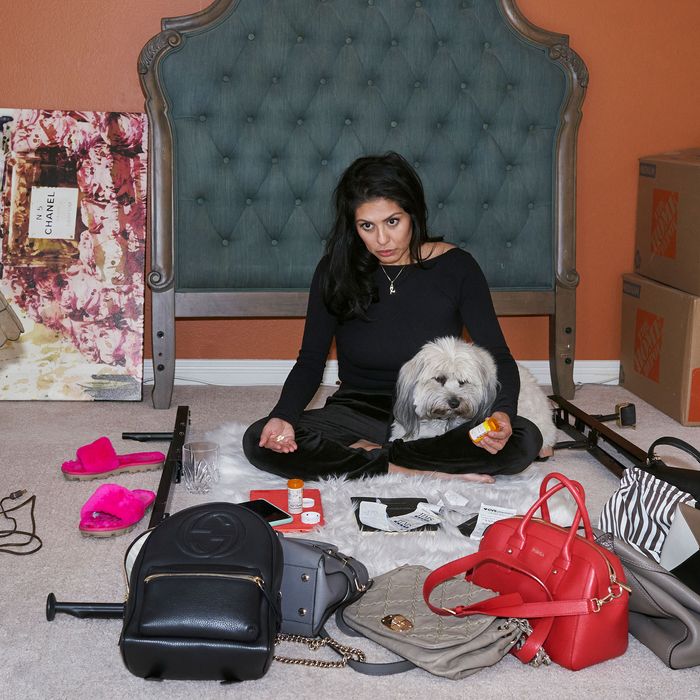 Sanchez sits in what was her dream dressing room amid all of the items she is currently selling to support herself.
Photo: Brenda Ann Kenneally for New York Magazine
Jennifer Sanchez had her dream job: A Las Vegas–based flight attendant for the jet-set class, she felt like her work was one big adventure — until she was grounded by the pandemic in March. Now, like millions of women, she's unsure what her future work life will look like or when it will resume in full. Sanchez talked to the Cut about what it's like to be stuck at home just when you felt like you were hitting your career stride.
I'd been working for the company for about 13 years. I was working at a hotel, as a concierge, for nine years. I had a wonderful experience there — I learned so much. Then there was a job posting, internally, for a flight attendant on the private jets. I applied. I didn't know what I was getting myself into. The pay wasn't going to be life-changing or anything — it was just a small pay increase — but holy shit, my whole lifestyle changed. It was like winning the lottery.
The clients are the one percent of the one percent, the biggest gamblers for the company. These are multimillion-dollar players. The hotel gives them luxury villas. We serve them Dom Pérignon and nice Scotch. Sometimes it's just a couple people, or sometimes 19 people. You never know what you're getting into every week.
It was kind of a step back in time. For the first time in my life, I felt like a domestic worker. I served men their food and showed them where to get coffee. I was washing dishes and scrubbing toilets — but on, you know, $35 million jets, not a hotel room in Vegas. You do have to be humbled, because you are cleaning up after people, but you are getting to go to Paris on the company dime and seeing the world. It was a gift.
For the first time in my life, I found my niche. I didn't feel like it was work; it was an adventure. The people I worked with were my family, basically. It was a small group, very tight-knit — just pilots and flight attendants. I traveled the world with them. I was no longer sitting in an office all day or at a concierge desk. I was actually living life, talking to the most interesting people in the world: government-wise, celebrity-wise, business-wise. Talking to them was one of the best parts.
At the start of 2020, they had just decided they were going to give everybody a raise. So everything was great.
From one day to the next, everything changed. One day, hotel occupancies were 90 percent; the next day, they dropped to like 30 percent. Right after that, mass layoffs. I missed the first cut, but that only lasted for a week. They cut, I think, 90 percent of my department. I got the call about my job the day after my birthday: March 18. My boss called and said, "I'm sorry. I don't know when we're going to bring you back, but you're furloughed." I was in the worst depression of my life. The worst. I didn't get out of bed. I had lost everything.
Here's the thing: My mom had died in November 2019. Working for the company, in the hotel business, you don't have weekends off. You don't have holidays off. You don't have your birthdays off. So I kind of felt like I had all those years where I had not spent holidays with my mom. Work gave me stability; it gave me purpose. So now, it was like, I can't even fucking go home, because my mom was my home. It was like, I worked and sacrificed all these years for what? My loyalty got me nowhere, and I missed out on all these other things.
So suddenly I was stuck in my room, at home, with my dog. I was going stir-crazy. I didn't cope well. I didn't eat. I slept a lot. I lost 20 pounds. I pulled myself out of it — I knew I had to. I got on antidepressants. I fortunately still had health insurance until September. The company was kind enough to do that. So I was able to go talk to somebody and get medication. But September 1, they stopped all of that. With the exchange, there isn't really access to mental-health treatment. If you have depression or anxiety, you're SOL. You've got to get a self-help book.
At the end of June, another charter air company in Vegas was looking for a flight attendant. It's just freelance, so they pay me a daily rate. No benefits, nothing like that — they would just call me, maybe once or twice a month, to work trips here and there. It's keeping me afloat because my unemployment's run out. But the thing is, I don't have my 401(k) anymore, with the match, and I don't have my medical insurance, which was great. But fortunately I'm able to meet my rent. I'm able to get my dog groomed every so often.
I'm bored out of my mind. I've organized every closet, every drawer — reorganizing everything, eliminating things that don't bring me joy, as they say. I was like, Okay, maybe I can actually make some money off of this. So I started selling stuff on eBay: handbags, shoes, coats, blazers, jeans — tons of jeans. It's helped me out. It's not a huge influx of money, but it's been a little bonus. All you see when you're living off savings is money going out and nothing coming in.
My poor dog. My poor dog doesn't want to go on as many walks as I take him on. He looks at me like, Oh my God, again? For the fourth time? It's fucking lonely. I can't really see any of my friends right now. They're worried about getting their parents sick. So I have just my dog, and I have streaming services, and that's it. Honestly, it's been the most isolating and loneliest time of my life.
I want to see a silver lining. I really do. Every day I try to look for one. But I'm so uncertain about what's gonna happen. How much longer? How many more years are we gonna have to wait? This is the first time in my life I've ever been on unemployment. I did take a big ego hit when I wasn't employed anymore. It took away, I felt like, my identity and my confidence. I want to work. I need to work.