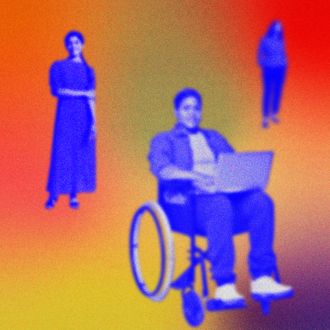 Photo-Illustration: by The Cut; Photos Getty Images
At the start of the pandemic, Autumn, 27, was optimistic that the push toward remote working could mark the start of positive changes for disabled people in the workforce: "I was hopeful that employers would realize how many jobs can actually be done through remote work and that there would be a greater acceptance of working from home as an option," she says, adding that, in the long term, she was hoping employers would also realize the need for greater accessibility and accommodations for all workers. But as the pandemic marched on, Autumn's optimism has faded: "I do not feel that has happened for the majority of people."
There is a stark dissonance between bright news stories from April 2020, which crowed that "new work at home rules could help people with disabilities land jobs" and more recent ones, which report that a "fifth of disabled workers had work-from-home requests turned down during the pandemic." Since February, unemployment figures for disabled women have gone up nearly 7 percentage points to 14.2 percent last month — that's nearly one in seven disabled women — with the unemployment rate for women overall at a much lower 6.5 percent.
Autumn, who has an immune-system-deficiency disorder, has been looking for work since last April. She previously worked as a receptionist but lost her job after requesting to do admin work remotely. "We were told that if we felt uncomfortable or unsafe returning to work during the state shutdown, we could file for unemployment on reduced hours," she says. At the start of the pandemic, Autumn disclosed her disorder to her office managers to request days off to see her immunologist, which they allowed.
However, in April, Autumn was asked to return to the office. She expressed concerns that it would be unsafe for her to return and provided evidence from her doctors. Still, her bosses refused to let her work from home. "In any other circumstance, being a receptionist would not be a dangerous or inappropriate job for me," says Autumn. "Offices are usually low-risk places, the pandemic being an exception." After attempting to coerce her into either working in unsafe conditions or voluntarily quitting, Autumn's bosses let her go.
While Autumn's experience is unique to the pandemic, unemployment statistics for disabled people were imbalanced before 2020. In 2019, 7.3 percent of disabled workers were unemployed, with rates even higher for Black and Hispanic disabled workers, at 11.3 and 8.6 respectively. Meanwhile, the rate for workers without a disability was about 3.5 percent.
Brittany Evans, the Communications Manager for a disabled women's charity Women Enabled International, says that the current unemployment statistics do not come as a surprise. "We know that even before COVID, only 25 percent of women with disabilities are in the workforce worldwide," she tells me. (Unemployment statistics don't count people who aren't actively looking for work — in 2019, eight in ten disabled people were not in the labor force at all.)
According to Evans, many disabled women were already in unstable or informal employment, meaning they were some of the first to be let go once the pandemic hit. And because many disabled people qualify as "high-risk," and exposure to the virus poses a particularly grave danger to their health, many had no choice but to stay home. Additionally, Evans points out that, like all women, disabled women tend to take on more caregiving responsibilities at home than men do, meaning some have had to prioritize caring for family members and loved ones over their careers.
While I was researching this story, several women declined to speak to me because they didn't want their disability to be something a potential employer could find with a quick Google search. Autumn, who is currently looking for work, reiterated how nervous she is to have to address a yearlong gap on her resumé, putting her in a position to disclose her condition and risk discrimination. "There is no way to address the gap other than to explain to employers that I was 'high risk' during COVID-19 and unable to work," she says. I don't blame women in her position for being worried: Many employers still hold prejudices against disabled workers despite legislation technically prohibiting them letting it impact their hiring process and despite plentiful evidence that hiring disabled workers and making reasonable accommodations does not affect companies negatively.
"Applying for jobs as a disabled person is so draining because my options are so limited to begin with," says Cassie Wilson, 22, who has found that the pandemic only exacerbated inequalities she was already dealing with. She has wanted to work full-time since she was 16, but as she has a form of dwarfism and sometimes uses a wheelchair, entry-level work that requires manual labor was off-limits. She has applied for a number of jobs and has years of unpaid experience but has found that even the remote roles she has applied for have either turned her down or not responded to her. "Because I've never had success, it doesn't really encourage me to keep looking very hard," she says, adding that she's trying not to blame herself.
While Cassie has struggled to find part-time remote work, she is currently employed for the first time in her life, working five hours a month editing TikToks for a musician. However, since she is receiving supplemental security income, she is only allowed to earn an additional income of $85 a month, putting her total at an unlivable $614. That number puts Cassie below the poverty level until she's able to find full-time work, but, despite the shift to remote working, she's still finding her search difficult. Cassie uses her time and experience to run Half Access, a nonprofit dedicated to making live music accessible through a database of accessibility information for over 400 venues, encouraging venues to become more accessible and empowering disabled people to advocate for equal access to the music they love
Cassie's story is a common one: She has the skills, motivation and ability to work hard, as proven by her volunteer work and the success of Half Access. The only thing holding her back is the fact that she has been unable to find a job, but she remains optimistic that things will change. "I really do hope that work-from-home opportunities stick around. The world is more accessible to me than ever, and I've been able to apply for and look at jobs I never would've been able to before," she says, adding, "I hope that the accommodations that were suddenly made when nondisabled people needed them will stick around for disabled people who have been wanting them for years. Employers won't be able to say it imposes an undue burden on them because we know how easily and instantly everyone and everything shifted online in 2020."
As Cassie points out, the move to remote working was long overdue. Activists have been fighting for flexibility for decades, especially as the internet has made a lot of in-person work obsolete. Over and over, disabled people have been told that flexible working is "impossible" or that it would be "unfair" to able-bodied employees. Understandably, the speed with which it was made available as soon as non-disabled people needed it was met with a certain amount of frustration and eye-rolling.
It's a fight, and an eye roll, I am familiar with. In 2017, I began freelancing after realizing that my physical difficulties and (then-undiagnosed, but suspected) autism spectrum disorder made aspects of office work untenable for me. At first, I requested more flexible working conditions. But I was denied accommodations in every position I ever had, despite the fact that the improvement to my work and well-being would have been beneficial to everyone. Seeing the ease with which everything moved online stung, but it also made me feel hopeful that a future where disabled people are accommodated may be possible.
The reality has (so far) been less than transformative, and the truth is that simply allowing remote work is not enough. Tory, 27, is currently looking for work after a six-month stint working on a campaign remotely. Because of her Ehlers-Danlos Syndrome and PTSD, she finds remote working to be necessary for well-being. However, she says, "workplaces need to understand that we still need other kinds of accommodations and that they're still required to provide them."
In fact, far from being a cure-all, the longer hours that come with remote working could even make things tougher for some. "I think with working remotely it's easy for people to assume that we can then work wild hours, but that's not always the case," Tory tells me. "I was lucky that my health maintained during the hours I was working, but if I'd had a flare up of any of my myriad health issues, I absolutely would not have been able to keep pace with what's expected from remote workers now." The pandemic has exposed what disabled people already knew: there needs to be a drastic reassessment of how employers approach, hire, and treat disabled workers. Accommodations are a necessary investment, and flexibility extends beyond letting people stay home – it means truly taking worker's limitations and needs into account.