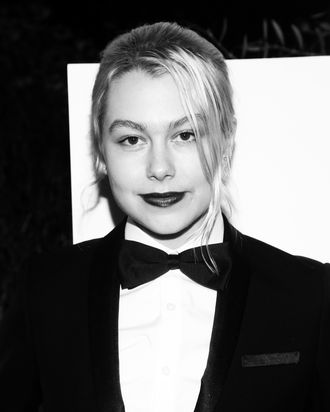 Phoebe Bridgers.
Photo: MediaPunch/Shutterstock
In the past week, five women have leveled disturbing allegations against Marilyn Manson, saying he subjected them to psychological, emotional, and sexual abuse. First came actress Evan Rachel Wood, who, on Monday, accused the musician of grooming her when she was a teenager and "horrifically" abusing her. Her bravery inspired others to come forward with similarly horrifying stories: One woman alleged that Manson would tie her up, rape her, and take pleasure in her pain; another said the singer would lock her in rooms when she was "bad" and berate her for "hours upon hours."
Amid the allegations, indie-rock musician Phoebe Bridgers, 26, decided to share a dark experience she says she had with Manson. When she was a teenager, she was a "big fan" of Manson's, as she wrote on Twitter, and once went to his home with a few friends. While there, "he referred to a room in his house as the 'r*pe room.'" At the time, Bridgers says, she wrote off the remark as a "horrible frat boy" joke, but still, "I stopped being a fan." With a line break, she emphasized, "I stand with everyone who came forward."
As the allegations have begun to mount, Manson has forcefully denied them as "horrible distortions of reality." Still, the repercussions have been swift. The same day that the women came forward, Manson's record label, Loma Vista Recordings, dropped him. The next day, his longtime booking agent, CAA — which also represents Wood — followed suit. These decisions are ostensibly laudable, though Bridgers takes a different view.
"The label knew, management knew, the band knew," she wrote in an ensuing tweet. "Distancing themselves now, pretending to be shocked and horrified is fucking pathetic."