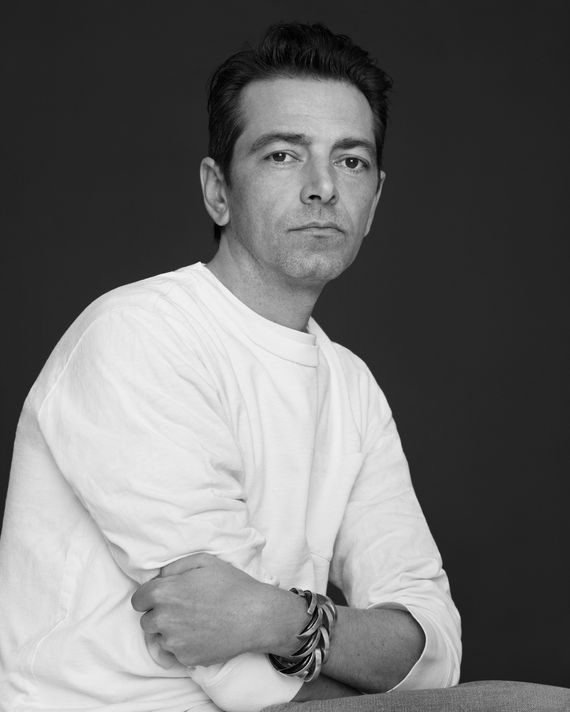 Photo: 254 Forest/Pierre Debusschere
One of the greatest names in fashion, Alaïa, now has a new designer: Pieter Mulier. The chief executive of the Paris house, Myriam Serrano, announced the news today. He starts on Monday.
In the four years since Azzedine Alaïa's death, it was thought that he was irreplaceable — the Tunisian-born master who was as famous for his eye and midnight fittings as he was for the food he served up in his kitchen, the small man in the black Chinese pajamas who helped to shape the look of the '80s and beyond. And it was thought — by Richemont, the Swiss luxury group that owns Alaïa, and by his friend Carla Sozzani, who has protected his legacy — that the designer's vast archive was sufficient to keep the brand vital for years. The fatal flaw in that thinking was that although the archive is extraordinarily rich, Alaïa during his lifetime almost always refused suggestions to "revisit" a design. He was strictly present tense and future.
So, the Mulier news is exciting because it acknowledges that Alaïa isn't a shrine, but a name synonymous with innovation. "If we just stick to the past, it cannot stay that way forever," Serrano, who has been CEO since September 2019, said this morning by phone. Mulier is well-known among fashion insiders. For years he worked with Raf Simons — first at Simons's menswear label in Antwerp, later at Jil Sander, Christian Dior, and then as creative director at Calvin Klein.
Aside from an intense curiosity about what's new in style, Mulier, who grew up in Belgium, has an extra skill of being able to work with atelier chiefs and commercial executives alike. This was evident in the 2014 documentary Dior and I, in which Mulier is frequently seen as a kind of mediator between the design studio and the men and women in Dior's workrooms. He's patient, charming, and naturally motivating.
Azzedine Alaïa (who began making clothes in the late '60s or early '70s, when he was a nanny for a Paris family) lived and worked in the same building in the Marais. He could go from his studio on the second floor to one of the ateliers in the back of the building — which was substantially renovated by Richemont when it acquired the brand — and then to a private fitting on the main floor, located between the retail shop and the kitchen. His hands touched everything — every pattern, every superb piece of leather and knitwear, every body.
As Serrano said of Mulier, "He's a real expert, and Alaïa is a house of expertise and craft."
Although the Alaïa brand wasn't exactly languishing, the fact is it needs a fresh perspective. And highly skilled tailors and seamstresses also want to be challenged. I remember, years ago, talking to Alaïa about Yves Saint Laurent, after the couturier closed his haute-couture business. Alaïa, like a number of other designers, had picked up some of the workers, and he told me he felt they hadn't learned anything new in years.
Serrano, in our conversation, also touched on the fact that Alaïa ran his business as a home. Lots of people would drop in for lunch, and during Fashion Week, come by the studio to drink wine and watch Alaïa work. Whether or not Mulier can capture some of that feeling remains to be seen, but it is certainly part of the Alaïa culture and legacy — as much as Coco Chanel's personal story is still woven into the image of Chanel.
Sozzani, the founder of Corso Como, who helped bring much needed organization to Alaïa's company in the early 2000s, will continue to be involved in the Alaïa Foundation, which presents exhibitions.
Mulier's first collection will be for spring 2022, to be shown probably sometime in the fall.