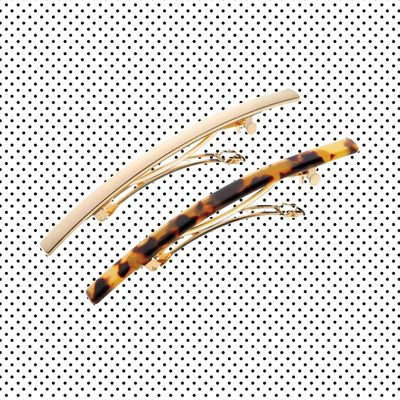 I am now mature enough to find the "teens roasting olds" TikTok content funny and a little wounding. I never liked skinny jeans anyway, but I will not be changing to a middle part, because of the wisdom that being semi-aged has afforded me.
That being said, I do think the claw-clip trend that the teens are on now is very cute. Sadly, I can't partake in it, because my claw clips are in my childhood bedroom in New Jersey, from when I did the trend the first time around. I can get behind these clips from Kristin Ess, though. They are like claws for people who are old enough to remember when Kim Kardashian was once Paris Hilton's closet organizer.
The sleek, simple bars or barrettes of gold and tortoise are perfect for doing a twist-up (with tendrils). I like that they're elegant, don't pinch, and are sturdy enough to hold thick hair like mine in a ponytail without snapping. They also sort of remind me of the Sylvie Le Hen barrettes you used to be able to find at Colette (RIP). And as a bonus, they're gentle on your hair like that other teen trend, the scrunchie, but much harder to lose.
Every product is independently selected by our editors. Things you buy through our links may earn us a commission.