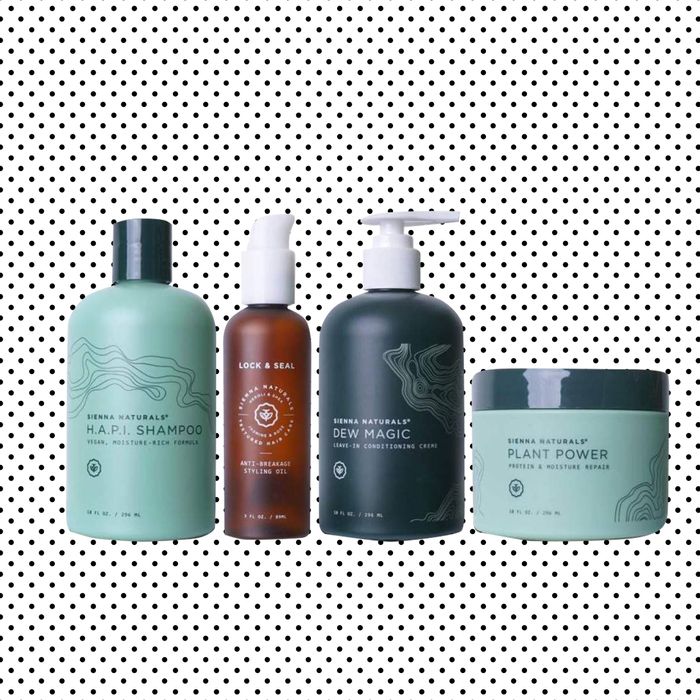 Last year, actress, writer, and producer Issa Rae became low-key more busy when she launched a second career as a beauty investor and entrepreneur with the clean, natural hair-care brand Sienna Naturals. The brand's Salon In A Box contains the essentials for a wash day, including H.A.P.I. Shampoo, Plant Power (the brand's mask), Dew Magic (leave-in conditioner), and Lock & Seal (an anti-breakage blend). The Cut asked four Vox Media staffers to test out Rae's newest project. Here's what they thought of the Issa Rae haircare-in-a-box.
Mallory Johns, Chief of Staff, Vox Studios
As any natural will tell you, figuring out your hair type is key. But I'd argue hair porosity is just as important. Hair porosity refers to the hair's ability to absorb and retain moisture, and there are three types: low, normal, and high. Once I discovered my hair (type 4) was low porosity, I radically changed my styling routine and the products I use. If you're low porosity, you know the struggle: Your hair takes forever to dry, products barely absorb, the list goes on and on. This meant that layering products or using too many was, for the most part, off the table.
So you can imagine my trepidation when I received Issa Rae's Hair-in-a-box, and it contained four products: your typical shampoo and deep conditioning combo, plus a leave-in conditioner AND a styling oil that you apply before your styler (gel or cream). It didn't matter that the portions were big (a must-have for curlies and naturals), I was straight up afraid my hair would be filled with flakes and "hair boogers" once I added gel on top of everything else.
To kick off my wash day, I turned on Spotify to listen to the complementary wash day playlist that Issa Rae made for the occasion (lots of Megan Thee Stallion!), and dove right into the H.A.P.I Shampoo. The smell was soothing and reminded me of a spa, but I was really impressed with how soft and defined my curls looked after one wash—and after two, the curl definition was off the charts. Next, I moved onto the Plant Power Hair Mask, which had a smell that was plain awful. Luckily for me, I wasn't turned off enough to appreciate the results: blindingly shiny curls!
After that I took a deep breath, and applied my now favorite of the set — the Dew Magic Leave-in conditioner. As I mentioned before, because I have low porosity hair I always look for stylers that double as a leave-in, so I can avoid layering up. Anyway, I was on pins and needles as I applied the leave-in (which was the silkiest I've ever used!) and followed up with the Lock and Seal styling oil. Both the oil and the leave-in were incredibly lightweight, and after applying them, my hair felt drenched and highly moisturized. Finally, I applied my new favorite gel to each strand of my hair to set the curls — a process that was remarkably easier than usual because my curls were drenched in goodness thanks to Dew Magic. Once I was done, I was floored. Zero flakes. No dreaded white spots. No hair boogers.
The next day I woke up and my curls literally bounced right back: definition to the max, softness at a whole other level, and again, zero flakes. Now, don't get me wrong, I doubt I'll continue to use 5 products every wash day to style my curls, but I know one thing for sure: Dew Magic will be in heavy rotation for my spring and summer wash 'n' go's.
Kristen Williamson, Video Editor
I was very curious about this line, because unlike some celebrity hair lines, Issa Rae has a hair texture that resembles mine (4A, 4B, with a tiny bit of 4C) in many ways. Overall, I liked the products!
I found the H.A.P.I. shampoo to be very gentle. While it didn't feel super clarifying, for those who are looking for a replacement for co-washing, I found it to be quite hydrating. It didn't have a ton of slip, which isn't required in a shampoo but is nice to have.
The Plant Power hair mask was extremely creamy and thick. The bottle suggested using a large amount, which is a dangerous suggestion. Often when you tell someone with natural hair to use a dime-size amount, they end up using a quarter-sized amount, so when it said to apply generously, I started scooping. My hair is dense, so in an effort to distribute it, I ended up applying far more hair mask than I needed, which made it hard to wash out. Luckily, I realized this mid application, so by the time I got to the final sections of my hair, I made sure to emulsify the mask, which solved the problem while remaining just as effective. My hair is low porosity so I don't use many protein masks, but I found that my hair was very soft and the mask helped with detangling. I had great curl definition from both the shampoo and mask.
As for the Dew Magic leave-in conditioner (which can also be used as a wash-out conditioner — so says the bottle!), it was pretty good. It wasn't my favorite as a leave-in (just a bit heavy for my tastes), but I actually used it the next time I washed and conditioned my hair, and I had one of my easiest detangling sessions ever, with minimal shedding.
The Lock & Seal oil I found to be light and not too greasy, and it had a great blend of oils in it. A little really does go a long way in this instance! The oil also had a convenient cap to prevent leakage, which I will try not to lose.
As a note, it says on the bottle that the products have no fragrance, but there is a scent of honeysuckle (I am assuming, I cannot Google scents) and lavender. It isn't strong, but it's good to know about if you want something fragrance-free. All and all, I will definitely add these products to my rotation, especially the Hair Mask!
Kerensa Cadenas, Senior Editor
I'm obsessed with everything Issa Rae does and can't ever figure out what to do with my curly hair (Type 2B) — so Sienna Naturals felt like the most exciting thing to try. I'm not much of a styling girl, so I really like to find products that allow me to wash my hair only once to twice a week at most and help it look good while I'm just lazy.
After getting a new short cut, the Salon in a Box Wash Day Ritual has been a godsend for my hair. It's a super simple process and so far it's been leaving my hair looking like I tried to style it when I simply just let it air dry. I'm a convert!
Brittany Holloway-Brown, Design Director, Eater
I've been natural for my entire life, and I've been a lazy natural for just as long. I love the way my hair can shape-shift and admire its versatility, but would also rather spend my time doing anything else. This means I'm usually wearing protective styles, low buns or twists, and crochet braids. Shrinkage is real, and I prefer stretched styles; however, like many Black women, I've been experimenting during quarantine, trying out roller sets, finger coiling, teaching myself how to cornrow (albeit unsuccessfully). And now I'm perfecting the wash-and-go.
Building a hair-care routine is tricky, and I love lotions and potions, having tried everything from Mizani to Camille Rose to Mane Choice and beyond. The idea of a wash day routine in a kit appeals to me in a big way, so I was excited to try the Sienna box.
My hair is mostly type 4 with some patches of looser 3C curls in the back (why!). My hair is curly when wet and coily, and kinky when dry. It's thick but delicate at the same time. Moisture, moisture, moisture is my routine's primary goal, and I was pleased to see the bulk of this box is focused on that.
There's a routine card included that walks you through the steps; shampoo, hair mask, leave-in conditioner cream, and an oil. All the products are scented with a gorgeous combination of herbaceous and floral, fresh and uplifting.
The shampoo left a slight tingle as I massaged it into my scalp, which is a sensation I love. Scalp care has always been a part of my routine; Neutrogena T-Gel was in steady rotation when I was younger. Using this, my hair felt clean but not stripped. You could always layer on a clarifying shampoo for that really squeaky clean feeling.
I love that the kit includes a hair mask instead of a regular conditioner, a change I've made in my own routine. I was pleasantly surprised by its butter texture; many of the deep conditioners I pick up at the beauty supply are thick lotions. I usually do chores while deep conditioning, letting it treat my hair for a bit longer than the recommended time. I followed up with the leave-in conditioner; the card says to "use enough that your hair slips through your fingers." Then, the oil, which had more body to it than I was expecting.
After I added the oil, I finger-coiled with gel while watching Netflix and let my hair air dry. The next day, I stretched the roots with my blowdryer and the concentrator nozzle and added more oil for shine. Like I mentioned before, my hair is firmly type 4, and while you don't see much shine in my photo, it's there. My hair felt healthy, which is really the most essential part. I lost some curl definition with the blowout, but that's okay.
I'll keep experimenting with my technique, but overall I loved this kit as a jumping-off point for new naturals — or for the lazy natural who loves a one-stop-shop.
Every product is independently selected by our editors. Things you buy through our links may earn us a commission.