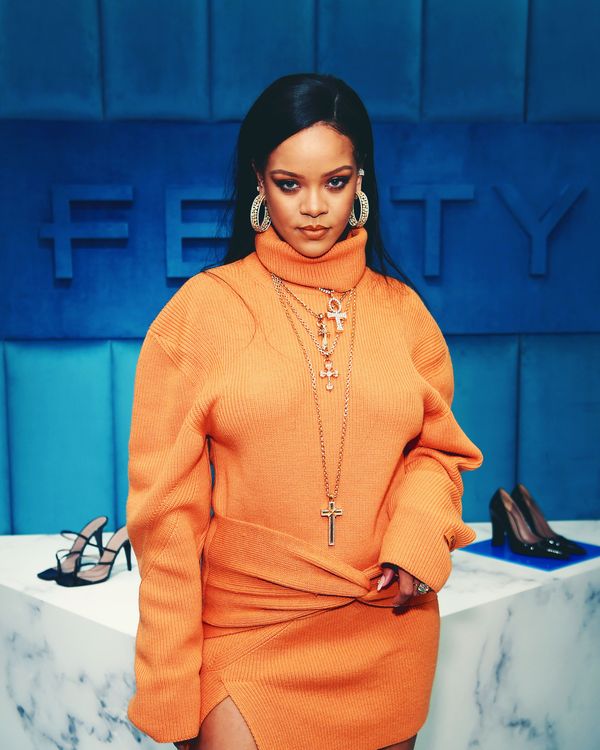 Photo: Dimitrios Kambouris/Getty Images for Bergdorf Goodman
Well, this is a bummer: Rihanna's luxury fashion label, Fenty — not to be confused with her lingerie line, Savage X Fenty — is ceasing operations.
"Rihanna and LVMH have jointly made the decision to put on hold the RTW activity, based in Europe, pending better conditions," an LVMH representative told WWD in a statement on Wednesday morning. (LVMH is the French conglomerate that financially backs Fenty. It also owns brands like Louis Vuitton, Dior, and Celine.)
Based on this statement, it seems Fenty is merely hitting the pause button — not closing forever. But either way, we won't be seeing Rihanna-branded pointy shoes and pearl chokers and for some time.
When the brand was first launched in 2019, it was a huge deal — and not just because everyone loves Rihanna. It was the first time LVMH had created a new house since Christian Lacroix in 1987. Rihanna also became the first woman to start an original brand at LMVH, and the first woman of color at the helm of an LVMH house. Her longtime collaborator, Jahleel Weaver, became the brand's style director.
So what happened? Of course, Rihanna is a mega-celebrity, and plenty of celebrities have launched fashion brands before, to varying degrees of success. But Fenty felt different; it was presented as a serious fashion brand with a seriously fashionable woman at the helm. Early collections read as a clear reflection of Rihanna's personal style and laidback confidence. She made oversize suits sexy. It was glamorous but not pretentious. It wasn't afraid to make a statement.
Still in its infancy, the brand was much quieter than its LVMH siblings. In lieu of runway shows, Fenty launched eight collections a year with see-now-buy-now drops. They were mostly available online, with additional launch events at stores like the Webster and Bergdorf Goodman. In February of last year — one of the brand's last events before the pandemic shut everything down — Rihanna still referred to her brand as a "newborn."
Starting a new brand from scratch is tough, and keeping momentum going during a pandemic is even harder. According to WWD, Fenty eyewear, shoes, and denim "found some initial traction in department stores." But the ready-to-wear, which was sold at typically high luxury prices (an oversize denim jacket went for $940, for example), never quite struck a chord. At the end of the day, Rihanna herself was her biggest promoter, and that just wasn't enough.
Unsurprisingly, Rihanna is reported to be "sad" about having to put Fenty on hold. But there is some good news: Her lingerie and beauty businesses are solid. On the same day that Fenty hit pause, it was also announced that Savage X Fenty received $115 million in fundraising from L. Catterton, a private-equity firm connected to LVMH.