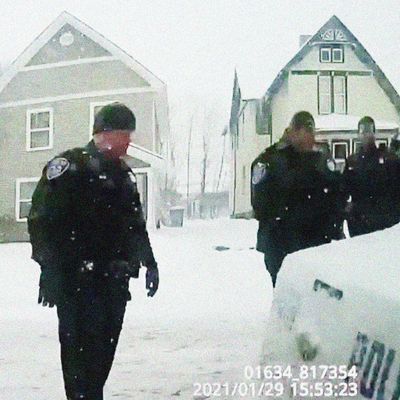 The Rochester Police Department faces renewed scrutiny following the release of body-cam footage from a violent arrest on Friday. In the video, officers responding to a family-disturbance call can be seen handcuffing a 9-year-old girl as she lies in the snow and eventually pepper-spraying her as she screams for her father. Because she is a minor, her face has been blurred in the footage, and her name has been withheld. Meanwhile, three officers are under department investigation and have been taken off patrol.
On Sunday, Mayor Lovely Warren condemned the aggressive police response. "I have a 10-year-old daughter. So she's a child; she's a baby. And I can tell you that this video, as a mother, is not anything that you want to see. It's not," she said. "We have to understand compassion, empathy. When you have a child that is suffering in this way, and calling out for her dad, I saw my baby's face in her face."
According to the Democrat and Chronicle, the incident unfolded as police — allegedly under the impression that the girl "wanted to kill herself and … wanted to kill her mom," per Deputy Police Chief Andre Anderson — attempted to get the girl into a car to wait for an ambulance to take her to the hospital. But the girl reportedly tried to flee and "thrashed around" as officers tried to restrain her. They became increasingly brusque and impatient, and the girl correspondingly became more frightened. She continually shouted "I want my dad," saying she didn't want to get in the car without him there. An officer chided her, "You're acting like a child," to which she responded, "I am a child." Another office then told her, "This is your last chance [to get in the back seat], otherwise pepper spray's going in your eyeballs." The girl continued to sob and said she won't get in the car without her dad. "Just spray her at this point," one of the officers said, and someone did.
"I'm not going to stand here and tell you that for a 9-year-old to have to be pepper-sprayed is okay. It's not," Rochester police chief Cynthia Herriott-Sullivan said on Sunday. "I don't see that as who we are as a department, and we're going to do the work we have to do to ensure that these kinds of things don't happen."
Rochester reportedly formed a Person in Crisis team in late 2020 to respond when people are experiencing mental-health crises. The city took this step after Daniel Prude, a 41-year-old Black man, died by asphyxiation after officers put him in a spit hood during an arrest last March. Officials allegedly tried to keep the details of Prude's death quiet, only releasing the body-cam footage six months later, after Prude's family sued. On Sunday, Deputy Police Chief Anderson said the RPD was "committed to change."
The Police Accountability Board is reviewing the confrontation, writing to Herriott-Sullivan on Saturday night to ask, "What RPD policies, procedures, or written directives require — not allow, but require — an officer to use pepper spray or another chemical irritant on someone if they are refusing to place their feet in a patrol car?"
Amid an internal investigation, the RPD has suspended one officer and placed another two on administrative leave. All of them will stay on the payroll for the duration of the probe, however, because suspending them without pay would reportedly obligate the department to wrap up its investigation within 30 days.
"What happened Friday was simply horrible and has rightly outraged all of our community," Warren said on Monday, per WROC-TV. "Unfortunately, state law and union contracts prevent me from taking more immediate and serious action." Warren added that she would "lead the charge" and enlist state legislators to help "make numerous changes in civil-service law that would allow cities to more quickly issue discipline in cases like this one." Additionally, New York attorney general Letitia James said in a statement that "such use of force and pepper spray should never be deployed against a child, period" and that her "office is looking into what transpired and how a child was ever subjected to such danger" to begin with.
This post has been updated.