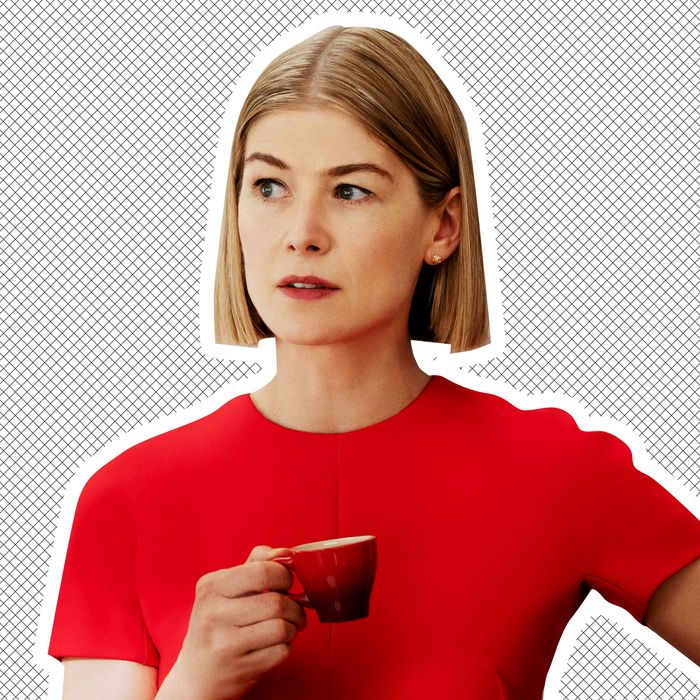 There is a certain haircut I've considered getting for some time now. It's a style that projects an image of extreme put-togetherness, one that requires total control over every single hair, because you're either admirably organized or else a terrifying control freak (or both). It's a haircut that needs constant maintenance and trims, which I imagine are prescheduled and pop up as calendar reminders ("Haircut at 10 a.m.") on the wearer's caseless iPhone at 5 a.m. while she's drinking her double espresso.
This haircut is a razor-sharp bob, and now is when you might feel compelled to ask, "Ugh, why would you want a haircut like that?" I know. When I see the razor-sharp bob out in the wild, I'm always a little bit like, Ugh, why would you get a haircut like that? So much maintenance! So much control!
And yet there is something about this haircut that suggests not only the well-organized life and inherent sangfroid I've mentioned but also a sort of God-level competency.
What I mean to say is that I think this haircut gives you superpowers. Not like flying or becoming invisible kinds of superpowers — more like the kind that Bradley Cooper had in Limitless before shit hit the fan. Like that magic pill, the razor-sharp bob makes you smarter, stronger, more decisive, intelligent, energetic, and overall better. Let me explain.
My evidence for this theory chiefly revolves around a woman who has tapped into the secrets of this haircut early in her life: Rosamund Pike. She famously sported the razor-sharp bob as Amazing Amy Dunne in Gone Girl. Amy is a complicated — and, some may say, terrible and manipulative — character, and she's a murderer, but she is also a mastermind who successfully fakes her own death and kidnapping to torment her shitty husband.
And now Pike has reprised the haircut for her role as Marla Grayson, an ingenious grifter in the film I Care a Lot (out on Netflix on Friday). Marla is a complicated — and, some may say, terrible and manipulative — character, and she's a kidnapper, but she is also a mastermind who successfully runs a multimillion-dollar scam that exploits the U.S.'s spotty guardianship laws. Sure, these crimes get her into deep water, but her idea is very shrewd.
Could she have been as canny without the haircut? Possibly, but my guess is that it had something to do with it.
There are other examples of the haircut working its power: Tilda Swinton's Karen in Michael Clayton (tenacity), Gwyneth Paltrow's Margot in The Royal Tenenbaums (self-sufficiency and style), and Mulan after she cuts her hair in Mulan (courage and strength). Going a little further back, we have Faye Dunaway's characters in Bonnie and Clyde (ambition) and The Thomas Crown Affair (cool as hell), who served as inspiration for Lori Guidroz, the hair designer on I Care a Lot.
Guidroz also supported my theory that the razor-sharp bob isn't just a haircut — it's a whole vibe. "Very determined, strong, direct, no frills, no nonsense, and not a lot of fuss," she says of the haircut's energy on its wearer.
But what about the logistics? Could I possibly get this haircut and reap all of its benefits? My friend Alice has a razor-sharp bob and tells me that I certainly could get one too, if I'm willing to style it with a blow-dryer and a flat iron every single day. I tell her I'm not, and I ask her what will happen if I don't. "Ha! A big mess," she says. Hmmmm.
And if I am willing to style it with a blow-dryer and a flat iron every single day? How often would I need to get it cut? I pose the question to Guidroz, who tells me I'd need to see the hairdresser "every month and a half," which finally deters me with the conviction that, yes, anyone who can get that shit done definitely has superpowers.
I Care a Lot is out on Netflix today.