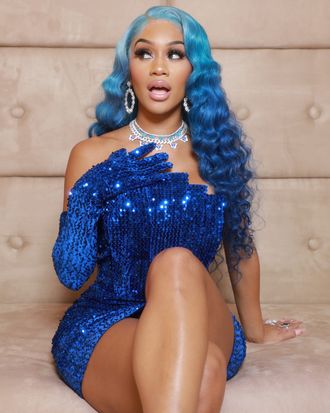 Saweetie
Photo: Blair Cladwell/Warner Records
In both her music and her style, Saweetie has become known for an uncanny ability to make nostalgia feel modern. In her songs, that means laying verses over early-2000s beats like Khia's "My Neck, My Back" and Too $hort's "Blow the Whistle." In her style, it translates to butterfly crop tops and flippy ponytails. "I definitely love the baggy jeans and oversize clothing," she says, but she sees her style as more than just an amalgamation of eras. "I think my fashion is so diverse! Because I sample songs, it creates a misconception that rolls over to my fashion."
On a phone call with the Cut to talk about fashion and beauty, Saweetie makes it clear that her choices are about more than surface-level retro appeal. "I love going into old YSL books. I love reading about designers and where they get their inspiration from," she says. "So when I speak with designers for my music videos or for fashion shoots, we're able to pull from all fashion eras and make it feel like me." She believes in championing Black designers (she loves Romeo Hunte and her Telfar Bushwick Birkin) and worries about the lack of inclusivity in fashion: "We popularize so many brands that don't show us love when there is talent within our own communities."
Over the past two years, her look has become more elevated as her career has taken off. Some of this, she says, has to do with the way the fashion industry treats hip-hop artists. "We have to kinda get hot and then they start sending us stuff," she explains. "If I'm working with a stylist, they'll be like, 'Wow, your music is doing really well, so we're able to pull these pieces.' It's definitely a popularity thing. I'm not able to see all sides of it, but I do know the bigger I get, the more access I get to clothes that are considered higher fashion."
This makes her recent partnership with Dapper Dan x Gucci for a custom look even more impactful. High fashion is often heralded in rap music with smooth rhymes that lead to increased stock prices, sold-out garments, and household-name recognition. However, historically, the love isn't reciprocated. Dapper Dan spent years inventing looks for Black people, at a time when fashion brands refused to dress them, before finally becoming a frequent Gucci collaborator and star within the industry. When Saweetie posed in the forest-green-and-pink set, she was celebrating both Dap's lifelong creativity and his long-deserved success.
Her biggest style statement yet might be the video for "Best Friend," her song with Doja Cat, which debuted in January. A candy-colored visual feast, it's an ode to the role that fashion and beauty can play in female friendships. The video opens with a moment in which the two performers coolly dismiss an aggrieved suitor, then skip off to party in a dizzying fantasy world. Scene by scene, the looks get more fun, and you realize that the two are performing for each other for the sheer joy of it, not to please or impress any men.
Saweetie says she was partly inspired by the viral TikTok video where a man says, "I ain't never seen two pretty best friends. It's always one of 'em gotta be ugly." She wanted to challenge the notion that female friendship is always marred by rivalry. "I think it's important to show girls how we can have fun and uplift one another. Because there is no girl code, and we need to start creating one," she says.
The video is a master class in wigs. With every blink of the eye, there's a new look. At its inception, Saweetie serves a neon-green shoulder-length style before moving into a bias-cut short lewk. There's a platinum-blonde modern mullet that would make Billy Ray Cyrus proud, and not one but two pink styles, consisting of a stylish updo and playful pigtails. At one point, she sports an on-trend multicolored wig in green, yellow, and pink — a follow-up to the cotton-candy version we saw in her "Back to the Streets" video. The look, she reveals, was her favorite in "Best Friend," adding, "I love a baldy bad bitch."
She explains, "I've always wanted to cut all my hair off. I wanted to see what it looked like. I feel like when there's a pattern in something, I say, What can Saweetie do different?" Really, it all depends on her moods. She says, laughing, "I stress my hairstylist out because the night before, I'll give what I want, and in the morning, I'll be in a different mood. It really just comes down to how I'm feeling."
Her constantly changing hairstyles compel me to ask how she maintains her natural hair. "Argan oil and tea-tree oil. I make sure that I lather my edges and put it in between my braids." She reminisces, "I learned at a really young age you have to take care of your hair, because I destroyed [mine] with flat irons and using the wrong products."
Does she want her own wig line someday? "Definitely," she tells me. She has already ventured into makeup, launching a successful collection with Morphe last March and working on her own makeup and skin-care line, Icy Beauty. That's on top of Icy University, a virtual college course she built to "spread the love and the game that was given to [her]," her YouTube channel (current follower count: over 2 million), and the nonprofit she is starting with her grandmother, called Icy Baby, to identify areas of need for at-risk youth and low-income communities.
And yes, clothing is an area she'd want to expand into too. "I could definitely see myself being like a Kimora Lee, or like a Rihanna, when it comes to building a clothing line that surpasses my name. When I think of Icy, it will eventually supersede Saweetie and be an umbrella for cosmetics, skin care, fashion — shoot, maybe even electronics, if I'm able to get that right."