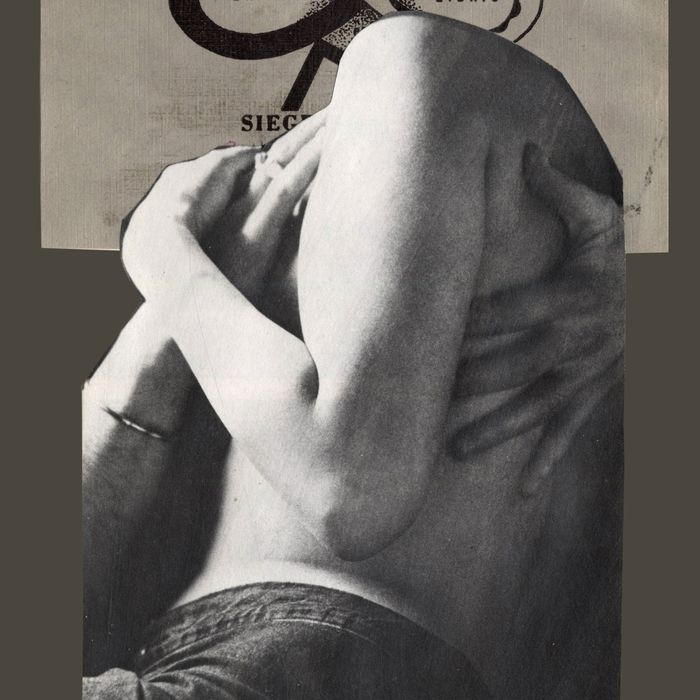 Photo-Illustration: James Gallagher
This week, a woman coping with a family crisis by leaving town with her new boyfriend: 24, in a relationship, New Jersey.
DAY ONE
1 p.m. Another Zoom meeting. I've been working for a film company part-time since August. I make pennies.
2 p.m. I'm practically beaming with excitement for my romantic weekend trip. This will be my first full weekend with Dominic, my 49-year-old lover who I've been seeing since September when we met at an outdoor party in Greenpoint. We've been on the phone every single day since our first date and have spent every weekend with our bodies intertwined. I'm totally smitten with him and he knows it.
4 p.m. I pack in between Zooms and make sure to include some of my chocolate weed edibles.
7 p.m. Dominic and I talk on the phone all night about how excited we are. We've been joking about going away to the wilderness together for two months but he finally took the plunge and booked the Airbnb. He's a nature freak, loves hunting, and has a legit bow and arrow. He tells me he fantasizes about me naked shooting his bow and arrow and that somehow we'll make it a reality this weekend. It looks like it's going to be 18 degrees tomorrow …
DAY TWO
9 a.m. I jump in the car and race to get to Dominic's place uptown, which takes about 45 minutes since I'm all the way in Jersey. I hop out of the car, give him a lusty smooch and let him drive my hilarious yellow Kia Soul.
The car belongs to my mom. I've been living with her in New Jersey since last year, when I lost my job because of the pandemic and had to move back home. For the past two months she's been in Nepal with my sick grandma. I'm awaiting an emergency visa so I can get there before she gets worse. It's stressful. But weekends are special, I release everything I hold in and Dominic lets me cry, listens to me vent, and holds me. We talk about my family situation on the ride up, and make a pit stop at the grocery store and liquor store before checking in.
2 p.m. We get to the Airbnb and assess the place. There's a round bed in the bedroom (think Austin Powers), which both of us wince at but secretly love. As soon as we walk in we kiss passionately on the white polyester, plastic-like sofa and he pulls my pants down and fucks me from behind.
5:45 p.m. He loves to cook and I love to sit there and pour us drinks. He makes clams in white wine for an appetizer and steak with roasted potatoes for dinner. It's delicious and we stare into each other's eyes, feeling naughty for being all alone in a cabin in the woods plotting our activities for the next two days. I have a few glasses of wine and a couple beers before we share a tequila on ice. I'm pretty hammered as we watch the fire burning in the furnace, listening to music. He hands me a little baggie of drugs, and we decide to do some molly. Had I been one drink less drunk I probably would have said let's skip it.
9:30 p.m. We're buzzing and soon humping like little rabbits. He pulls off my pants and goes down on me for a while. I forgot how good it is to fuck on molly. Then we have sex and it's magical. We keep it pretty PG with missionary but it's so damn good and I can tell he's feeling it too.
11 p.m. We're in the shower together and I suck his dick for a while. The hot water feels so incredibly good when you're on drugs. We massage each other with lotion afterward and I try to fall asleep. I meditate and eventually fall asleep for a few hours.
DAY THREE
9 a.m. I look like I was hit by a truck. Dominic feels like shit as well and we deeply regret taking the molly. I can't bear the thought of eating, let alone getting up and starting the day.
12 p.m. We get massages at a nearby spa. It feels incredibly good, and isn't even that awkward with our masks. The masseuse says my jaw is abnormally tight and I wince with embarrassment. Dominic pays for the whole thing and I feel really spoiled.
4 p.m. Back at the Airbnb, I manage to cook us a shitty marinara pasta with the few brain cells I have left. We haven't eaten anything all day and finally our appetite is back.
6 p.m. We're laying on the couch again and watching Catch Me If You Can on the TV. He has never seen it and it's one of my favorites. We both feel slightly normal again; the massage was a real blessing. We pass out, make it to bed like zombies and manage to have a lazy fuck. I really love this stupid Austin Powers bed.
DAY FOUR
10 a.m. I wake up feeling normal again. It's a stunning day and we're both dying to go on a hike. We make some food and afterward I ask Dominic to take some pictures of me on our deck with our lovely little view. I'm in a long white robe and for a moment pull my leg out to expose my bare leg and butt. We laugh while I make some silly faces.
12 p.m. We check out of the Airbnb and drive to this hike nearby. We get there and walk on a beautiful path for about two miles.
1:30 p.m. We drive to Woodstock for some lunch and a walk around the neighborhood. He's never been and I haven't been back in years. We settle on a cute restaurant with a huge fire outside for some burgers and beers.
5 p.m. Two beers later and we're giggling and making out. He pulls me into the restaurant after we take care of the bill and whispers in my ear he wants to fuck me in the bathroom. I look at him with astonishment, but I'm not surprised. He walks into the bathroom and shuts the door. I knock and he lets me in. We kiss passionately as he pulls my pants down and pushes me against the sink. He fucks me from behind for a few minutes. I cover my mouth with my hand as we watch ourselves in the mirror. Somebody knocks and I jump. I pull up my three layers of pants and run out of the bathroom.
6 p.m. It's dark and I tell him we better hit the road since it'll take at least a few hours to get back to his place. He's insistent that he finds a place for us to finish fucking in my car. It's never been christened and he constantly jokes about it. I guess today is the day. He drives around the block to find a spot. The Kia Soul shakes until he comes.
10 p.m. We get back to his place and fall asleep immediately.
DAY FIVE
6 a.m. Dominic wakes up to start work. I have no idea how he manages to do this so damn early but he deals with international clients so it's just what he's used to.
9 a.m. I wake up and feel like spending the day in his bed but I have to get home and pick up my dog from the dog sitter, and do work of my own.
11 a.m. I drive back to Jersey and text Dominic that I made it back safely. I miss him desperately once I hit my sofa.
2 p.m. I'm drowning in work but manage to rub one out while thinking of our feverish fuck last night. I come and instantly text him about what I just did and what I thought about. I feel a sense of sinking loneliness all day. It's like he's some sort of drug I have withdrawals from when Monday rolls around.
DAY SIX
8:30 a.m. I promised my mom I'd go to the Nepalese Consulate this morning and badger them about the whereabouts of my passport. It's been six weeks since I applied for an emergency visa and it should've taken two weeks max.
10 a.m. I arrive at the consulate ready to pull out my sob story about my grandmother's cancer. I talk to a man who tells me that my passport is on its way to my house as we speak. I'm shocked, and check the FedEx tracker to confirm. Like a miracle, the package is supposed to arrive tomorrow.
11 a.m. I call my family and let them know the news and it begins to feel real. I can finally see my mom who I've been separated from for two months, and my grandmother who I haven't seen in a year. Even though I love having the house to myself and spending time with Dominic, I miss them like crazy. It's finally time to go.
1 p.m. I'm back at home, and trying to figure out what to do with myself. I feel like I should tell Dominic, but I decide to wait until it's official.
7 p.m. I've fallen out of the habit of exercising, but Zoom into a yoga class tonight. I really need it after this long, emotional day.
DAY SEVEN
9 a.m. My visa arrives, and I call Dominic to tell him. He tells me he doesn't know how to process me leaving so soon.
10 a.m. I talk to my family and they want me to book a flight a week from now. I oblige and call Dominic back with my plans. I can hear the sadness in his voice and a wave of worry rolls over me.
12 p.m. I try to distract myself with practical tasks — cleaning, packing, figuring out what needs to be done with the house. Trying not to wallow in my feelings about Dominic too much.
7 p.m. We make plans for a sexy weekend together before I go. A final hoorah that hopefully won't be the last.
Want to submit a sex diary? Email sexdiaries@nymag.com and tell us a little about yourself (and read our submission terms here.)