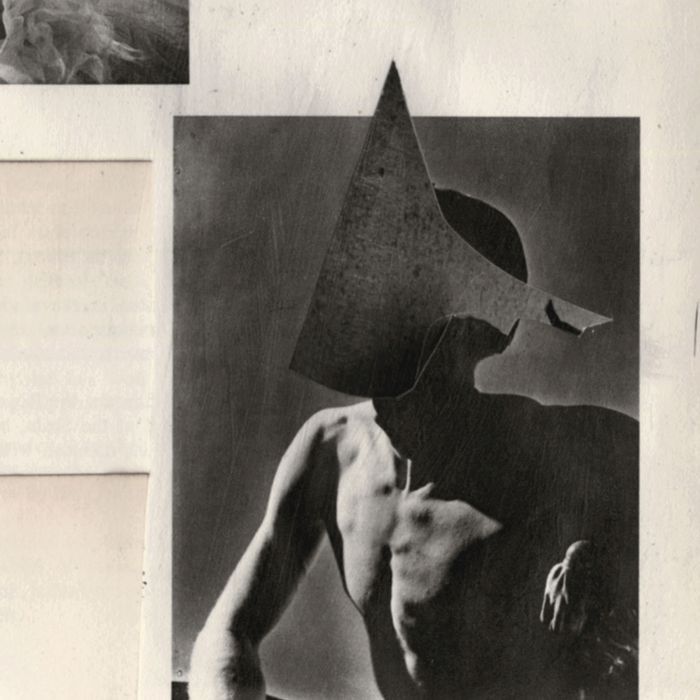 Photo-Illustration: James Gallagher
This week a man going on adventures during the day and returning to his partner at night: 55, in an open relationship, London.
DAY ONE
7 a.m. I wake up horny and decide what to do today. Since the pandemic started I'm either in a mood to isolate myself or feel the need to fuck some guy. Today I'd like to fuck, and I check out Grindr and Scruff.
1 p.m. At the gym. There are lots of hot gay guys here and I'm usually pretty horny by the end of a workout. I can see there are a few guys from the gym on Grindr and start talking to one. He looks great — he's an influencer with about 20,000 followers. We agree to meet in the changing rooms. Once in there, we see each other and then pretend to get changed while the other guys in the room sort themselves out and leave. Once we have the changing room to ourselves, we strip off. I head into the shower and leave the door open while I soap myself up, naked and rock hard. He watches from his locker, also naked and hard, with a very sexy smile. We can't do anything else here as someone could walk in at any moment. It's fun though.
7 p.m. I FaceTime with my partner who is away tonight. We met at university in 1984. We've been together for 30 years but stopped having sex a long time ago, maybe 15 years back. There was no big drama, we just drifted out of it. It's a shame, but we've always been in an open relationship, so I'm not lacking for sex. I love my partner more than anything and wouldn't swap him for anyone; I think he still feels the same about me. We still make each other laugh all the time.
DAY TWO
10 a.m. I've been chatting online with a Dutch guy, Jan, who wants me to come over straight away and fuck him. I want to go to the gym first though. We exchange some hot pics and messages and he begs me to come over now. I make him wait.
1 p.m. I finish up at the gym and shower before heading over to Jan's apartment. At Jan's request, his apartment door will be on the latch and when I walk in he will be naked and blindfolded on all fours on the floor in his lounge. I'm excited — I haven't met someone this way before. I used to be more of a bottom myself but recently am exploring my top side. This is safer for me and has less recovery time; it also seems like it's increased the pool of guys available to me.
2 p.m. I arrive at Jan's apartment and he buzzes me in. I take the lift up and walk into his apartment through the open door. The apartment is warm and silent. I leave my bag, trainers, and hoodie in the hallway and walk into the lounge. I'm barefoot wearing lycra leggings. He's on all fours, blindfolded and naked as agreed. I walk up to his head and grab his hair and position his mouth against my dick. He gives me a blowjob for a while before I undress and approach him from behind and start to fuck him. He's still blindfolded and we haven't spoken yet. After a while we pause and he takes off his blindfold for the first time. We have a chat and get on well before getting back to really good, connected sex for about an hour, when he admits he's been up all night having sex with another guy and is worn out.
4 p.m. I've left Jan's apartment but am still very horny and want more sex. I chat with a guy on Scruff called Vincent and we agree to meet. I go straight to his place.
430 p.m. Arrive at Vincent's. We smoke some weed — something I don't normally do — and have a really good fuck. We both fuck each other a few times. He's very skillful — someone to see again. I leave after about 90 minutes, completely satisfied but concerned that I now smell of weed. Luckily my partner doesn't notice when I get home.
DAY THREE
9 a.m. I need a day off sex.
11 a.m. I cook a lot and am going through recipes to make in the near future.
3 p.m. Send off a few emails about a volunteer job I'm doing with a charity, helping newly arrived refugees in the U.K.
5 p.m. Thinking about where to visit once COVID is behind us. I usually travel a lot throughout Europe. I miss it.
6 p.m. I watch some porn alone in bed before having a lovely evening with my partner on the sofa watching Netflix and eating good food.
DAY FOUR
12 p.m. Back at the gym. It definitely makes me crave sex. It also gives me a no-questions-asked reason to be out the house for a few hours. I don't know what my partner knows about my sex life but when we last discussed it (high on ecstasy a few years ago), he told me he doesn't want to know about what I get up to sexually. I'm pretty sure he doesn't have sex with anyone but I wouldn't mind if he did.
2 p.m. On my way back from the gym I start chatting online with a guy who wants me to come over so he and his partner can suck my dick. I walk over and once I get inside, we get naked pretty quickly. I sit on the bed propped up by pillows while they both work on my dick. They don't seem to want me to do anything to them. This kind of one-way sex normally wouldn't excite me too much but it's clear that this is their practiced thing and they are very good at it so I sit back and enjoy it. They are both great and after a while I have an explosive orgasm — and we all part ways happy.
9 p.m. Have a delicious roast chicken and watch Netflix on the sofa with my partner and the dog.
DAY FIVE
8 a.m. Spend the morning looking at our finances. I'm not working at the moment. I used to work in fashion and really don't fancy battling through COVID in the workplace. I worked hard and have been successful, so can afford to take a year off every now and then.
11 a.m. Have a phone call with an old friend who knows that every now and then I take a year off work to focus on my personal life. We talk about how that's going. I tell him that when the pandemic struck, very few people were meeting up for sex. I didn't try to meet anyone for four months. But after a while people relaxed and a lot of guys realized that they could hook up easily during the day while working from home without their employers realising. So although the pool of men is smaller than usual due to COVID, there are more men than usual available during the day.
8 p.m. I'm always with my partner in the evenings and not available to anyone else at night; I love this about us.
DAY SIX
12 p.m. Back at the gym.
2 p.m. In the locker room, I chat with a few guys online. Not feeling any action today.
5 p.m. As I'm thinking about cooking dinner, my thoughts drift to all the escapades I've had over the years. New York, L.A., and San Francisco were all great for me but I find Londoners to be more uninhibited and adventurous. I've met so many guys over the years here whose sole motivator in life is sex.
DAY SEVEN
1 p.m. At the gym again. I love working out, although it's harder to get results at my age. It makes me feel good about myself since I'm always meeting and sleeping with new people.
2:30 p.m. I chat online with a 30-something guy and agree to go over to his place after the gym. When I get there it's clear that he's closeted and living with a woman. This normally wouldn't appeal to me but he's really hot. I fuck him standing up while he's on all fours at the end of his bed. He's very precise in his mannerisms and how he wants sex but that's fine. We both come a lot.
5 p.m. I'm back home. I've had a great week but I see the news that COVID cases are rising again so decide to have a few weeks off sex until things calm down again.
Want to submit a sex diary? Email sexdiaries@nymag.com and tell us a little about yourself (and read our submission terms here.)