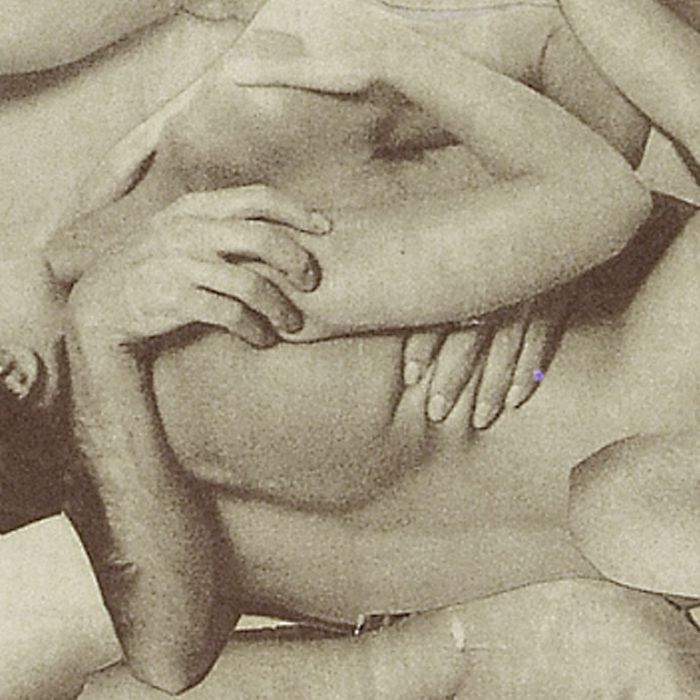 Photo-Illustration: James Gallagher
This week, a woman juggling multiple men from dating apps, sending and receiving dirty videos, and meeting up for her first hookup since October: 30, single, London.
DAY ONE
8 a.m. Wake up and ease myself into the day with a TikTok roundup from someone I follow on Instagram. I feel too old to have actual TikTok, but the funny roundups are just too good to miss. I get up, shower, and get dressed for work in the living room.
2 p.m. I started working for myself six months before the pandemic hit, doing freelance PR for fashion start-ups. I've found it tough being self-employed when my motivation is so low, but thankfully I have finally managed to find a routine that is working for me.
4 p.m. I've spent the day working on my laptop and sporadically messaging Stephen on WhatsApp. We met on a dating app and have been messaging for a few weeks now. He's sweet, funny, and clever. He also works in a hospital, so he is being very careful about meeting up with anyone during the pandemic. He is due to get his second vaccine dose soon, so I'm hoping this won't drag out too long and we can go on a socially distanced date. I am actively looking for a relationship for the first time ever. Previous years have been spent all work and no play, followed by a year of casual fun and my very own sexual revolution after a decade of being a prude. Now I find myself looking, and hoping, for love while still having some fun along the way. At this stage, I don't think my desires for love and lust need to be mutually exclusive — or maybe they should be. I'm still figuring it out.
9.30 p.m. I met Joe on Feeld about a week and a half ago, and we've been texting (and sexting) every day since. Things get hot very quickly tonight when he sends me a voice note telling me how he's going to fuck me! The night culminates when I send a voice note of myself climaxing, and he sends me a video of himself doing the same. He says the sexting was so good that we simply have to do this IRL. We've both been quarantined for over three weeks now, so while we shouldn't really be meeting up, part of me feels comfortable meeting him. I know I shouldn't try to justify this, but I've been a stickler for the rules, and I just want to break them this one time. We decide to go for a lap around the park near his place beforehand to make sure we vibe with each other; this also makes me feel much safer than going straight to his place. We set the time and place and say good night.
DAY TWO
9 a.m. It's Friday, so I give myself a lazy morning and listen to my podcast while I check emails on my phone. Checking emails leads to checking my dating apps. I'm on Hinge, Bumble, and Feeld, so I spend some time swiping, liking, and messaging. The quest for love (plus occasional lust) continues.
3 p.m. Stephen wants to write a book and has been running plot points by me. It's not something I would be likely to pick up at a bookshop, as it's a bit too sci-fi for me, but I like his creativity, and he's a great writer. I also like that he seems to genuinely want my opinion on things.
7 p.m. I'm making Halloumi-and-pepper tacos for dinner tonight. I got a free box of groceries through this food service that my parents use, and the recipes are so delicious. Only problem is they want you to use every single pot, pan, and dish you own, so the washing up is always a nightmare.
8.30 p.m. I text Joe to reconfirm tomorrow's plans. He replies straight away: "Yes, and I can't wait." I let out a small squeal.
I met up with two or three people for hookups over the summer last year, when the rules were more relaxed, and then I ended up seeing just one person regularly. That ended at the end of October, though. Joe will be the first person I've hooked up with since then, and I can't contain my excitement.
DAY THREE
11 a.m. I meet my friend Naomi for a walk in the park. We haven't seen each other in around six weeks, so it's so good to see her and catch up while we stroll around the cold park. We grab a coffee and work on our step count, I update her on Joe, and she helps to calm my pre-hookup nerves. She tells me about her dating woes, too — she has an on-off thing with this guy, and he has just told her he's moving away for two months. Our conversation distracts me from my pre-date jitters. I get SO nervous before meeting a new guy.
2 p.m. Time to meet up with Joe. My nerves dissipate as we do a quick lap of the park. The chat is great, and I feel supercomfortable with him straight away; he's so attractive and easy to talk to. I tell him my hands are cold, and he suggests we head home to warm up, which makes my stomach flip. We get into his flat, and he kisses me straight away, deep and longing. He gets me a glass of water, and I nip to the bathroom to freshen up and then sit on his bed. He's dominant and takes control, telling me what to do, which I love. We have amazing sex — it's really passionate, sweaty, and loud. When we finish, my makeup is a mess and we're both very warm, so he turns off the heat and opens the windows as we lie naked on top of his sheets. We lie in bed for a while and talk about music, books, his tattoos and then it's time for me to leave — I'm always conscious not to overstay my welcome.
5.30 p.m. I don't take public transit these days, so I catch up on the phone with a friend as I walk home and share all the details of my sexcapade with Joe.
DAY FOUR
10 a.m. I've started doing a nine-week 5K program that helps you get better at running. It's week two, and I do breathless laps of the cricket ground near my flat. Stupid grin on my face from the great sex yesterday.
3 p.m. Joe sends me a picture of his lunch and asks me what I'm up to. Ugh, I really fancy him. Stephen messages me to ask how my weekend has been, and we chat back and forth. He asks what I think about him; I say I'm into him. I ask what he thinks about me, and he tells me I'm very smart and feisty: "I'm into you." I catch myself smiling at my phone like an idiot.
7 p.m. My flatmate and I watch the movie Soul. After a while, we're both crying into our peppermint tea — it's an emotional movie!
DAY FIVE
8 a.m. Up and getting ready for work. It's picking up a bit at work, so I'm trying hard to stay motivated even though I can't be in the office with my clients.
12 p.m. I take an early lunch and go for a walk around the block. Stephen and I are sending cute voice notes to each other — is it a bad sign that I don't like his voice? I like what he has to say, but that voice just isn't doing it for me.
7.30 p.m. My flatmate and I are obsessed with this reality show called Married at First Sight Australia that has recently landed on U.K. television. We spend the evening screaming at the TV because we hate almost everyone on the show. It is pure drama.
11.30 p.m. Stephen and I are saying good night; we shared songs with each other earlier so we could listen to what each other likes. I'm definitely starting to like him, which freaks me out a little bit. This is what I find so hard about long periods of messaging without meeting up — the messaging sets all these expectations, and what if we just don't fancy each other, or things aren't the same when we eventually go on a date? I think maybe we need to message a bit less, to take off some pressure until we can actually meet. Heaven knows I won't do a Zoom date.
DAY SIX
7:30 a.m. Start the day FaceTiming my best friend. She moved to Cambodia a year ago, and I miss her so much. We catch up about everything except boys, which just feels too trivial to spend our limited time together talking about.
1 p.m. Some lunchtime yoga followed by some soup while I listen to my favorite podcast. I haven't heard from Joe in three days, which is fine and to be expected. Stephen has been messaging me this morning, but I haven't replied yet. I want a relationship, but I'm starting to question whether he's the right one for me — his constant messaging started out so flattering, but now I worry that he's coming on too strong.
10:45 p.m. Before I go to sleep, I masturbate in bed listening to the videos and the voice notes that Joe sent me last week. Oh boy, I want to sleep with him again, but I know it was just a hookup, so I'm not expecting anything.
1:20 a.m. I wake up when my phone vibrates next to me; need to remember to put it on the floor when I go to sleep and not on the bedside table next to my head. It's a text from Samuel, a fuck buddy from last summer. I'm not going to reply. I need to stop entertaining casual encounters when what I really want is to fall in love — famous last words from someone who just got off to content provided by a casual encounter just a few hours ago.
DAY SEVEN
7:30 a.m. Another run around the cricket pitch — I think I might actually be enjoying running now! Who have I become? Still, it's only week two. Best not to get ahead of myself. I pick up a coffee and a pastry on the way home as a reward.
10:30 a.m. I have a video call with one of my clients whom I adore. We catch up on life stuff and then run through what we have coming up — we have a new collection dropping in March, so we are talking about launch strategy. At times like this, I love my job so much but wish I could be in the office with a team.
3 p.m. Prepping for a digital event I'm doing for another client. Emails, emails, and more emails, plus sporadic WhatsApp messaging with Stephen on my laptop too.
8 p.m. Joe's name pops up on my screen. He says he's been busy and asks how my week is going. I'll reply tomorrow.
Want to submit a sex diary? Email sexdiaries@nymag.com and tell us a little about yourself (and read our submission terms here.)